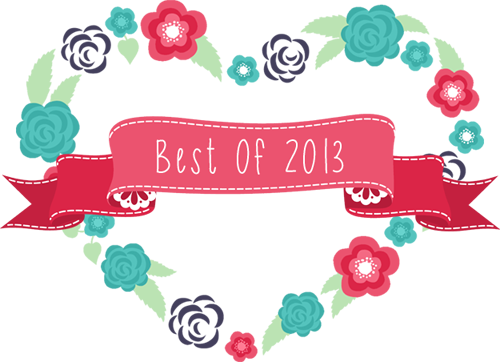 Happy New Year, everyone! While I had every intention of posting this prior to 2014, real life intervened and I was forced to complete this a little later than I had initially hoped. You know what they say about the best laid plans. Better late than never, though, right? Right!? But I digress. Below you'll find a small selection of non-book-related things that made 2013 a little bit brighter. I hope you enjoyed some of them as much as I did!
Searching for even more 'Best of 2013'? Visit Jamie over at the The Perpetual Page-Turner for her choices of the best music, television, moments and more of 2013! You can find her post Here!

Best New Albums (Released in 2013)

Tennis Small Sound
(Find it on iTunes!)
Favourite Songs: Mean Streets, Dimming Light & 100 Lovers

Tessa Rose Jackson (Songs From) The Sandbox
(Find it on iTunes!)
Favourite Songs: Stepping Stone, Lost and Found & Again and Again

Katy Perry Prism
(Find it on iTunes!)
Favourite Songs: Roar, Unconditionally & Dark Horse

HAIM Days Are Gone
(Find it on iTunes!)
Favourite Songs: Falling, The Wire & Honey & I

Little Green Cars Absolute Zero
(Find it on iTunes!)
Favourite Songs: Harper Lee, My Love Took Me Down To The River To Silence Me & The John Wayne

Lucius Wildewoman
(Find it on iTunes!)
Favourite Songs: Wildewoman, Turn It Around & Go Home


Agnes Obel Aventine
(Find it on iTunes!)
Favourite Songs: Fuel To Fire, The Curse & Words Are Dead

Wilde Belle Isles
(Find it on iTunes!)
Favourite Songs: It's Too Late, Twisted & Backslider

Tegan and Sara Heartthrob
(Find it on iTunes!)
Favourite Songs: Closer, I Was A Fool & I'm Not Your Hero

Lorde Pure Heroine
(Find it on iTunes!)
Favourite Songs: Tennis Court, 400 Lux & Team

The Civil Wars The Civil Wars
(Find it on iTunes!)
Favourite Songs: The One That Got Away, Dust To Dust & The Devil's Backbone

She & Him Volume 3
(Find it on iTunes!)
Favourite Songs: I Could've Been Your Girl, Somebody Sweet To Talk To & Something's Haunting You

Best New-To-Me Albums (Released Before 2013)
Best Coast The Only Place
(Find it on iTunes!)
Favourite Songs: The Only Place, No One Like You & How They Want Me To Be

Serena Ryder Harmony
(Find it on iTunes!)
Favourite Songs: What I Wouldn't Do, For You & Stompa

Marina and the Diamonds Electra Heart
(Find it on iTunes!)
Favourite Songs: Bubblegum Bitch, Starring Role & Sex Yeah

Best Returning Series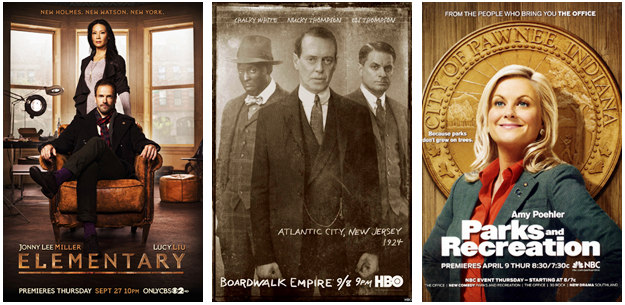 Elementary
Starring: Jonny Lee Miller & Lucy Liu
Boardwalk Empire
Starring: Steve Buscemi, Michael K. Williams, Gretchen Mol, Jack Huston, et al.
Parks and Recreation
Starring: Amy Poehler, Rashida Jones, Nick Offerman, Adam Scott, et al.
Homeland
Starring: Claire Danes, Damian Lewis, Mandy Patinkin, et al.
Justified
Starring: Timothy Olyphant, Walton Goggins, Joelle Carter, Natalie Zea, et al.
Mad Men
Starring: Jon Hamm, Elisabeth Moss, Vincent Kartheiser, Christina Hendricks, et al.

Best New Series (Premiered in 2013)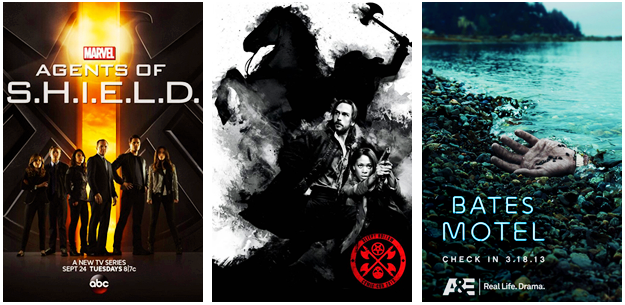 Marvel: Agents of Shield
Starring: Clark Gregg, Chloe Bennet, Ming-Na Wen, Brett Dalton, et al.
Sleepy Hollow
Starring: Tom Mison & Nicole Beharie
Bates Motel
Starring: Vera Farmiga & Freddie Highmore

Best New-To-Me Series (Premiered Before 2013)
Smallville
Starring: Tom Welling, Michael Rosenbaum, Kristin Kreuk, Allison Mack, et al.

Best Series Finale
Fringe
Starring: Anna Torv, Joshua Jackson, John Noble, et al.

Worst Series Finale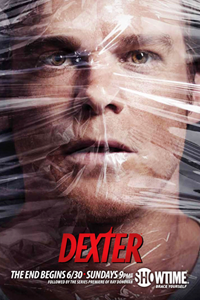 Dexter
Starring: Michael C. Hall, Jennifer Carpenter, James Remar, et al.

Most Disappointing Cancellation
Don't Trust The B In Apartment 23
Starring: Krysten Ritter, Dreama Walker & James Van Der Beek
Happy Endings
Starring: Eliza Coupe, Elisha Cuthbert, Casey Wilson, Damon Wayans Jr., Adam Pally & Zachary Knighton
Southland
Starring: Michael Cudlitz, Shawn Hatosy, Regina King, Ben McKenzie, et al.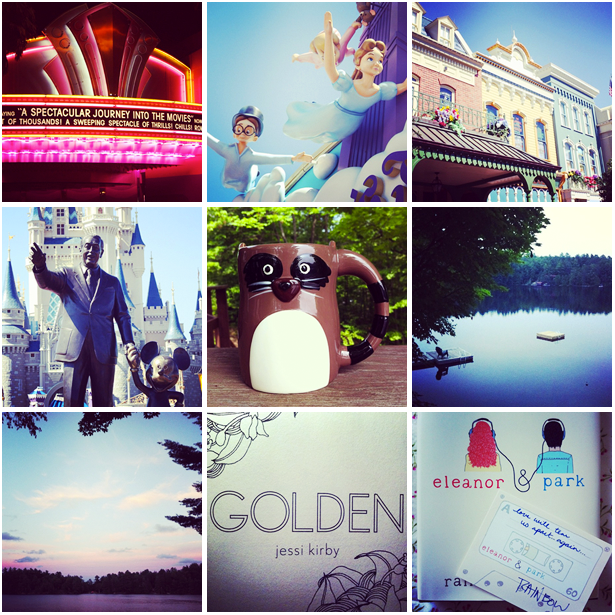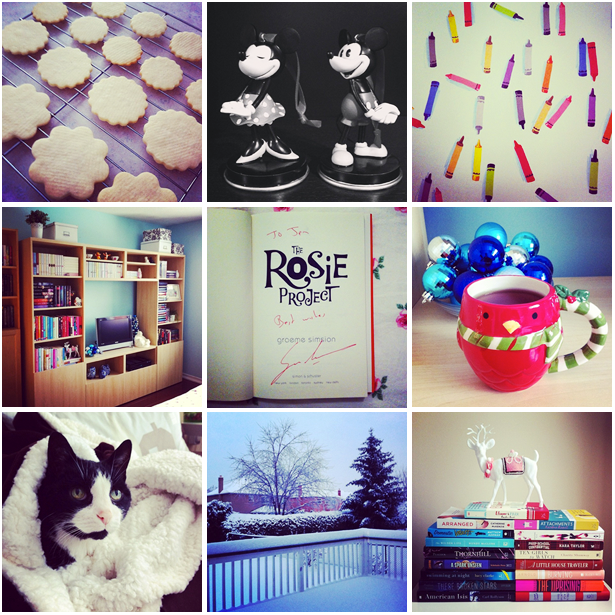 Unbelievable though it might seem, I do occasionally venture outside of the realm of book blogs. Here are just a few of the non-book-related websites I enjoyed most in 2013!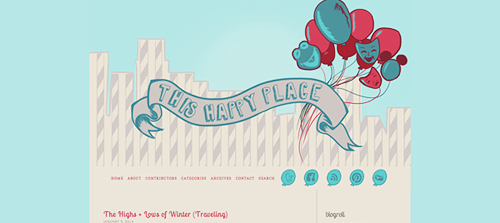 For those of you who are unaware, I'm a passionate, unapologetic, wholehearted Disney enthusiast. My family and I ordinarily visit Walt Disney World in Florida at least every other year (we visited in 2013) and when I'm not at the parks themselves, I'm dreaming about them or planning my next trip. Estelle, who you also might know as one of the co-bloggers over at Rather Be Reading, created This Happy Place, a delightful blog dedicated to all things Disney. With fun features like 'Muppet Monday' and 'Kill, Refurb, Marry', This Happy Place allows me to reconnect with Disney when geography or money might otherwise separates us. There's a little bit of magic in every post Estelle writes. That said, how she manages to maintain two blogs is something I'll never understand – One is more than enough for me!
This isn't a new favourite by any means, but, as per usual, I spent an inordinate amount of time browsing through Modcloth this year. This website and I have a somewhat strained relationship as exorbitant shipping and import costs to Canada often prevent me from shopping there as often as I would otherwise like, but I typically splurge and place one or two large orders each year. Thankfully, 2013 was no exception. I love Modcloth's vintage-inspired pieces and the unique, quirky sensibility that I can't seem to find anywhere else. While I've always sworn by their swimsuits, like the Blanket Bingo One Piece that I own in at least three colours and/or patterns, this year, among other things, I purchased the On A Roller Derby Jeans, which I can't recommend highly enough. They make me feel sexy without having to sacrifice comfort, and they are easily one of my favourite pieces in my wardrobe.
Vixen Vintage was one of my more recent discoveries in 2013, and I quickly fell in love. I've always been fascinated by all things vintage and often try to incorporate vintage and retro-inspired pieces into my own wardrobe. Solanah has a sense of style to which I can only aspire, and her photography is nothing short of stunning. I would love to become a little more confident when it comes to incorporating a 1950's aesthetic into my own look, and I hope to find inspiration in blogs like Vixen Vintage. Unafraid to think outside the box and dress not as social mores dictate but as she likes, Solanah's self assurance is her most attractive accessory, and I can only hope a little bit of it will rub off on me!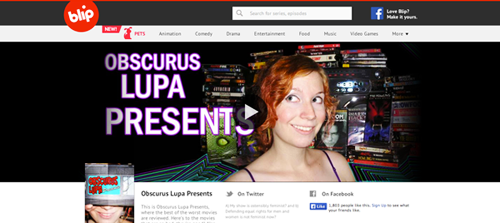 Given the purpose of this blog, it should come as no surprise that I love writing, reading, and watching reviews, whether they be of films, television shows, or books (I blame this on my penchant for watching endless hours of At The Movies with Siskel and Ebert as a child.) While I discovered a number of new reviewers this year who I quickly fell in love with like The Cinema Snob and Phelous, there's none whose work I enjoy more than Obscurus Lupa. Known for reviewing so-bad-they're-good productions, Lupa has reviewed everything from Birdemic and The Room to Baywatch and the Withcraft series. While I love them all for various reasons, I've watched her reviews of The Amazing Bulk and Subspecies (and the accompanying three sequels) more times than I can count, and they never fail to make me laugh. She's brilliant, and I can't wait to see more from her in 2014. I highly recommend checking out her work if you're in need of a laugh!