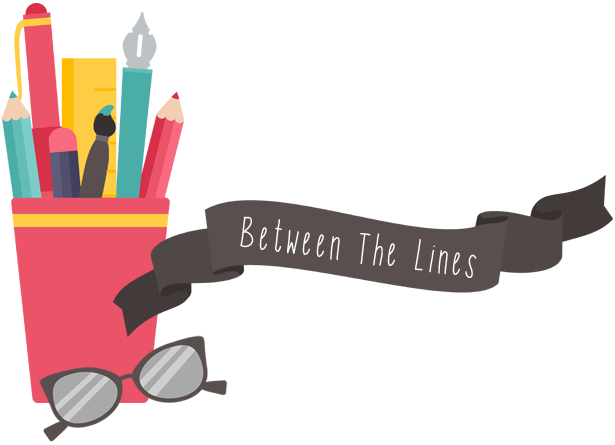 "Between The Lines" is a sporadic feature on Pop! Goes The Reader in which authors and other industry professionals provide further insight into the writing and publishing process, whether it be in the form of interviews, guest posts, etc. So, sit back, relax, and enjoy as we read between the lines.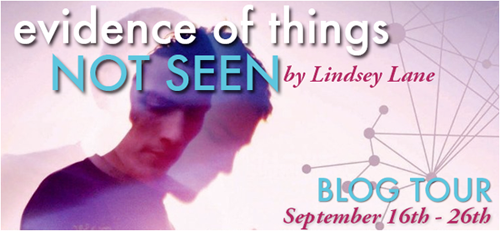 Hi everyone! Today I am very pleased to welcome YA debut author Lindsey Lane to Pop! Goes The Reader! Her novel, Evidence Of Things Not Seen, was recently published on September 16, 2014 and I was lucky enough to be invited to participate in the blog tour to celebrate its release. I don't know about anyone else, but I've always been fascinated by a writer's process. I love to hear about their inspiration, their quirks and habits and, best of all, their writing spaces. Today, for my stop along the tour, Lindsey was gracious enough to satisfy my curiosity and share some of the (many) places in which Evidence Of Things Not Seen was brought to life.
About Lindsey Lane

Award-winning author Lindsey Lane is proud to announce her debut YA novel Evidence Of Things Not Seen will be published by Farrar Straus Giroux Books for Young Readers on September 16, 2014. Her picture book Snuggle Mountain (Clarion, 2003) is now available as an iTunes app, which Digital Storytime describes as "heartwarming and adorable with rich illustrations and lyrical text." In 2010, Lindsey received her MFA in Writing for Children and Young Adults from Vermont College of Fine Arts. Lindsey is a featured presenter at many schools where she gets kids (of all ages) excited about writing. When she is not writing, reading or being a mom, Lindsey loves sweating at Bikkram yoga, seeing movies and plays, and enjoying some of the outrageously good food at Austin restaurants with friends.
I write in a lot of places. You know how you are supposed to get up and stretch like every thirty minutes while you are writing? Well, I think I do it by switching writing spots. Seriously.
Here is where I am working today. This is my old desk from when I lived at home with my parents. After I left for college, my mom used it for her desk. When she died, it came back to me. I love the history of this desk. I love sitting by the window because I love natural light. So today, I am here writing blog posts for the launch of Evidence Of Things Not Seen.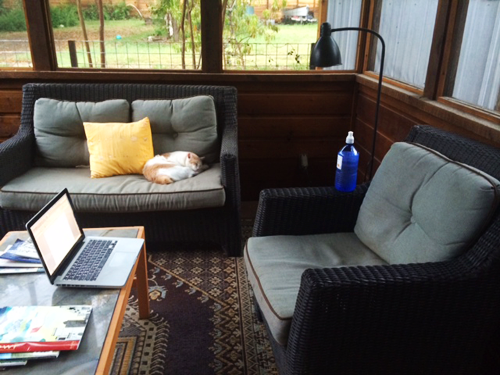 Speaking of which, I wrote most of Evidence of Things Not Seen out here on this porch. I drafted and edited. I read it aloud. I added 25,000 words after the manuscript was under contract. My friend Uncle Jimmie and I had late night talks about particle physics in these chairs. What I remember most about drafting out here on the porch was hearing the mourning doves and the rhythms of the neighborhood. The trash trucks on Tuesday. The bells from the elementary school down the street. My neighbors leaving for work and coming home eight hours later. I felt connected to the world even though I was removed and tucked into my world building.
Right now I am drafting my new novel upstairs in this chair. See that journal on the table? All the notes are in there. The chair, the table, the painting all came from my mom's beach house. It is like I am sitting there even though I can't hear the ocean. It is very comforting spot to write this novel.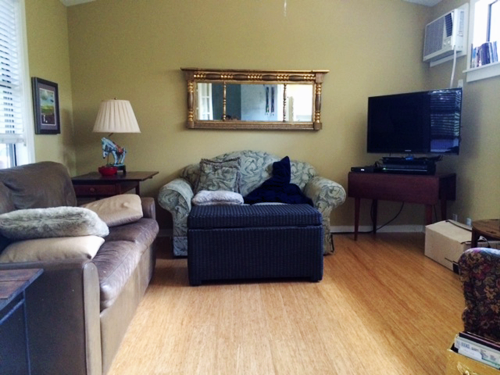 Here is one of my favorite places to sit and draft. There is something about how I sink into that green couch that holds me as I tap-tap-tap on the computer. The couch itself belonged to my friend Gail and she used it in her counseling practice so maybe it has the energy of people being comforted in it. I don't know.
I remember hearing Robert Rodriquez say that writing for him was torture. It was like homework he HAD to do. But he loved his bed. Specifically he loved his Tempurpedic mattress. SO he started writing in bed. Right when he woke up. Sometimes I do that. I prop myself up on these handy dandy pillows and write until my hands go numb or I get so hungry I have to get up and fix myself something to eat.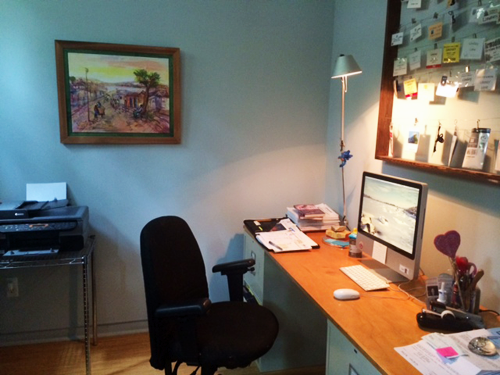 This is command central. This desktop computer, which I share with my daughter is where I answer emails, do Skype visits and make appointments. It is where I do the business of writing. Every day. I try to check emails only once a day but sometimes that's not possible and I'm sitting here first thing in morning and again at night, sometimes before and after dinner. Don't you think there are too many emails in the world right now?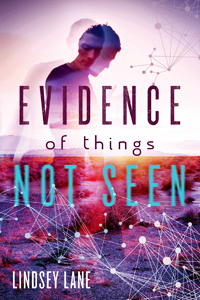 Title Evidence Of Things Not Seen
Author Lindsey Lane
Pages 224 Pages
Genre Young Adult, Contemporary, Mystery
Publisher Farrar, Straus and Giroux (BYR)
To Be Published September 16th, 2014
Find It On Goodreads
When high school junior Tommy Smythe goes missing, everyone has a theory about what happened to him. He was an odd kid, often deeply involved in particle physics, so maybe he just got distracted and wandered off. He was last seen at a pullout off the highway, so maybe someone snatched him. Tommy believes that everything is possible, and that until something can be proven false, it may be true. So as long as Tommy's whereabouts are undetermined, he could literally be anywhere.

Told in a series of first-person narratives from people who knew Tommy, Evidence of Things Not Seen by award-winning author Lindsey Lane explores themes of loneliness, connectedness, and the role we play in creating our own realities.
Don't forget to visit Lindsey at all of her other blog tour stops!
September 16, 2014 – Good Books and Good Wine
September 17, 2014 – Gone With the Words
September 18, 2014 – Katie's Book Blog
September 21, 2014 – Rather Be Reading
September 22, 2014 – Alexa Loves Books
September 23, 2014 – The Book Cellar
September 24, 2014 – Such a Novel Idea
September 25, 2014 – Pop Goes the Reader
September 26, 2014 – Tales of a Ravenous Reader