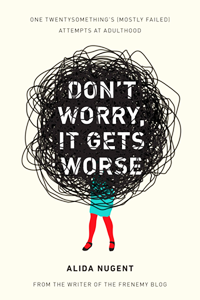 Title Don't Worry, It Gets Worse: One Twentysomething's (Mostly Failed) Attempts at Adulthood
Author Alida Nugent
Published May 7th, 2013 by Plume
Pages 208 Pages
Intended Target Audience Adult
Genre & Keywords Non-Fiction, Autobiography, Memoir, Humour
Part of a Series? No
Source & Format Purchased from Chapters, Paperback
Find It On Goodreads ● Amazon.com ● Chapters
Synopsis
Alida Nugent graduated college with a degree in one hand and a drink in the other, eager to trade in parties and all-nighters for "the real world." But post-grad wasn't the glam life she imagined. Soon buried under a pile of bills, laundry, and three-dollar bottles of wine, it quickly became clear that she had no idea what she was doing. But hey, what twentysomething does?
In Don't Worry, It Gets Worse, Nugent shares what it takes to make the awkward leap from undergrad to "mature and responsible adult that definitely never eats peanut butter straight from the jar and considers it a meal." From trying to find an apartment on the black hole otherwise known as Craigslist to the creative maneuvering needed to pay off student loans and still enjoy happy hour, Nugent documents the formative moments of being a twentysomething with a little bit of snark and a lot of heart. Based on her popular Tumblr blog The Frenemy, Don't Worry, It Gets Worse is a love note to boozin', bitchin' ladies everywhere.
"I'm going to level with you here. I am not going to give you one of those speeches where I say 'I am you', because that always has a creepy 'the call is coming from the house' horror movie vibe and I don't like that. I am not you. Sure, we all put our pajamas on the same way – one leg at a time and in front of our televisions with chips poring out of our mouth – but that doesn't mean we are all similar organisms. However, I know I can't be the only one out there trying to figure out how to navigate the choppy waters of adulthood."
Are you overeducated and underemployed with little-to-no hope of finding work that's in any way related to your field of interest? Does your university degree remind you more of your crippling student loan debt and unfulfilled ambitions and less of your academic accomplishment? Do you suddenly feel as though all of your friends are getting married or pregnant and mastering the art of the savings account, all while you calculate whether you can afford that must-have pair of boots and struggle to find a man who won't leave before the sun rises the next morning? Do you find yourself stalking your old friends on Facebook and engaging in an unspoken competition as to who has accomplished the most since you last saw one another? Do you find yourself eschewing a night out on the town in favour of a quiet evening spent alone with a bottle of wine while you vicariously follow the latest escapes of Don Draper and company in AMC's Mad Men? Then Alida Nugent's Don't Worry, It Gets Worse: One Twentysomething's (Mostly Failed) Attempts At Adulthood is the perfect book for you!
"Whenever someone brings up the traits associated with being a functional human otherwise known as an 'adult', I think, is it even possible for me? Probably not, is what I conclude. I mean, I'll eventually pay off my college loans at the age of forty-five by selling what's left of my liver, and I'll probably manage to find sustenance and remember to breathe oxygen constantly: I'll survive. However, for people like me, it's going to be a long, hard road of 'How much dip can go on this chip?', 'How many minutes have gone listlessly by?', 'HOW SAD IS TOO SAD?' There will be years of struggling to keep myself afloat. I'm sure I will have to murder between one and fifty bill collectors. I'm certain I'll have to go to Vegas to turn tricks (I'm sorry, illusions, Gob!) All for what? Stupid jokes? A burning desire to be a writer?"
Our twenties can be a time of immense upheaval, uncertainty and change. While we're often told that our newly-acquired degrees are a guaranteed assurance of success and prosperity for the future, in reality this is anything but the truth. As we struggle to search for our identity and respective places in the world with no-one to guide us, the years immediately following university and into early adulthood can be a difficult time for many. I'm not ashamed to admit that I could intimately relate to many of the issues Alida Nugent explored in her debut novel. Like Nugent, I moved back home following university out of necessity. Also like Nugent, I'm currently employed in a job (legal administrative clerk) that, while I would not want to pursue it as a long-term career, is one I'm extremely thankful for given the current state of the economy. Also like the author, I too have questioned the validity and usefulness of my liberal arts degree and my choice to study english and history in lieu of something arguably more 'practical' and soul-sucking like business or engineering. But the truth of the matter is, that as difficult as I'm sure my future will be, I wouldn't have it any other way. While others might look down on my choice, the two things I'm most passionate about are reading and writing, and I would love to pursue a career in what I love most. I can't imagine the joy and fulfillment in being able to secure a career that involves your life's passion, and can only hope that I'll be half as lucky as Nugent in this regard.
"One day, I will become the kind of adult who can throw a real party, I think as I take my top off in front of a small group of friends and acquaintances. One day.
How did I get to that moment? No, I was not trying out as an extra for Showgirls 2: Also Not Sexy Boogaloo. Nor was I so angry at my dad I used his credit card to go to Cancun for Spring Break.
This is a story of girl meets tequila."
Not unlike Lena Dunham's HBO series and cult phenomenon, Girls, Don't Worry, It Gets Worse follows twenty-something Alida Nugent as she navigates the difficult and often hostile world of New York City, all while detailing her misadventures in retail, dating, finance and the future. A hilarious, honest, whiskey-soaked reflection on arguably one of the most difficult periods in our lives, Nugent's debut will have you nodding along and exclaiming "Exactly!" more times than you can count or will likely find comfortable. A freelance writer most well-known for her Tumblr blog, The Frenemy, Nugent writes with wit and self-deprecation that will have you devouring this memoir in a matter of hours and leave you desperately yearning for more when it's all over.
"I blame television for all of this, mostly because I like to sit at home and watch it instead of doing anything else. I trust television, because I know what to expect from it. I like that I can turn it on and there will be a show that portrays high school as a place where beautiful twenty-five-year-olds with amazing clothes have sex all the time or a festering hellhole where everybody gets harassed online. For girls to wear sparkle dresses and get into awkward situations with men. For girls with glasses to make jokes. For Asians to be underrepresented. For AMC to be the best."
Punctuated by an endless series of pop culture references ranging everywhere from Daria and It's Always Sunny in Philadelphia to Mean Girls and Arrested Development, Don't Worry, It Gets Worse is written in a casual, conversational style that will appeal to even the most reluctant non-fiction reader. Whether written in the form of a screenplay or a university commencement speech, Nugent continually comes up with a number of different ways in which to impart her hard-earned wisdom. Surprisingly apt and timely despite its classification predominantly as a work of humour, Don't Worry, It Gets Worse would make an invaluable resource for Generation Y, who are either preparing to embark on or are already currently enmeshed in, this tumultuous stage of their lives. Like a friend relating her troubles over a shared bottle of wine (or five), Alida is the best friend you wish you had, willing to tell you the cold, unvarnished truth and hold back your hair after a particularly raucous night on the town (Or, in this case, an elegant dinner party gone awry). Whether she's talking about muffin tops, financial planning, the 'Shaun Hunter phenomenon', anxiety attacks or online dating, Don't Worry, It Gets Worse has a little something for everyone. Whether we would like to admit it or not, many of Nugent's problems are our problems, the things that we worry about on a daily basis but hide beneath a thin veneer of denial and acceptance, our only means of self-preservation. While there were times at which I felt Nugent strayed from her original point or indulged in what bordered on too much extraneous detail, particularly when it came to the chapter detailing her invitation to a friend's wedding ("A Friend Sits On The Hitchin' Post") or her final commemoration to finding and/or forging one's place in the occasionally inhospitable environment of New York City ("On Finally Feeling Home (Or, A Love Song For New York)"), the majority of my experience with Nugent's writing was a positive and enjoyable one.
"When you're in your twenties and you want to do something on a Saturday night, you pretty much have two options. You either go out drinking or you sit in your pyjamas and stay home. I don't have a problem with sitting at home. It's something I've completely mastered – you make yourself some fried eggs, dance alone to music, and imagine you are an elf from Lord of the Rings as you shoot imaginary arrows into the air. It's basic slothing 101, elementary, my dear Watsons."
Perhaps most surprisingly of all, the tone shifts rather dramatically in the latter portion of this work. While it seems as though Nugent takes extreme pleasure in presenting herself as the hard-broiled New Yorker she purports herself to be, I couldn't help but detect a definite tone of optimism and hope in what is otherwise a celebration of life's frustrating failures and inevitable setbacks. The stories become increasingly introspective as the book progresses, and in having this memoir published, one can't help but notice that the the author does the one thing she ever despaired of doing – namely, earning money for what she was most passionate about, writing as a professional endeavor. In doing so, she proves that despite the impracticality of our dreams and the questionable value of the liberal arts degrees to which many of us aspire, there is hope for even the seemingly unattainable. After all, if Alida Nugent was able to accomplish it, why can't we?
"All I can do is share some of my experiences with you and hope you relate to them, laugh at them, feel pity for them, whatever. Really, I want you to finish this book feeling like we could become friends, if the timing was right. That's it.
Oh, and by the way, you should drink while you're reading this book. If you want to play a drinking game, I suggest you take a shot when you feel like I'm abusing commas. Or when I reference a reality show you like to watch. Or when I make a joke you particularly like. Or whenever you want to take a shot, really. No judgement."
Sit back, pick up a glass and re-direct one of the aimless hours you would have otherwise spent on Tumblr or Twitter (Hey! No judgement, we've all done it) and be sure to pick up Alida Nugent's debut, Don't Worry, It Gets Worse: One Twentysomething's (Mostly Failed) Attempts At Adulthood instead. A comical look at one of the most difficult periods in our lives, Alida Nugent infuses her debut with a surprising amount of heart as she speaks candidly about everything from online dating and body acceptance to the rigours of retail and moving back in with your parents. Whether you're struggling with many of the same issues or simply in need of a good laugh, Don't Worry, It Gets Worse is a quick, fun read that will leave you feeling as though you've walked away with a new best friend.

Overall Rating


Around The Web
Still not sure this is the right book for you? Why not listen to what some other bloggers had to say about it?
● Sarah @ Sarah Clarke wrote "Hilarious, and dripping with sarcasm this book was one of the most relatable things I've read in a long time!" (Read the rest of the review Here!)
● Charles @ Dustbury wrote "Recommended to anyone out of their teen years, because you've been there and done that, or you're already there and trying to do it. And if you ask me, Don't Worry really should be issued to all teenagers, basically as a warning of What Is To Come." (Read the rest of the review Here!)
● Nicole @ 20 Something Reads wrote "From cover to cover, Nugent is engaging, humorous and downright honest. Easily said, she tells it like it is and has been for years through her blog, "The Frenemy." (Read the rest of the review Here!)