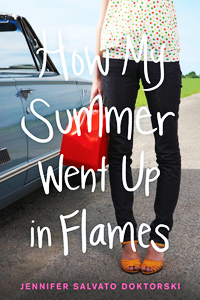 Title How My Summer Went Up in Flames
Author Jennifer Salvato Doktorski
Published May 7th, 2013 by Simon Pulse
Pages 307 Pages
Intended Target Audience Young Adult
Genre & Keywords Contemporary, Realistic Fiction, Road Trip, Romance
Part of a Series? No
Source & Format Purchased from Chapters, Paperback
Find It On Goodreads ● Amazon.com ● Chapters
Synopsis
Rosie's always been impulsive. She didn't intend to set her cheating ex-boyfriend's car on fire. And she never thought her attempts to make amends could be considered stalking. So when she's served with a temporary restraining order on the first day of summer vacation, she's heartbroken—and furious.
To put distance between Rosie and her ex, Rosie's parents send her on a cross-country road trip with responsible, reliable neighbor Matty and his two friends. Forget freedom of the road, Rosie wants to hitchhike home and win back her ex. But her determination starts to dwindle with each passing mile. Because Rosie's spark of anger? It may have just ignited a romance with someone new…
"What can I say? First I lost my heart. Then I lost my mind."
After learning of her boyfriend's infidelity, in a moment of temporary insanity Rosalita 'Rosie' Ariana Catalano accidentally set her ex-boyfriend, Joey's, possessions on fire in the driveway of his family home. How was she to know it would lead to a rather explosive situation, one that would ultimately land her with a temporary restraining order, charges of criminal trespass, criminal mischief, harassment, stalking and a summons to appear in court in two weeks time? With the situation spinning wildly out of control, taking Rosie's rather tenuous grasp on her emotions with it, her best friend Matty suggests she tag along on a road trip to Arizona with his friends Spencer and Logan. Maybe getting out of town for a little while is exactly what the doctor ordered.
"My dad said he doesn't know me anymore. That makes two of us."
Unfortunately, Matty's "Get-Out-Of-Dodge" scheme and the idea of being trapped in a car with three 'nerds' following a strict itinerary isn't exactly how Rosie envisioned recuperating from her devastating breakup. When she's presented with her alternative option, however, which entails putting time in at her father's lampshade factory, suddenly the road trip doesn't sound like such a bad idea after all. Desperate to keep Rosie out of trouble until her impending court date and save her from her own self-destructive instincts, Rosie's parents decide to send her on the nine-day cross-country road trip. From Dollywood to Roswell, Graceland to the Grand Canyon, Rosie embarks on a trip that will test her patience, her relationships, and most importantly of all, her sense of self. Like a phoenix rising from the ashes, Rosie's summer isn't the only thing that is set ablaze and reborn into something she never could have imagined or expected.
"I click the heels of my Sketchers together. Nothin'. Must only work with ruby slippers. Either that, or my heart knows I don't really want to go home."
If there is one keyword that will inevitably peak my interest in a book, it undoubtedly has to be the phrase 'road trip'. Having never been on one myself, but always having wanted to, I love to live vicariously through fictional characters as they embark on this sort of journey. Whether traveling with friends or bitter enemies, voluntarily, by obligation or against their better judgement, I have yet to meet a road trip centered novel I didn't like in some capacity. Thankfully, while hardly perfect, Jennifer Salvato Doktorski How My Summer Went Up In Flames was no exception.
"Hostile? Where does he get hostile? Okay. Maybe I'm high-strung. I'll give him that. But at our house, we yell when we're happy, we yell when we're upset, we yell when we want someone to pass the remote. It's what we Catalanos do."
Rosie is not always the easiest character to like. Selfish, impulsive, impatient and more often than not angry or confused, Rosie also lacked the insight at her age to understand that her behaviour had consequences. My heart went out to the girl who lost her first love, but couldn't condone some of the thoughtless things I as the reader was forced to watch her do. I never knew whether I wanted to hug her or shake her. And here is where I have to applaud Doktorski's talent. I'm not one who needs my characters to be traditionally 'likable'. I would rather they be authentic, multi-faceted and display flaws than have the character watered down to the point that they have little-to-no personality, all with the aim of making her more palatable to the audience. Whether I always liked her or not, there was little doubt that Rosie was realistic. At times self conscious, insecure and unsure about her future, Doktorski has created a character that rang true. I'm sure there are many teens out there who will be able to relate to what Rosie was going through, and how she handled the situation, however ill-advised some of her choices may have been.
"I know it takes two to tango and all that, but I blamed her for going after my boyfriend."
One thing that I do want to address, however, is the misogyny that occasionally permeates the text. This is most evident in Rosie's attitude toward the girl who Joey cheated with. She calls this unnamed girl quite a few derogatory terms throughout the course of the novel, particularly in the beginning, that I found offensive. I understand that Rosie was upset, and that we often say things we don't mean in a moment of anger – One comment I could excuse as one such fit of temper. But as I was continually subjected to Rosie's misogynistic descriptors of this girl like 'skank', 'slut', 'ho', 'ho bag', 'chicken head' and 'bleached-out thing', I found it increasingly difficult to stomach. Not only did it make it difficult to sympathize with and relate to Rosie, but this dehumanizing language is dangerous as I believe it sets a very poor example for Doktorski's female readership. Rosie mentions on more than one occasion that she would be willing to forgive Joey given a certain set of parameters. Meanwhile, Rosie has nothing but horrible things to say about the other girl he was involved with. The fact that the 'other woman' shoulders the majority of the blame in this story was not lost on me. I never felt as though Joey was held accountable for his behaviour. This was particularly frustrating because as Rosie's boyfriend, he, not the other girl, was the one who owed Rosie a duty of fidelity and loyalty, or at the very least, honesty. While the other girl is also certainly in the wrong, I don't believe that demonizing her while excusing Joey's behaviour is the message that we want to send young girls. Unfortunately, the internalized misogyny does not end there. Rosie also shames a girl with 'ginormous breasts' for wearing a tank top to an amusement park and unwittingly attracting the attention of those around her. How dare that woman have the audacity to dress as she likes? Doesn't she have the good sense to know that she should be ashamed of her body as the media constantly implies? Doesn't she know she should keep her body 'tastefully covered' as Rosie dictates? I found this misogynistic language and behaviour deeply troubling and could think of no reason for its inclusion in the novel. This did detract from my overall enjoyment of How My Summer Went Up In Flames.
"But really, I don't want to delve into Logan's or Matty's, or even Avery's psyche. I've already made a mess of my love life. No need to enter into a love rhombus."
As one would expect when four teenagers are trapped in close quarters for an extended period of time, romance and complicated feelings are almost inevitable. What's interesting, and perhaps a little confusing, was Doktorski's approach to the romantic subplot. At various points throughout the novel, Rosie expresses interest in each of the boys in turn, at one point kissing one boy while thinking of another. As an unfortunate result, I never knew which relationship to invest in or root for. Things are only further complicated when Doktorski introduces another character, Avery, who has a romantic history with Logan but who seems presently interested in Matty. I haven't seen a set of characters whose romantic interests were this intertwined since Dawson's Creek, and even then at least I knew who was romantically interested in who. This lack of clarity concerning the author's intentions meant that Rosie's eventual relationship with her romantic interest seemed more of an afterthought, as though Doktorski had finally made up her mind 75% of the way through the novel as to which boy Rosie was best suited to. I would have felt more swept away by the romance had Rosie not been debating her feelings about the other two boys along for the ride. While I do think this is a somewhat accurate portrayal about the fleeting, unsure nature of crushes teens often experience at Rosie's age, I do think it compromised the emotional thrust of the ultimate romantic pairing. That said, I did appreciate that the romantic subplot was of secondary concern to the plot, and that Rosie prioritized her own personal development and growth over that of a romantic relationship. It was nice to see her put herself first and realize that a new relationship would not automatically fix the underlying problems that manifested themselves in her prior relationship with Joey.
"I was trying to be better." I whisper to myself, but Logan hears.
"Give yourself a break," he says softly. "You're better than you think, Rosalita."
While it lacked the raw, emotional intensity of Jessi Kirby's In Honor or the quick wit and creativity of Morgan Matson's Amy and Roger's Epic Detour, Jennifer Salvato Doktorski's debut novel How My Summer Went Up In Flames is a light, fun story that's a great addition to the road trip sub-genre. While it was a little predictable and did not reinvent the wheel in terms of contemporary, young adult fiction, How My Summer Went Up In Flames was a promising debut novel with an interesting premise that would be a great addition to anyone's beach bag. I had a genuinely good time reading this novel, and would happily recommend it to others looking for an easy, funny, fast-paced summer read. I'm also greatly interested in reading Doktorski's upcoming, second novel, Famous Last Words, set to be released on July 2nd, 2013. With an equally inventive premise, it follows the life of sixteen-year-old Samantha D'Angelo, who has been tasked with writing obituaries for the local newspaper as part of her summer internship.

Overall Rating


Around The Web
Still not sure this is the right book for you? Why not listen to what some other bloggers had to say about it?
● Christina @ A Reader of Fictions wrote "For those who can stomach Rosie, How My Summer Went Up in Flames will be a fun, summery read. Doktorski's well-drawn characters and humor show talent, and I still hold out hope for her sophomore novel, Famous Last Words, to be released later this year." (Read the rest of the review Here!)
● Tara @ Hobbitsies wrote "I thought it had a great combination of fun plot and realistic characters who were getting life experience for the first time and growing because of it. So if you like contemporaries and road trips and realistic characters, definitely pick up How My Summer Went Up in Flames." (Read the rest of the review Here!)
● April @ Good Books and Good Wine wrote "In all, I think that mileage may vary for How My Summer Went Up In Flames. I think that if you are a YA road trip connoisseur, you will really like this book. I also think that if you are more of a plot person than a character person, you'll love this book." (Read the rest of the review Here!)