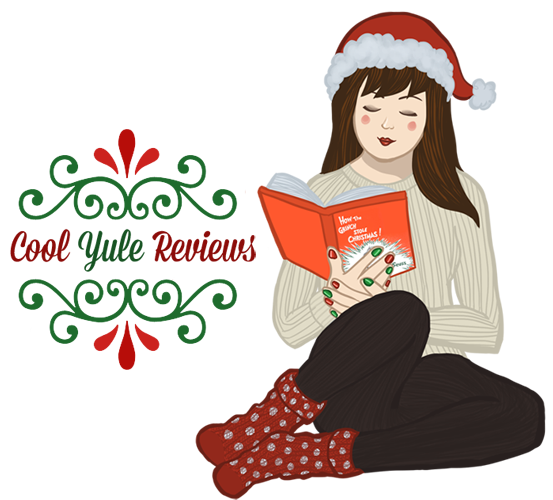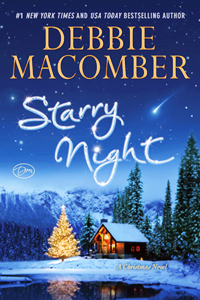 Title Starry Night
Author Debbie Macomber
Published October 8th, 2013 by Ballantine Books
Pages 256 Pages
Intended Target Audience Adult
Genre & Keywords Contemporary, Romance, Holiday, Christmas
Part of a Series? No
Source & Format Purchased from Chapters, Hardcover
Find It On Goodreads ● Amazon.com ● Chapters
Synopsis
Carrie Slayton, a big-city society-page columnist, longs to write more serious news stories. So her editor hands her a challenge: She can cover any topic she wants, but only if she first scores the paper an interview with Finn Dalton, the notoriously reclusive author.
Living in the remote Alaskan wilderness, Finn has written a megabestselling memoir about surviving in the wild. But he stubbornly declines to speak to anyone in the press, and no one even knows exactly where he lives.
Digging deep into Finn's past, Carrie develops a theory on his whereabouts. It is the holidays, but her career is at stake, so she forsakes her family celebrations and flies out to snowy Alaska. When she finally finds Finn, she discovers a man both more charismatic and more stubborn than she even expected. And soon she is torn between pursuing the story of a lifetime and following her heart.
"This was it. She was done. First thing in the morning she would hand in her two-week notice, sublet her condo, and take her chances in the job market in Seattle. If the managing editor, Nash Jorgen, refused to give her the opportunity to prove she had what it took, then why stay? She refused to be pigeonholed.
That decided, Carrie limped into her bedroom and fell into bed, tired, frustrated, and determined to make a change."
Carrie Slayton knows that she should be grateful for her employment as a journalist at the prestigious publication, the Chicago Herald. The only problem? She's less-than-thrilled with her role writing for the superficial society pages and has never been given the opportunity to report on more serious fare as she was promised when she was hired for the position two years prior. As a result, Carrie can't help but feel largely under-utilized and under-appreciated and is desperate to make a change. To make matters even worse, having left her entire family and old life behind in Seattle, Washington in order to pursue her new career in Chicago, Carrie feels as unsuccessful and unfulfilled in her personal life as she does in her professional one. After all, it's difficult to find time to date or form any serious attachments when your time is spent reporting on the lives of others. Tired of covering an endless assortment of art gallery openings and society weddings and fending off the self-interested introductions of those who simply wish to see their name in print, Carrie is on the verge of resigning when her editor offers her the opportunity to prove herself once and for all. If she's able to locate and secure an interview with notorious recluse, author and survivalist, Finnegan 'Finn' Dalton, Carrie can have her choice of assignments. With the promise of everything she has always wanted professionally, Carrie goes to extreme lengths in order to locate the man who unknowingly holds her very future in his hands. Carrie travels to his home in the remote Alaskan wilderness, and, much to Finn's horror and frustration, the two are soon stranded together as a storm impedes any chance Carrie had of a short return to civilization. What begins as a grudging coexistence out of necessity soon blossoms into something more as the two characters lower their respective guards and get to know one another a little better. When their two days together come to an end and Carrie returns to Chicago, their relationship continues to blossom in spite of their numerous reservations. Soon, both Carrie and Finn will be forced to reexamine their priorities and their feelings for one another if they ever hope to forge a future together.
"As far as he was concerned, the sooner Carrie Slayton was out of his hair, the better."
While I've been familiar with Debbie Macomber by name and reputation for a number of years now, I had never taken the time to read one of her books until I discovered her latest release, Starry Night, while on the hunt for a selection of novels to read during Pop! Goes The Reader's month-long series of Christmas-themed reviews. Having already read a favourable review of the novel from my fellow friend and blogger, Bree of All The Books I Can Read, whose opinion I greatly trust, I was quick to pick up a copy myself. For the most part, I'm pleased that I did. If there was one word I could use to describe this novel, it would be 'Fine'. While Starry Night is by no means a new favourite or a novel I intend to re-read every Christmas, it's a sweet, relatively diverting story with which to while away a couple of hours. Both Carrie and Finn are fascinating, albeit largely forgettable, characters and the romance, while a little too tame for my taste, was a touching examination of the intoxicating rush of feelings one experiences at the outset of a new relationship. While references to Christmas are scarce despite the novel being set during the months of November and December, the seasonal setting is well rendered and could easily be considered one of the highlights of the novel.
"Women like Carrie Slayton were sure to leave a string of broken hearts in their wake, and Finn was determined not to be one of them. He noticed that she kept touching her head. It appeared to have something to do with her hair, which had twisted into springy ringlets after it'd gotten wet in the snow. She seemed to be self-conscious about it, waiting for him to tease her. He wouldn't. Truth be known, he found her hair to be one of the most attractive features about her."
Intelligent, driven, and determined to do what's necessary in order to achieve what she wants most, Carrie Slayton began as a protagonist I was easily drawn to. I admired her tenacity and her ability to adapt to any situation, however uncomfortable or awkward, with a good sense of humour and relative sense of grace. Had her character continued on in this fashion I likely would have been quite satisfied. Unfortunately, I couldn't help but feel that Carrie lost sight of who she was in the wake of her growing feelings for Finn. While I understand that one's priorities might shift upon entering a new relationship, I don't think it's reasonable to expect that one be forced to relinquish them entirely in order to placate their partner. Carrie's career, which was once extremely important to her and a driving force in her life at the outset of the novel, becomes little more than a passing consideration after she and Finn grow more serious about one another. Finn pleads with her not to publish the article she has written about him despite the possibilities it holds for her career and she's too nervous to approach the subject further for fear of jeopardizing the relationship. This places Carrie in the untenable position of having to choose between her hard-earned position at the Chicago Herald and her future with Finn, which I thought was as unnecessary as it was unacceptable.
"They sipped the wine while their gazes held. Deliberately, Carrie looked away. She needed to remind herself that the sole reason she was in Alaska was for an interview. After spending more than twenty-four hours with Finn, she had what she needed. And as soon as the article was published, Finn Dalton would want nothing more to do with her."
Despite being drawn to Carrie immediately because of an elemental, physical attraction, Finn does his best to remain at a distance from the tenacious reporter who has forcefully inserted herself into his ordinarily solitary and peaceful life. Having had his heart broken by what he perceived as his mother's abandonment as a small child as well as a former girlfriend's betrayal, Finn has a firmly held, bitter distrust of women ever since. Although written in third-person narration, the author alternates between both Carrie and Finn's perspectives. This glimpse into the brusque, reticent author's mind did wonders for the development of his character, as without this I might otherwise have found his outwardly misogynistic attitude toward Carrie insufferable. Being allowed a better understanding of his inner thought processes helped to mitigate, although not entirely condone, his behaviour. As he begins to become better acquainted with Carrie as an individual as opposed to a faceless representation of a gender he has been taught by experience to regard with suspicion and mistrust, Finn is forced to let down his guard. A 'man's man' who is strong, capable, and more comfortable with the peace and tranquillity of nature than the hustle and bustle of the city, Finn Dalton was theoretically a character which I should have found infinitely attractive. Unfortunately, there was a disconnect between myself and this character that never allowed me to entirely invest in Finn or his development. There was little to distinguish Finn from the plethora of other 'woman-hating' heroes that seem to permeate the romance genre as of late. While I understood logically from where Finn's distrust of women sprung, I couldn't help but feel that his character was merely going through the motions. His demons are too easily vanquished and his problems too easily overcome, and as such his relationship with Carrie never felt well earned. Perhaps I was expecting too much from a simple story set during the holidays, but I would have appreciated a greater examination of Finn's feelings and seen this play a greater role in his developing relationship with Carrie. As it was, I had little emotional investment in either Carrie or Finn, or ultimately, their relationship with one another.
"If he found her beautiful before dinner, she was all the more so during. Stunning, breathtakingly beautiful, and for the life of him he couldn't keep his eyes off her.
He wanted to blame the wine, but she'd intoxicated him with little more than a smile."
The romance in Starry Night is what I would deem a 'clean' romance, in that it focuses predominantly on the emotional rather than the physical intimacy between the two characters involved. While the relationship in question requires a great deal of suspension of disbelief on the part of the reader as Carrie and Finn develop strong feelings for one another over the course of only forty-eight hours, I was rather taken aback by how touched I was by the earliest stages of their relationship. While I admittedly prefer romance novels that are a little more explicit and I found Starry Night too tame for my personal preference, it was exhilarating to be swept up in the excitement and strength of feeling the two experienced for one another upon first meeting. The manner in which the couple kept in contact after Carrie left Alaska was equally endearing. The two chose to communicate in a number of different ways including email, text, and phone calls, and it was a lot of fun to be privy to these conversations. Like any relationship, however, the course of true love never did run smooth, and both characters are forced to face a number of obstacles in order to ensure their happy ending. Confronted with their own doubts about the longevity of their relationship as well as those of their loved ones, coupled with their geographical separation and Finn's lingering trust issues, Carrie and Finn's coupling was anything but easy. That said, as legitimate as the obstacles Carrie and Finn were forced to face were, the reason for their eventual (temporary) break-up was contrived and Finn's behaviour entirely out of character, despite Finn's attempted retroactive explanations to the contrary at the conclusion of the novel. Also, as sweet as their interactions were in the beginning of their relationship, it began to border on saccharine and cloying as the novel progressed. Personally, I would have preferred a great deal more sexual tension and fewer exchanges revolving solely around their feelings for one another.
"He really has mother issues, doesn't he?" she told the dog, lowering her voice to a whisper.
"I heard that."
Carrie ignored him, seeing how well he'd managed to pretend she didn't exist. "His heart must be as cold as ice not to care about his own mother."
"Stay out of it, Carrie."
She ignored that, too."

The writing is serviceable, if a little simplistic. The author makes a habit of providing blatant exposition throughout the novel in order to provide an explanation of a character's motivations, as opposed to allowing the reader to draw their own conclusions on the matter. None of these are particularly difficult or complicated concepts to grasp, either. For example, it quickly becomes clear from where Finn's issues with women stem, but Macomber seems to feel compelled to outline this is explicit, painful detail with all the subtly of a brick. I found this habit of spoon-feeding the reader information both mildly irritating and condescending. That said, where the writing did excel was in Macomber's descriptions of Finn's isolated cabin and the surrounding wilderness, which were both rich and vivid. I could practically feel the bite of the cold air against my skin and was able to imagine the character's arctic surroundings with a great deal of clarity and detail. There's a particularly beautiful moment when Carrie and Finn share a quiet moment observing the aurora borealis that comes immediately to mind. Despite being set during the months of November and December, however, there was a woeful lack of Christmas-related activities, which I found disappointing. I had hoped that the holiday would have played a greater role in Carrie and Finn's story, but Macomber's otherwise excellent depictions of the season more than made up for this fact.
"…This is just the beginning for us. And this time it's for keeps."
A sweet, simple romance about overcoming obstacles both real and imagined and the first blush of love, Starry Night is the perfect choice for those searching for a placid, clean romance to help ease them into the spirit of the season. While I'm not sure that Debbie Macomber's writing is to my particular taste as I prefer a greater deal of sexual chemistry and I therefore found this novel a little too tame because a distinct lack of the aforementioned, I have no trouble imagining that this novel will be quite popular amongst a great number of readers. The Alaskan setting is beautifully rendered and the romance is sweet, if a little tepid. Overall, reading Starry Night was a pleasant way to spend a few hours and made me long for my own taciturn author and the solitude of the frigid wilderness.

Overall Rating


Around The Web
Still not sure this is the right book for you? Why not listen to what some other bloggers had to say about it?
● Bree @ All The Books I Can Read wrote "It's the sort of story that readers who appreciate the time taken to establish bonds and a relationship, will enjoy. But if you read your romance for hot chemistry and sexual passion, maybe give this one a miss." (Read the rest of the review Here!)
● Lexxie @ (Un)Conventional Book Views wrote "Starry Night is full of beautiful prose, extraordinary descriptions of Alaska in the winter, and two very interesting and intriguing main characters." (Read the rest of the review Here!)
● Allison @ Romancing The Book wrote "Debbie Macomber never lets me down with her novels, and this is truly now one of my favourite books of hers, one that I will read over and over again." (Read the rest of the review Here!)