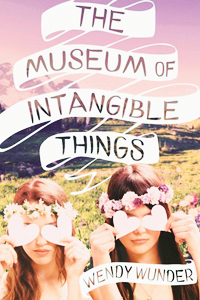 Title The Museum of Intangible Things
Author Wendy Wunder
Published April 10th, 2014 by Razorbill
Pages 304 Pages
Intended Target Audience Young Adult
Genre & Keywords Contemporary, Realistic Fiction, Mental Illness, Friendship, Road Trip
Part of a Series? No
Source & Format Received an Advanced Reader Copy from the publisher for review (Thanks, Penguin Canada!), Paperback
Find It On Goodreads ● Amazon.com ● Chapters

Loyalty. Envy. Obligation. Dreams. Disappointment. Fear. Negligence. Coping. Elation. Lust. Nature. Freedom. Heartbreak. Insouciance. Audacity. Gluttony. Belief. God. Karma. Knowing what you want (there is probably a French word for it). Saying Yes. Destiny. Truth. Devotion. Forgiveness. Life. Happiness (ever after).
Hannah and Zoe haven't had much in their lives, but they've always had each other. So when Zoe tells Hannah she needs to get out of their down-and-out New Jersey town, they pile into Hannah's beat-up old Le Mans and head west, putting everything — their deadbeat parents, their disappointing love lives, their inevitable enrollment at community college — behind them.
As they chase storms and make new friends, Zoe tells Hannah she wants more for her. She wants her to live bigger, dream grander, aim higher. And so Zoe begins teaching Hannah all about life's intangible things, concepts sadly missing from her existence — things like audacity, insouciance, karma, and even happiness.

"I am a freshwater girl. I live on the lake, and in New Jersey, that's rare. The girls on the other side of town have swimming pools, and the girls in the south have the seashore. Other girls are dry, breezy, salty, and bleached. I, on the other hand, am dark, grounded, heavy, and wet. Fed by springs, tangled in soft fernlike seaweed, I am closer to the earth. Saturated to the bone. I know it, and so do the freshwater boys, who prefer the taste of salt."
For Hannah and Zoe, who reside in a small, impoverished New Jersey town where the middle class is a rapidly-fading memory and the upper class an impossible dream, it's difficult to imagine a future that doesn't involve becoming ensnared in a life of mediocrity and stagnancy as those before them have done. The two are stuck, trapped on a path that seems as hopeless as it does inescapable. What they do have, however, is one another. Inseparable since a childhood vow never to let the other down, Hannah and Zoe have seen one another through the best and worst that life has to offer. So, together, they do whatever they can to make their situation seem a little less hopeless. For Hannah, this means sneaking into the attic above the Sussex Country Day School and eavesdropping on the classes below, absorbing any lessons she overhears like a sponge and attempting to save enough money from her fledging hot dog cart to attend the local community college. For Zoe, this means working on monthly installations for The Museum of Intangible Things, a project she created in order to help her brother, who suffers from asperger's syndrome, process emotions and other intangible concepts he struggles with. But when Zoe's own struggles with mental illness come to the forefront and it seems as though their lives are falling apart before their very eyes, Zoe and Hannah decide to embark on a cross-country road-trip that will take them from the streets of New York to the Las Vegas strip and everywhere in between. What begins as an innocent attempt to 'get away' quickly escalates into a kaleidoscope of random and increasingly surreal experiences that culminates in a manner Hannah never could have forseen. From Ikea sleepovers to balloon liberation, truck-stop taxidermy to mouse emancipation, Zoe attempts to teach Hannah about the beauty of the indefinable elements in life. Audacity and insouciance. Gluttony and betrayal. These are just a few of the concepts that will be found in Zoe and Hannah's Museum of Intangible Things.
"When we were ten, we took a break from searching for crawfish underneath some rocks at the edge of the lake. We retreated to our fort beneath the branches of the weeping willow, and we made a pact. We wrote it on some bark. And then mashed it into a stew with forsythia flowers, petroleum-streaked sand, seaweed, and a dead fish. And we vowed: never to let each other down.
There is no stronger bond than the one that gets you through childhood.
This is our story."
After twenty-five years of life (most of which were spent reading) it's exceeding rare that I don't know how I feel about a book after I turn the final page. But this was precisely the problem I faced upon finishing Wendy Wunder's sophomore novel, The Museum of Intangible Things. For those of you who aren't aware, The Museum of Intangible Things was one of my most highly-anticipated 2014 releases. In fact, there are few times when I have wanted to love a novel more. Which makes it all the more painful for me to admit that, after a little discussion and a lot of reflection, while I loved the concept and was charmed by Wunder's narrative style, the execution of said concept left a little something to be desired. In an ironic twist of fate, it was (in part) the intangible, the unexplainable, that prevented me from ever truly enjoying this novel as much as I had hoped. While I would like to believe that I am a rational, analytical reader first and foremost, like any reader I too often rely on my gut instinct to separate the 'good' novels from the 'great' ones. There is absolutely no doubt that Wendy Wunder is a technically proficient writer with a great deal of talent. That said, I was never able to emotionally invest in and connect with these characters and their journey as much as I would have wished. Was I interested enough to keep reading? Yes. Did I truly care about the characters' fates? Sadly, no. For whatever reason – be it frenetic pacing, superficial character development, unrealistic or incorrect expectations on my part or simply the unexplainable – Wendy Wunder's The Museum of Intangible Things fell more than a little short of the mark.
"I sometimes need to have things pointed out to me.
It's not that I'm slow or 'on the spectrum' or anything like that. It's just that I'm an only child. I don't have older siblings to observe. I'm out here like a lone wolf, just trying to slake my thirst. It bothers me that there are rules about the slaking. One should just slake it. The thirst. I bet in Europe, teenagers don't judge each other by how they drink from their water bottles. I have exalted ideas about Europe, especially Scandinavia, which I imagine as a perfect egalitarian utopia."
Although told exclusively from Hannah's perspective, The Museum of Intangible Things tells the story of best friends Hannah and Zoe. That said, neither character is examined with as much depth and care as I would have liked. The two characters are a study in contrasts and Hannah is the the more grounded of the two. Calm, rationale and meticulous, Hannah has been forced to grow up too quickly after being obligated to compensate for her parent's shortcomings. As a result, Hannah has constructed a series of coping mechanisms in order to deal with this additional responsibility and pressure, most notable of which is her fascination with Scandinavian culture, which she perceives as an idealistic paradise of egalitarianism and prosperity. When Zoe suggests they embark on a road trip, a chance to 'get away' and escape the lives that seem to have been left in a shambles around them, Hannah agrees, convinced she can coax Zoe back to good health and temper Zoe's uninhibited and wild impulses. Unfortunately, despite the supposed length and depth of their friendship, Hannah never seems able to grasp the severity of Zoe's illness. She minimizes Zoe's symptoms and makes excuses throughout the novel, even as Zoe's behaviour continues to worsen. Despite this, which is at best optimistic naïveté and at worst criminally stupid, Hannah was the more realistic and interesting of the two characters and was the one I was most able to relate to. I could identify with Type-A personality and rigid worldview and, like Hannah, I too would likely benefit from a little more insouciance in my life.
"But Zoe is still not well. You can see it in her eyes, and I need to get her back to normal. She really is all I have in the world to depend on. I need her healthy, and I think perhaps she is right. Maybe we need to put some more distance between us and the place where she seemingly lost her mind."
Zoe, unfortunately, is less well-rendered. Truthfully, her portrayal borders on that of a 'Manic Pixie Dream Girl'. (Don't know what I'm talking about? Click Here.) In short, she is the girl to whom every man is attracted and for whom everything comes easily. Most troubling of all, her characterization begins and ends with her mental illness. While there is no doubt that this constitutes a fundamental part of who she is, I would be hard-pressed to name a single trait about this character that did not involve her bipolar disorder and manic depression. Zoe is strictly defined by her illness and her single-minded desire to help Hannah blossom into a more complete person. As much as it pains me to admit it, I also felt as though Zoe's mental illness was romanticized and trivialized in that it is often portrayed as 'quirky' or 'strange' as opposed to being treated with the respect and seriousness it deserved. Given the stigma that already surrounds mental illness and those who suffer from it, I had hoped that Wunder would combat, rather than contribute, to the problem. Unfortunately, my hopes went unrealized. While the author does demonstrate the dire consequences of mental illness when left untreated, Zoe's story lacked the raw grit and candor I have come to expect from the contemporary genre and left me unmoved and largely uninterested.
"Since the divorce, and the midlife, and the realization that this is going to be as good as it gets – a crumbling house on the lake, an average-in-every-way daughter, and a dead-end job at the DMV – she has wrapped herself in a cocoon. She's been cocooning, and I've been trying to coax her out and spread her wings. Because although that's as good as it gets, there is magic in each one of these things. The lake. The daughter. The job. The moments. There can still be magic in the moments."
Wendy Wunder's use of prose is nothing short of divine. Having been unfamiliar with the author's previous novel, The Probability of Miracles, I was continually in awe of the subtle lyricism and beauty of Wunder's work that could make even the most mundane of activities charming and whimsical. ("Everything in Ethan Drysdale's house closes properly with a soft and heavy click. Like a quick French kiss.") There were several passages I could have lingered over for hours and while I wasn't necessarily as happy with the content itself, I can't emphasize strongly enough how enchanted I was with the author's narrative style. It was simply exquisite. That said, there were other elements of the story that left me more than a little unsatisfied, none more so than in the case of the examination (or lack thereof) of Zoe's mental illness. In truth, The Museum of Intangible Things often felt less like a poignant and thoughtful reflection on the nature of mental illness and more like an anesthetized young adult re-telling of Thelma and Louise complete with outlandish (and often illegal) shenanigans. As interesting as Hannah and Zoe's excursions often were, I kept waiting for that quiet, understated moment when the pacing would slow and the two girls would be afforded the opportunity to discuss Zoe's illness openly and honest. Unfortunately, this never came to pass. Frankly, the pacing never slowed down long enough to allow for it. This regrettably extended to other aspects of the story as well, most notable of which was the ending. What might otherwise have been a shocking or devastating conclusion to Hannah and Zoe's story was never afforded the opportunity to make as great an impact as it might otherwise have been able to. The reader careens through the events of the novel, conclusion included, and is never given the time to reflect on all that has happened. Regrettably, this lack of depth was not limited to these two aspects of the story, either. Additional secondary storylines are introduced throughout the text only to be summarily dismissed later on. From Noah's Asperger syndrome to Hannah's mother's depression and her father's alcoholism, The Museum of Intangible Things is teeming with stories that begged to be given a greater deal of attention but never were. I wanted more. I needed more.
"I have left behind what tethered me to the lake. The sadness. The self-pity. The dark tentacles of the murky sea monster only I could see. And I have come to appreciate the ocean. How the sun and salt together can leave things weightless, easy, and smooth around the edges. Like sea glass and driftwood."
I wanted to love this novel. Desperately. Unfortunately, I consistently struggled to reconcile what his novel purported to be with what it actually is. Marketed as a positive, empowering story about female friendship and self improvement, ultimately The Museum of Intangible Things is a far darker tale that lacked the emotional resonance and depth to leave any meaningful impression. There is no doubt that The Museum of Intangible Things is an ambitious undertaking with an interesting concept and a magnificent narrative style that makes even the simplest sentence sing. Sadly, poor pacing, superficial character development and a problematic portrayal of mental illness all coalesced to make this reading experience one of the most disappointing in recent memory. While I will not hesitate to read Wunder's The Probability of Miracles given how much I adored her prose, The Museum of Intangible Things was simply not the right book for me.
Please Note: All quotations included in this review have been taken from an advanced reader copy and therefore might be subject to change.

Overall Rating


Still not sure this is the right book for you? Why not listen to what some other bloggers had to say about it?
● Aly @ My Heart Hearts Books wrote "I kept turning the pages, hoping and waiting to find out what would happen next. It's definitely one of those heart-in-your-throat, heart pumping, reading experiences." (Read the rest of the review Here!)
● Rachel @ Hello, Chelly wrote "This is the second Wendy Wunder book I've read and while there is something about her writing that I really enjoy, something seems to be always missing for me in the end." (Read the rest of the review Here!)
● Kate @ Midnight Book Girl wrote "I loved this book, and the more I think about it the more I love it. Hannah and Zoe are characters who will stay with you, and both have quirks that make them real." (Read the rest of the review Here!)