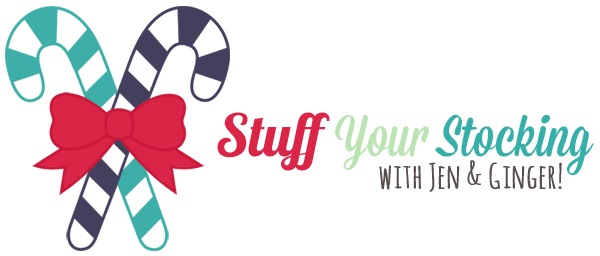 'Stuff Your Stocking' is a joint, three-week Christmas-themed project between Jen at Pop! Goes The Reader and Ginger at GReads! in which we celebrate the two things we love most: Christmas and Reading! Need some help finding the perfect Christmas gift for the person who has everything? No problem! We've got you covered.
Hi there, and welcome to week two of the Stuff Your Stocking event! This week I've used one of my favourite novels, Pride and Prejudice by Jane Austen, as the inspiration for a series of gifts for the Austen fan on your Christmas list. I've done my best to select items from a number of different price points and functions so that you might have a greater variety to choose from. I know that I would be happy to receive any one of these items as a gift this Christmas! (What do you mean getting a fourth copy of the Pride and Prejudice A&E miniseries would constitute an addiction!?)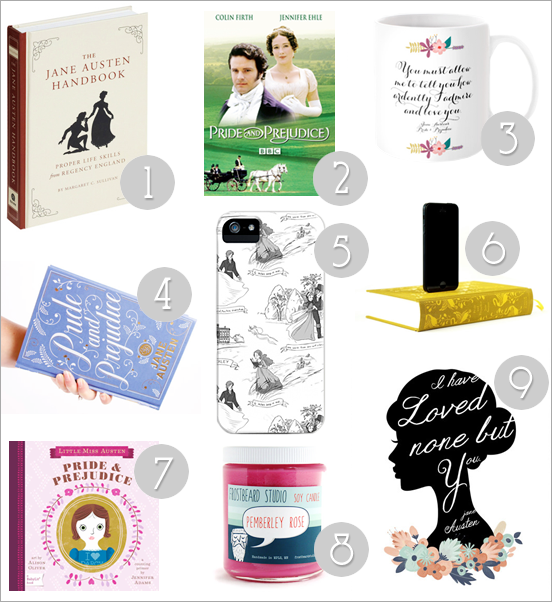 1) The Jane Austen Handbook by Margaret C. Sullivan ($16.99)
2) Pride and Prejudice A&E Miniseries ($11.69)
3) Pride and Prejudice Quotation Mug by Printable Wisdom ($15.00)
4) Pride and Prejudice Clutch by Chick Lit Designs ($155.00)
5) Pride and Prejudice Toile iPhone and iPod Case by Aimee Steinberger ($35.00)
6) Pride and Prejudice iPhone Dock by Rich Neeley Designs ($52.99)
7) Pride and Prejudice Counting Primer by Baby Lit ($9.99)
8) Pemberley Rose Book Lovers' Scented Soy Candle by Frostbeard Studio ($15.00)
9) Jane Austen Floral Silhouette and Quote Print by Sockeye Designs ($10.00+)
Still not sure you've found the perfect gift for the Janeite on your list this season? Why not buy a book instead – They do make the best gifts, after all 😉 While Austen may have regrettably only published six novels, there are a plethora of books inspired by the author's work in a variety of genres that promise to appeal to even the most selective reader this Christmas.

Pride and Prejudice and Zombies by Seth Grahame-Smith (Find it on Amazon!)
Longbourn by Jo Baker (Find it on Amazon!)
A Jane Austen Education: How Six Novels Taught Me About Love, Friendship, and the Things That Really Matter by William Deresiewicz (Find it on Amazon!)
Jane Austen: The World of Her Novels by Deirdre Le Faye (Find it on Amazon!)
As with last week, don't forget to enter the Stuff Your Stocking giveaway for your chance to win your choice of any two books on my Ultimate Gift Guide 2013! This giveaway is open internationally, the only caveat being that The Book Depository must ship to your country in order for you to qualify. So what are you waiting for? Go enter!