'Tis The Season: Authors Talk Holidays is a special seasonal feature on Pop! Goes The Reader in which some of my favourite authors help me to celebrate the spirit of the season and spread a little holiday cheer. So, pour yourself a cup of hot chocolate and snuggle in by the fireside as they answer the question: "What does the holiday season mean to you?" You can find a complete list of the participants and their scheduled guest post dates Here!
About Heidi Schulz

Heidi Schulz is a writer, reader, and giraffe suspicioner. She lives in Salem, Oregon with her husband, co-captaining a crew made of their teen daughter, a terrible little dog, and five irascible chickens. Her debut novel for middle grade readers, Hook's Revenge, published by Disney • Hyperion, is available now. A sequel, Hook's Revenge: The Pirate Code, will follow in September 2015. Bloomsbury Kids will publish her picture book debut, Giraffes Ruin Everything, in Spring 2016.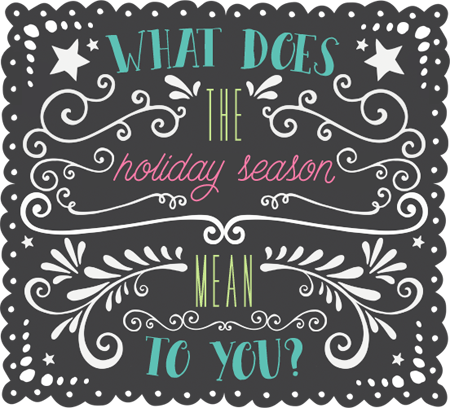 I've been thinking a lot lately about holiday traditions — those that are left over from my childhood (not many), from my husband's (even fewer), and those that we have built together.
My husband and I had been married for a solid 14 days by our first Christmas together. We spent the night before on a futon in our apartment's living room, wanting to sleep near the tree. It felt like a slumber party, all giddy and giggly. Every part of my life was lit by twinkling lights. Everything sparkled.
We woke at 6:00 in the morning, as excited as children to open the gifts we bought each other. Okay, maybe I woke him, unable to wait for Christmas another minute, but he went along with me. I admit I cried a little when I opened a copy of The Velveteen Rabbit — one of his gifts to me that year. He had paid attention when I told him that it had been my childhood favorite, but my copy had been lost along the way to growing up.
Later that day, after going back to bed and sleeping until a more reasonable hour, we headed to his parents' house. On the way we decided on an exit strategy — a way to spend more time together that day, just us. At his mom and dad's, while waiting for dinner to be ready, we pulled out their newspaper (1995 was pre-internet for us) and looked up movie times. 6:40 — that's when we'd make our escape.
"Sorry, Mom and Dad, wish we could stay longer, but we don't want to miss our movie!"
We didn't know it, but that was the birth of our first tradition. We have gone to the movies nearly every Christmas Day since. Once the wrappings have been thrown away and the dinner dishes are loaded into the dishwasher, we make our escape.
There have been many memorable movies over the years, like seeing Tom Hanks yell "Wilson!" and letting my tears — over a stupid volleyball — fall on the head of my sleeping newborn, or just after my husband's dad died and we decided to start bringing his mom along, so she did not have to be alone as Christmas Day wound down. Voyage of the Dawn Treader was the first movie she saw in the theater since Return of the Jedi. (I'm still sorry it wasn't something better.)
Going to the movies was first, but over the years our little family has collected other traditions. These days we start our celebrations on the 23rd — we jokingly call that day Christmas Adam. (Think about it. You'll get it.) We spend the evening helping a local police department deliver toys to the needy and when we come home, our now teenage daughter sleeps in the living room, wanting to be near the tree.
On Christmas Eve we read the Christmas story from the Bible before roasting hotdogs and marshmallows in our fireplace for dinner. After that we each open two gifts, always the same: new pajamas and new books. Then my husband and I send our daughter to bed so Santa can come.
Our job is to shush each other and try not to laugh too hard while we fill the stockings and set out the gifts. Her job is to pretend not to hear us and try not to injure herself rolling her eyes at our charade.
After she sleeps as late as she can possibly stand Christmas morning, our daughter drags us out of bed. We open stockings and gifts before having something wonderful for breakfast (the last few years it has been crème brûlée French toast).
We call our far-from-us family on the phone and then we pick up my mother-in-law and bring her to our house for a prime rib dinner and pie. When night falls, we all bundle up and go to the movies.
In the early years, the theater had no lines and few people. Now, it is filled — we have to buy our tickets ahead of time. We like to pick out the people wearing clothes they likely unwrapped that morning: his new white tennis shoes, her new leather jacket. Everyone seems happy. I am happy.
The people I love most sit with me in the theater, the lights go down, and everything sparkles.
Title Hook's Revenge
Author Heidi Schulz
Pages 304 Pages
Genre Middle Grade, Fantasy, Fairytale, Re-Telling, Adventure
Publisher Disney-Hyperion
To Be Published September 16th, 2014
Find It On Goodreads
Captain Hook's feisty daughter hits the high seas to avenge her father's death at the jaws of the Neverland crocodile in Heidi Schulz's spirited middle-grade debut.

Twelve-year-old Jocelyn dreams of becoming every bit as daring as her infamous father, Captain James Hook. Her grandfather, on the other hand, intends to see her starched and pressed into a fine society lady. When she's sent to Miss Eliza Crumb-Biddlecomb's Finishing School for Young Ladies, Jocelyn's hopes of following in her father's fearsome footsteps are lost in a heap of dance lessons, white gloves, and way too much pink.

So when Jocelyn receives a letter from her father challenging her to avenge his untimely demise at the jaws of the Neverland crocodile, she doesn't hesitate – here at last is the adventure she has been waiting for. But Jocelyn finds that being a pirate is a bit more difficult than she'd bargained for. As if attempting to defeat the Neverland's most fearsome beast isn't enough to deal with, she's tasked with captaining a crew of woefully untrained pirates, outwitting cannibals wild for English cuisine, and rescuing her best friend from a certain pack of lost children, not to mention that pesky Peter Pan who keeps barging in uninvited.

The crocodile's clock is always ticking in Heidi Schulz's debut novel, a story told by an irascible narrator who is both dazzlingly witty and sharp as a sword. Will Jocelyn find the courage to beat the incessant monster before time runs out?