'Tis The Season: Authors Talk Holidays is a special seasonal feature on Pop! Goes The Reader in which some of my favourite authors help me to celebrate the spirit of the season and spread a little holiday cheer. So, pour yourself a cup of hot chocolate and snuggle in by the fireside as they answer the question: "What does the holiday season mean to you?" You can find a complete list of the participants and their scheduled guest post dates Here!
About Lauren Gibaldi

I'm an author of young adult novels and public librarian. I've been, among other things, a magazine editor, high school English teacher, bookseller, and circus aerialist (seriously). I have a BA in Literature and Master's in Library and Information Studies, both from Florida State University. I currently live in Orlando, Florida with my husband, daughter, and ever-expanding collection of books. (I mean, it comes with the professions, right?)

I love dinosaurs, pasta, musicals, and cheesy jokes.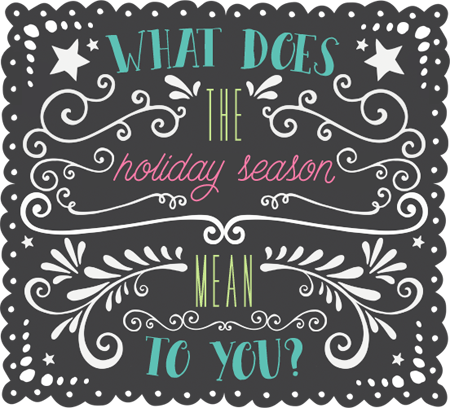 My holidays are marked by tradition, as many people's are. I like tradition. I hold on to it far longer than I should, perhaps. Maybe I'm too old to ask if Santa came and brought with him presents. Or, maybe not.
I'm a Cashew – a Catholic Jew. My mom is Jewish, and my dad Italian and Catholic, so holidays have always been a conglomeration of dreidels and jingle bells, latkes and lasagna. I grew up in New York, and on the first night of Hanukkah my family would go to my aunt's house where we'd have a traditional meal (that I, admittedly, never much liked), and play hide-the-matzos (which I, admittedly, never won). On Christmas morning, my younger brother and I would sit up in his room and not-so-patiently wait until it was time to wake our parents. We'd sneak back and forth from the tree, guessing and betting what the presents underneath were. Then we'd wake my parents, and they'd always ask if Santa came, and we'd always scream "YES" and force them out of bed until we were properly tearing apart gifts at around 5 or 6 a.m.
And though I love both days, Christmas Eve has always had a special place in my heart. The unadulterated excitement of what was to come, and the innocence of believing in magic. And also, the food. To combine both cultures, we did the one thing we knew best – we ordered Chinese food. And it was always delicious.
So when we moved to Florida when I was 12, my brother 8, traditions changed a bit. Hanukkah was just the four of us, and we didn't really do anything aside from get one present and a bag of gelt (chocolate coins) on the first night. Christmas was spent with our grandparents, and it was still wonderful and fun, but we started getting up a little later. We were growing up after all.
But Christmas Eve…that was still the same.
We started going out to the same Chinese restaurant every year, reserving our table on December 1st, because the place was always booked. By a whole lot of Jews. We were in our element – Christmas carols playing and mazel tovs exchanged. My dad would order more food than we could eat, and my brother and I wouldn't fight. For a night, we were family. And for a night, a glow spread through us all.
After, we would drive around the neighborhoods to look at lights and then come home to watch the Garfield Christmas TV special (one of my favorites). My brother and I would exchange our gifts, and then my parents would tell us to go to bed because Santa was on his way. Over time my brother and I would laugh and joke and roll our eyes, but we still went. Even after coming home from college, when I'd go back out to see my friends after dinner and such, my parents would still wait to put out the presents, never wanting to ruin the surprise, and I'd smile, happy in knowing that the spirit was alive.
About four years ago, my now-husband joined in on the celebrations and this year we're adding our daughter. (She is a CaJewDu…a Catholic Jewish Hindu.) I'm excited for her to play with the stuffed dreidel and Rudolph we got her. I'm excited for her to see the lights and excitement and cheer. And I'm so excited for her to join us on Christmas Eve for Chinese food, because it might be weird and stereotypical, but it's us.
But mostly I'm thrilled to start new traditions with her, ones that will last until she's older with a family of her own. Because that's how they go, right? They might lose their steam over time and become tired and worn, and we might all roll our eyes, but they're somehow brought back year after year. And they'll always, if only for a moment, feel magical.
Title The Night We Said Yes
Author Lauren Gibaldi
Pages 304 pages
Genre Young Adult, Contemporary, Realistic Fiction, Romance,
Publisher Harper Teen
To Be Published June 16th, 2015
Find It On Goodreads
Before Matt, Ella had a plan. Get over a no-good ex-boyfriend. Graduate from high school without any more distractions. Move away from Orlando, Florida, where she's lived her entire life.

But Matt — the cute, shy, bespectacled bass player who just moved to town — was never part of that plan.

And neither was attending a party that was crashed by the cops just minutes after they arrived. Or spending an entire night saying "yes" to every crazy, fun thing they could think of.

Then Matt abruptly left town, and he broke not only Ella's heart but those of their best friends, too. So when he shows up a year later with a plan of his own — to relive the night that brought them together — Ella isn't sure whether Matt's worth a second chance. Or if re-creating the past can help them create a different future.

In alternating then and now chapters, debut author Lauren Gibaldi crafts a charming, romantic story of first loves, lifelong friendships, uncovered secrets, and, ultimately, finding out how to be brave.