"Top Ten Tuesday" is a weekly meme hosted by The Broke and the Bookish!

This week's Top Ten Tuesday topic is the Top Ten Favourite Book-To-Film-Or-TV Adaptations.
As always, these adaptations are listed in no particular order.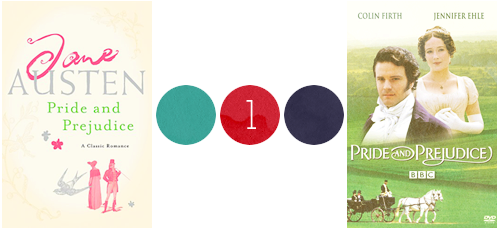 1) Pride and Prejudice
(1995, Starring Jennifer Ehle and Colin Firth)
Two words: Colin Firth. When I first saw this week's Top Ten Tuesday topic, the six-hour-long 1995 mini-series was the first adaptation to come to mind. In my opinion, Pride and Prejudice is the very definition of a perfect adaptation and the one to which all other adaptations should aspire. Unfailingly faithful to the original 1813 novel, everything from the locations to the casting was pitch-perfect and there is not a single thing I would change about this adaptation given the chance. Jennifer Ehle is Elizabeth Bennett and does not receive enough praise for her flawless portrayal of one of Austen's, and literature's, most famous heroines. Oh, and if you value your health (and mine) please do not mention the 2005 abomination masquerading as an adaptation of Pride and Prejudice in my presence. Unless you want to determine whether or not its a scientific possibility to see steam pour from one's ears, you will do well not to mention that film in my company.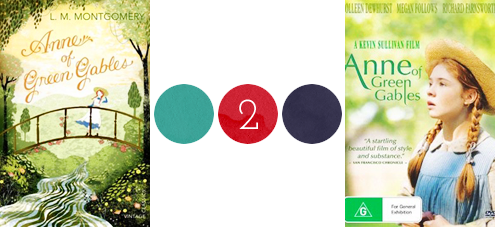 2) Anne of Green Gables
(1985, Starring Megan Follows)
Lucy Maud Montgomery's 1908 literary classic has been one of my favourite novels since childhood. I would read this novel endlessly, going so far as to re-read one copy until the binding gave way and fell entirely apart. As a result, any potential adaptation was facing an uphill battle in terms of satisfying my rather vast expectations. Thankfully, the 1985 TV movie directed by Kevin Sullivan gave me everything I could have asked for and more. As in the case of the 1995 adaptation of Pride and Prejudice, this is easily one of my favourite adaptations of all time, and is as close to perfection as they come. The casting choices in this adaptation are faultless. From Colleen Dewhurst as Marilla Cuthbert to Richard Farnsworth as Matthew Cuthbert and even Patricia Hamilton as the loveably obnoxious, insatiable gossip Rachel Lynde, these actors embodied the very spirit of the characters they were portraying and I cannot imagine anyone replacing them in their respective roles with any greater success. Megan Follows and Jonathan Crombie as Anne and Gilbert had a chemistry that cannot be manufactured and their scenes together still make me swoon, blush and excite the same giddy anticipation in me that they first did when I was a young girl.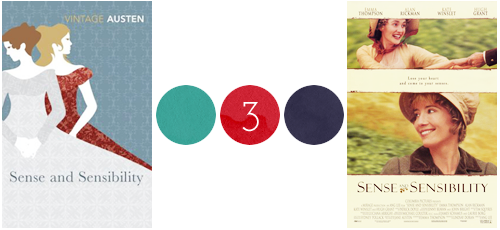 3) Sense and Sensibility
(1995, Starring Emma Thompson, Hugh Grant, Kate Winslet and Alan Rickman)
While the updated 2008 mini-series was arguably more aesthetically pleasing and did feature a young, yet undiscovered Dan Stevens of Downton Abbey fame, it will never be able to rival my affection for the Ang Lee-directed 1995 film. As is often the case in the terms of the adaptations I've listed here, the casting of the male romantic lead is a make-or-break consideration in terms of my endorsement and enjoyment of a given adaptation. Two words: Alan Rickman. I have yet to see a more convincing and accurate portrayal of Colonel Brandon than Alan Rickman's nuanced and touching performance in the 1995 adaptation. Sense and Sensibility is one of my least favourite of Austen's novels, and yet this film made me care deeply for the characters and their relationships in a way I was never able to before.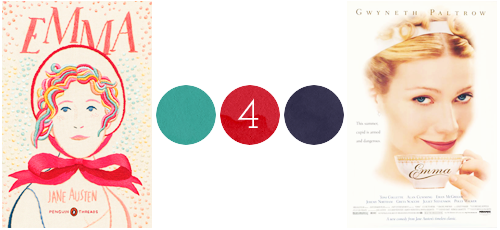 4) Emma
(1996, Starring Gwyneth Paltrow and Jeremy Northam)
This was one of the more difficult choices I had to make for this week's Top Ten Tuesday topic. While I'm also an ardent fan of the 2009 adaptation, primarily because of Jonny Lee Miller's involvement, I was not a fan of Romola Garai's interpretation and portrayal of Emma Woodhouse. I found that her performance was too precocious and often bordered on obnoxious, and the overall adaptation felt too distinctly modern for my taste. While the four-hour-long adaptation was able to delve more deeply into the original source material, Gwyneth Paltrow's performance remains unparalleled. While I own every adaptation of Emma, it is the 1996 adaptation that I find myself returning to again and again.



5) Bridget Jones's Diary
(2001, Starring Renée Zellweger and Colin Firth)
As unhappy as I was with its sequel, Bridget Jones: The Edge of Reason, I am unashamedly in love with Fielding's Bridget Jones's Diary and its accompanying adaptation. The humorous account of an unwed thirty-something looking for love in all the wrong places told through the medium of a personal diary, the 2001 film captured the fun, light-hearted spirit of the original novel and undeniably cast the three perfect actors in the leading roles. The choice of Colin Firth as Mark Darcy was particularly ingenious, and would have endeared me to this adaptation even if all else had failed.



6) Clueless
(1995, Starring Alicia Silverstone and Paul Rudd)
Amy Heckerling's Clueless, a loosely-based adaptation of Jane Austen's 1815 novel, Emma, is not only one of my favourite films of all time, but is also a smart and witty interpretation of one of my favourite Jane Austen novels. I'm such a fan, in fact, that I wrote an entire academic paper dedicated solely to the subject of this adaptation and its role and importance within the Jane Austen oeuvre while enrolled in university. A tongue-in-cheek parody starring Alicia Silverstone as the superficial, meddling but ultimately good-hearted matchmaker and counterpart to Emma Woodhouse, Clueless is a classic film for a new generation and an inventive and accessible way of easing someone unfamiliar with Austen's work into one of her novels for the first time. This film is also personally responsible for my abiding crush on Paul Rudd, which still persists to this day. What can I say? I am totally butt crazy in love with Josh!



7) Little Women
(1994, Starring Winona Ryder, Claire Danes, Christian Bale, etc)
I'll be the first to admit that this adaptation is problematic at best. While I myself had certain problems with the casting choices, the 1994 adaptation of Little Women is a sentimental favourite and one I would re-watch endlessly as a child. I do believe that Gillian Armstrong's 1994 adaptation has a great respect for the original source material and makes the most of it within the limitations of a 115 minute film. While the production did border on sappy and sentimental, I thought that Winona Ryder gave an admirable performance as Jo March and the film captured the true heart of the story, which was the relationship between the sisters and the dynamic within the March family.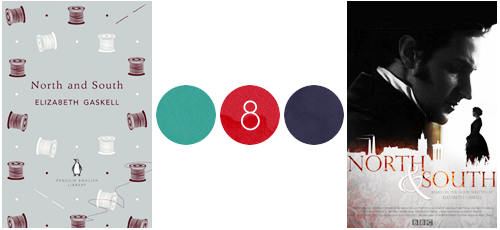 8) North and South
(2004, Starring Daniela Denby-Ashe and Richard Armitage)
Two words: Richard Armitage (Are we beginning to see a pattern here?) All joking aside, the BBC-produced 2004 mini-series adaptation of Elizabeth Gaskell's 1855 tale of the disparate relationship between employers and their workers and the budding romantic relationship between Margaret Hale and John Thornton is ascetically stunning in its cinematic scope and respectfully adherent to the original source material. Credited with revitalizing the popularity of Gaskell's novel, North and South also has the unique distinction of portraying what I would argue is one of the sexiest and most passionate kisses ever to be included in a period drama.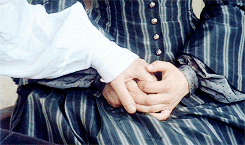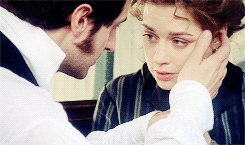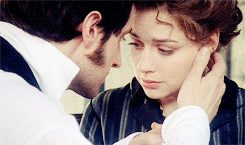 (©)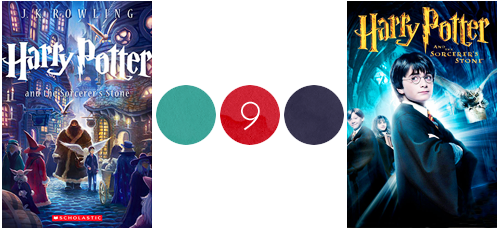 9) Harry Potter and the Sorcerer's Stone
(2001, Starring Daniel Radcliffe, Rupert Grint and Emma Watson)
While each and every Harry Potter film holds a special place in my heart, none will ever be as fondly remembered as the one that came first. I can still vividly remember my sense of wonder and astonishment as I watched Harry Potter and the Sorcerer's Stone for the first time. Everything was precisely as I had imagined as I read the novel, and I could only marvel as Harry, Hogwarts, and the magical world that J.K. Rowling had created was brought to life on the big screen for the first time. Like the books, the adaptation was larger than life, and perfectly captured the spirit and essence of the novels with a respect and faithful attention that I both admired and appreciated.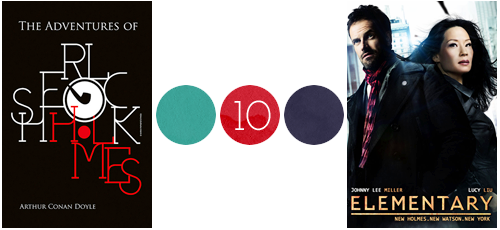 10) Elementary
(2012-Present, Starring Lucy Liu and Jonny Lee Miller)
From Robert Downey Jr. to Benedict Cumberbatch, few topics are currently more popular or contentious than the debate as to which portrayal and adaptation of Sir Arthur Conan Doyle's seminal classic, Sherlock Holmes, reigns supreme. While each adaptation has its own unique set of quirks and aspects by which to recommend them, I would argue that none can compare to CBS's revolutionary new series, Elementary. Putting aside Jonny Lee Miller's masterful, nuanced portrayal of the beloved fictional detective, I cannot express how much I appreciate the show-runners' decision to cast both Watson and Moriarty as women. Not only is Watson a woman, but she is an active and intelligent member of the team, providing Sherlock with emotional and moral support as well as practical application and ideas in his casework. He welcomes her input and encourages her endeavours, and this equal partnership makes me want to stand up and cheer every time I watch a single episode. This inventive and entirely new interpretation of an age-old tale has really breathed new life into a universally-recognized story.

Honourable Mentions
» Gone With The Wind
(1939, Starring Vivien Leigh and Clark Gable)
» Agatha Christie's Poirot
(1989-Present, Starring David Suchet)
» Northanger Abbey
(2007, Starring Felicity Jones and JJ Feild)
» The Notebook
(2004, Starring Ryan Gosling and Rachel McAdams)