"Top Ten Tuesday" is a weekly meme hosted by The Broke and the Bookish!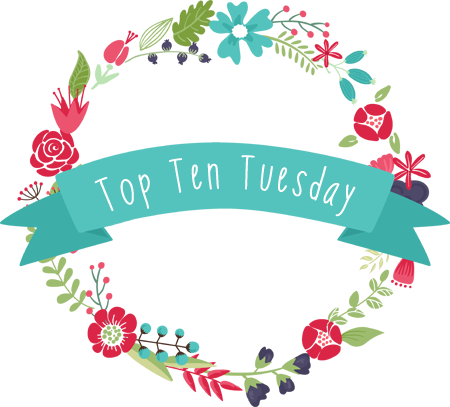 This week's Top Ten Tuesday topic is the Top Twenty Diverse Titles Publishing In 2016.
Get your Goodreads shelves and your credit cards ready because this is one list you will not want to miss! Today I've decided to put a little twist on this week's Top Ten Tuesday prompt – Top Ten Books That Celebrate Diversity/Diverse Characters – and instead focus on the myriad of wonderful diverse books set to be published in the forthcoming year. The importance of diversity in fiction, be it racial, sexual, cultural, religious, socioeconomic or otherwise, cannot be overstated. Every teenager should have the ability to see their story, their truth, honoured and reflected back in the pages of the books they read. Thankfully, with titles such as these on the horizon, we are one step closer to accomplishing just that.
Please note that this is not a definitive list of all diverse novels being published in 2016 but rather a selection of titles that I found most compelling and that I personally can't wait for. Any omissions and/or inaccuracies are my own.
As always, these choices are listed in no particular order.
01) A Hidden Affinity by Audrey Coulthurst
In A Hidden Affinity, a princess with a forbidden magical gift falls in love with the rogueish, horse-training sister of the prince she's supposed to marry.
02) As I Descended by Robin Talley
As I Descended is a retelling of Macbeth set at a contemporary Virginia boarding school. It centers around a lesbian couple who set out to dethrone the school's resident Mean Girl, only to find themselves struggling to hang onto their sanity and their lives when they accidentally summon a trio of brutal, manipulative ghosts.
03) South Of Sunshine by Dana Elmendorf
Kaycee Jean McCoy, a girl with "yes, ma'am" ingrained in her DNA, lives in a small town where gay better be your mood and not your sexual orientation. When a beautiful and worldly new girl moves to town, Kaycee falls in love and her whole world goes to hell in a handbasket. Ultimately she must decide how much she's willing to risk in order to gain their acceptance, even if it means losing everything.
04) Unicorn Tracks by Julia Ember
Sixteen-year-old Mnemba is one of the best safari guides in Nazwimbe. She tracks down grootslangs and griffins with ease but when she's assigned to a unicorn naturalist, she's unprepared to lead an expert. Worse, when Mr. Harving arrives, Mnemba can't cope with her forbidden attraction to his daughter, Kara.

When a manticore attack leaves Mr. Harving bed bound, Mnemba and Kara venture into the wilderness alone. Together they discover a plot by a powerful gang of poachers to enslave the beautiful unicorns, harnessing their supernatural strength to build a railway. To stop the gang, Mnemba and Kara must free the creatures and steal the moonstone that binds them in servitude, while avoiding capture themselves and struggling not to fall in love.
05) The Quiet Ones by Ellen Goodlett
Hawaiian gods guide a narcoleptic teenager as she solves the mystery of her ex-girlfriend's murder – but their help only reinforces that she can't trust anything she knows, including her own innocence.
06) Ramona Drowning by Julie Murphy
A young adult novel set on the Mississippi Gulf Coast about 17-year-old Ramona Leroux. She has always known she would only ever fall in love with a girl, until she finds herself reconsidering everything she thought she knew.
07) We Are The Ants by Shaun David Hutchinson
Henry Denton doesn't know why the aliens chose to abduct him when he was thirteen, and he doesn't know why they continue to steal him from his bed and take him aboard their ship. He doesn't know why the world is going to end or why the aliens have offered him the opportunity to avert the impending disaster by pressing a big red button.

But they have. And they've only given him 144 days to make up his mind.

Since the suicide of his boyfriend, Jesse, Henry has been adrift. He's become estranged from his best friend, started hooking up with his sworn enemy, and his family is oblivious to everything that's going on around them. As far as Henry is concerned, a world without Jesse is a world he isn't sure is worth saving. Until he meets Diego Vega, an artist with a secret past who forces Henry to question his beliefs, his place in the universe, and whether any of it really matters. But before Henry can save the world, he's got to figure out how to save himself, and the aliens haven't given him a button for that.
08) If I Was Your Girl by Meredith Russo
The book tells the story of Amanda Hardy, who moves to a small town in Tennessee to live with her father. She wants to make friends and fit in, but Amanda has a secret: she used to be Andrew, and fears that the truth could cost her her new life, and her new love.
09) Away We Go by Emil Ostrovski
Westing is not your typical school. For starters, you have to have one very important quality in order to be admitted — you have to be dying. Every student at Westing has been diagnosed with PPV, or the Peter Pan Virus. No one is expected to live to graduation.

What do you do when you go to a school where no one has a future? Noah Falls, his girlfriend Alice, and his best friend Marty spend their time drinking, making out, and playing video games on awaywego.com. But when an older boy named Zach (who Noah may or may not be in love with) invites Noah and Marty to join his secret Polo Club, the lives of both boys change as they struggle to find meaning in their shortened existence.

With an innovative format that includes interstitial documents, such as flyers, postcards, and handwritten notes, Away We Go is a funny, honest look at first love and tragic heartbreak. For fans of Grasshopper Jungle and Noggin.
10) Saving Montgomery Sole by Mariko Tamaki
Montgomery Sole is a square peg in a small town, forced to go to a school full of jocks and girls who don't even know what irony is. It would all be impossible if it weren't for her best friends, Thomas and Naoki. The three are also the only members of Jefferson High's Mystery Club, dedicated to exploring the weird and unexplained, from ESP and astrology to super powers and mysterious objects.

Then there's the Eye of Know, the possibly powerful crystal amulet Monty bought online. Will it help her predict the future or fight back against the ignorant jerks who make fun of Thomas for being gay or Monty for having two moms? Maybe the Eye is here just in time, because the newest resident of their small town is scarier than mothmen, poltergeists, or, you know, gym.
11) It Looks Like This by Rafi Mittlefehldt
The story follows Mike, a shy gay teen who moves to a new town in the conservative South. Mike finds a silver lining when he meets Sean – and discovers the terrifying ways that events can spiral out of control.
12) Last Mud Season by Kenneth Logan
About a seventeen-year-old boy who meets and falls for his first boyfriend; as their relationship deepens, he must decide whether to stay in the closet and remain quiet, safe and sad, or find the courage to admit who he truly is to his rural hometown and to himself.
13) Draw The Line by Laurent Linn
Obsessed with superheroes and Renaissance art, sixteen-year-old Adrian creates his own unique but secret comic-book-style superhero who happens to be gay, which thrusts him into a dangerous spotlight at his Texas high school.
14) January by Caleb Roehrig
In the novel, fifteen-year-old Flynn Doherty is struggling with his sexuality, and his relationship. Although Flynn loves his girlfriend, January, he also thinks that he might be gay. When January abruptly goes missing, Flynn finds out he wasn't the only one keeping secrets; he begins to see "a disturbing picture of a girl in danger."
15) Look Both Ways by Alison Cherry
A girl apprentices at a summer theater festival hoping she's finally found a place to belong, only to learn that neither talent nor love are as straightforward as she thinks.
16) Symptoms Of Being Human by Jeff Garvin
The first thing you're going to want to know about me is: Am I a boy, or am I a girl?

Riley Cavanaugh is many things: Punk rock. Snarky. Rebellious. And gender fluid. Some days Riley identifies as a boy, and others as a girl. The thing is…Riley isn't exactly out yet. And between starting a new school and having a congressman father running for reelection in uber-conservative Orange County, the pressure — media and otherwise — is building up in Riley's so-called "normal" life.

On the advice of a therapist, Riley starts an anonymous blog to vent those pent-up feelings and tell the truth of what it's REALLY like to be a gender-fluid teenager. But just as Riley's starting to settle in at school — even developing feelings for a mysterious outcast — the blog goes viral, and an unnamed commenter discovers Riley's real identity, threatening exposure. Riley must make a choice: walk away from what the blog has created — a lifeline, new friends, a cause to believe in — or stand up, come out, and risk everything.
17) Your Machine Anatomy by Kat Helgeson & Hannah Moskowitz
Your Machine Anatomy follows the unlikely friendship of two young women forged via fan fiction and message boards, and is told entirely in texts, chats, and blog posts.

Gena and Finn (short for Stefanie) have little in common. Book-smart Gena is preparing to leave her posh boarding school for college; down-to-earth Finn is a twenty-something struggling to make ends meet in the big city. Gena's romantic life is a series of reluctant one-night-stands; Finn is making a go of it with long-term boyfriend Charlie. But they share a passion for Up Below, one of those wonderful and terrible network dramas a la Supernatural (not that those are terrible, but oh you know what I mean). Gena is a darling of the fangirl scene, keeping a popular blog and writing fan fiction. Finn's online life is a secret, even from Charlie. The pair spark an unlikely online friendship that deepens quickly (so quickly it scares them both), and as their individual "real" lives begin to fall apart, they increasingly seek shelter online, and with each other.
18) History Is All You Left Me by Adam Silvera
OCD-afflicted Griffin is grieving his ex-boyfriend and first love, Theo, who has tragically drowned. To learn more about the person Theo was becoming, Griffin befriends Theo's most recent boyfriend, Jackson, whom he previously wanted nothing to do with. What becomes a destructive relationship between the grieving pair will have readers questioning Griffin's own version of the truth—both in terms of what people are willing to hide and what love really means.
19) The Great American Whatever by Tim Federle
Quinn Roberts is a sixteen-year-old smart aleck and Hollywood hopeful whose only worry used to be writing convincing dialogue for the movies he made with his sister Annabeth. Of course, that was all before — before Quinn stopped going to school, before his mom started sleeping on the sofa…and before Annabeth was killed in a car accident.

Enter Geoff, Quinn's best friend who insists it's time that Quinn came out — at least from hibernation. One haircut later, Geoff drags Quinn to his first college party, where instead of nursing his pain, he meets a guy — a hot one — and falls hard. What follows is an upside-down week in which Quinn begins imagining his future as a screenplay that might actually have a happily-ever-after ending — if, that is, he can finally step back into the starring role of his own life story.
20) Prettyboy by Karen Hattrup
When Frannie Little eavesdrops on her parents fighting she discovers that her cousin Truman is gay, and his parents are so upset they are sending him to live with her family for the summer. At least, that's what she thinks the story is…When he arrives, shy Frannie befriends this older boy, who is everything that she's not – rich, confident, cynical, sophisticated. Together, they embark on a magical summer marked by slowly unraveling secrets.
Now it's your turn! Which of these fantastic diverse titles are at the very top of your to-be-read list? Let me know in the comments – I would love to hear from you!