"Waiting on Wednesday" is a weekly meme hosted by Jill at Breaking The Spine!

This week I'm waiting on…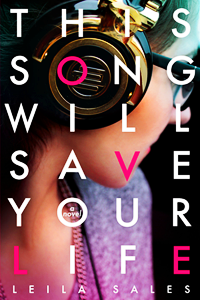 Title This Song Will Save Your Life
Author Leila Sales
Pages 288 Pages
Genre Young Adult, Contemporary, Realistic Fiction, Music, Romance
Publisher Farrar, Straus and Giroux (BYR)
To Be Published September 17th, 2013
Find It On Goodreads ● Amazon.com ● Chapters
Making friends has never been Elise Dembowski's strong suit. All throughout her life, she's been the butt of every joke and the outsider in every conversation. When a final attempt at popularity fails, Elise nearly gives up. Then she stumbles upon a warehouse party where she meets Vicky, a girl in a band who accepts her; Char, a cute, yet mysterious disc jockey; Pippa, a carefree spirit from England; and most importantly, a love for DJing.

Told in a refreshingly genuine and laugh-out-loud funny voice, This Song Will Save Your Life is an exuberant novel about identity, friendship, and the power of music to bring people together.
I've been eager to read Leila Sales's novel ever since I first head of it, and my anticipation has only increased over the past couple of months as a few lucky bloggers received and read advanced reader copies and told me all about how wonderful it is. Music has always been an extremely important part of my own life, and Elise's desperate struggle to find a place where she belongs is something I'm sure we can all relate to. I'm intrigued by the fact that it's set within the club and/or DJ subculture, a world I know admittedly very little about, but about which I've always been curious. Thankfully, with the release set for September 17th, 2013 there isn't very long to wait now! I think it's safe to say that I will be purchasing this book as soon as humanely possible.