"Waiting on Wednesday" is a weekly meme hosted by Jill at Breaking The Spine!

This week I'm waiting on…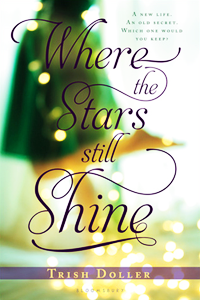 Title Where The Stars Still Shine
Author Trish Doller
Pages 352 Pages
Genre Contemporary, Realistic Fiction, Romance
Publisher Bloomsbury USA Childrens
To Be Published September 24th, 2013
Find It On Goodreads ● Amazon.com ● Chapters
Stolen as a child from her large and loving family, and on the run with her mom for more than ten years, Callie has only the barest idea of what normal life might be like. She's never had a home, never gone to school, and has gotten most of her meals from laundromat vending machines. Her dreams are haunted by memories she'd like to forget completely. But when Callie's mom is finally arrested for kidnapping her, and Callie's real dad whisks her back to what would have been her life, in a small town in Florida, Callie must find a way to leave the past behind. She must learn to be part of a family. And she must believe that love – even with someone who seems an improbable choice – is more than just a possibility.
Trish Doller's Something Like Normal was easily one of the best books I read in 2012. So, it should come as no surprise that when I heard about her sophomore novel, Where The Stars Still Shine, I knew I had to read it as soon as possible.
I always find stories about parental alienation particularly heart-breaking. I can only imagine how difficult it will be for Callie to find some semblance of home and stability after experiencing such a chaotic, nomadic lifestyle for so many years. Given Doller's unflinching, poignant portrayal of post-traumatic stress disorder in her previous work, I have no doubt that in her capable hands this subject will be given the proper care and attention it deserves.