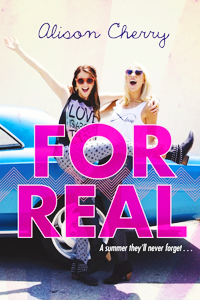 Title For Real
Author Alison Cherry
Published December 9th, 2014 by Delacorte Press
Pages 304 Pages
Intended Target Audience Young Adult
Genre & Keywords Contemporary, Romance, Travel
Part of a Series? No
Source & Format Won in a giveaway (Thanks, Alison!), Paperback
Find It On Goodreads ● Amazon.com ● Chapters
No parents. No limits. No clue what they're in for.
Shy, cautious Claire has always been in her confident older sister's shadow. While Miranda's life is jam-packed with exciting people and whirlwind adventures, Claire gets her thrills vicariously by watching people live large on reality TV.
When Miranda discovers her boyfriend, Samir, cheating on her just before her college graduation, it's Claire who comes up with the perfect plan. They'll outshine Miranda's fame-obsessed ex while having an amazing summer by competing on Around the World, a race around the globe for a million bucks. Revenge + sisterly bonding = awesome.
But the show has a twist, and Claire is stunned to find herself in the middle of a reality-show romance that may or may not be just for the cameras. This summer could end up being the highlight of her life…or an epic fail forever captured on film. In a world where drama is currency and manipulation is standard, how can you tell what's for real?
"My sister wants me with her as she starts to heal, and the image of me hiding out on the back steps with my phone won't be the one that lingers in her mind until the next time we're together.
I have another chance to prove myself, and it starts right now."
Eighteen-year-old Claire Henderson's older sister Miranda has it all. Beauty. Popularity. Confidence. Vivacity. If only her taste in men were half so perfect. When Miranda's latest relationship ends suddenly on the eve of her college graduation when she catches her boyfriend, Samir, in a rather compromising position with a former classmate, her entire life is thrown immediately into turmoil. Hurt, defeated and lost in the wake of Samir's betrayal, she and and Claire begin devising increasingly outlandish methods of retribution. Should they put raw seafood in the hood of his car? Hire someone with an STD to seduce him? Nothing seems quite right. That is until two positions open up on LifeLine's reality television series, Around The World, in which teams of two travel around the world and complete a series of challenges in order to win a one million dollar prize. The same series on which Miranda's ex-boyfriend is also coincidentally slated to appear. After all, what better way to humiliate Samir than by beating him at his own nationally-televised game? With Miranda's adventuresome spirit and extensive travel experience and Claire's familiarity with all things reality television-related, the two dub themselves Team Revenge and are all but guaranteed a place on the show armed with their tale of infidelity, betrayal, jealousy and, most importantly of all, drama. As Miranda keeps her sights firmly set on revenge, however, Claire has a couple other things on her mind. The first of these is fellow contestant and racer Will Divine, whose eyes seem only for her and for whom her feelings are anything but a game. The other? Her sister, Miranda. Having drifted apart while Miranda was away at college, Claire is determined to repair their relationship and prove herself to her elder sister once and for all. As the flag is raised and the race begins, however, Claire and Miranda will soon find that reality television is often anything but and the two might have bitten off more than they can chew.
"Things are going to start getting better now. All we need is the right revenge."
I mean it as a jokey, offhand comment; I'm just trying to get Miranda to smile again. But as the oncoming headlights sweep over my sister's face, I see the spark in her eyes reignite.
"What exactly did you have in mind?" she asks.
Hi there. My name is Jennifer and I am a reality television addict. From Survivor to The Amazing Race, Top Chef to So You Think You Can Dance, I love everything about it, from the recognizable patterns and structure to the predictable character archetypes, all of which have become so familiar (and beloved) to many of us. From its inception, reality television has been looked upon as lesser than. Less valuable. Less entertaining. Just…less. And while there is certainly a lot of dreck out there (Finding Bigfoot, anyone?), I remain a firm believer that this genre of television undoubtedly has its merits. It allows us to travel the world when we wouldn't otherwise have the time or budget to do so. It teaches us about new cuisines and methods of cooking, encouraging us to try new things and step outside our comfort zone in the process. It provides a platform to oft-overlooked or under-appreciated art forms like dance, making them accessible to a larger audience. In short? It broadens our horizons, exposing us to places, people, cultures, and lifestyles that we might not otherwise experience. Which is why I was excited beyond belief when I first learned of Alison Cherry's sophomore novel, For Real, loosely based on one of my favourite reality television shows, The Amazing Race. Thankfully, it did not disappoint. A heartwarming, funny, uplifting story filled with family, friendship and a whole lot of fun, For Real doesn't miss a beat.
"After a few seconds, I turn and look at my sister, who gives me the most gigantic grin I've ever seen. I smile back so hard my face hurts.
I can barely hear over the noise of the crowd and the adrenaline pumping through my blood, but I see her mouth form the words, "You did it."
And for the first time in as long as I can remember, being myself feels like enough."
It's a relative rarity to find novels aimed at the young adult audience that centre upon familial dynamics, all the more so to find those that focus on the relationship between two siblings. This is one of the things that makes For Real so special, all the more so because Cherry examines complex issues of sibling rivalry and unconditional love without ever compromising the focus, direction or pace of the novel. In a situation that will be familiar to many, Miranda and Claire have drifted apart while Miranda was away at college, and the two sisters are now faced with the rather daunting challenge of having to redefine themselves and their relationship as adults. For better or for worse, Around The World provides the perfect opportunity to do so, throwing their best (and worst) qualities, both as individuals and as siblings, into stark relief. Miranda can be overprotective, condescending, and has a tendency to coddle Claire, who she still perceives as the same meek, insecure child she once knew. Despite making recent strides in defining who she is and what she wants for her future, Claire continues to struggle with asserting herself in the face of Miranda's overbearing personality. As an only child, I must admit that my understanding of sibling dynamics is negligible at best. That said, the author's clarity of focus and grasp of the complicated and tangled emotions between the two sisters was never in doubt and helped me to place myself in a situation and a type of relationship that was otherwise entirely foreign to me. I understood Mirana's desire to protect Claire. I understood Claire's desire to prove herself to Miranda and be seen as an equal. With Cherry's help, I understood it all. While there are moments when the attention of the novel shifts, focusing instead on the logistics of the race itself or on Claire's burgeoning romantic relationship with Will, the emphasis always remains consistently on the relationship between the two sisters, something as rare as it is appreciated.
"Miranda would never go for it, though. She thinks reality TV is, like, the entertainment equivalent of eating Twinkies."
Nat looks puzzled. "Twinkies are delicious."
"And this is why you're my friend."
Another arena in which For Real excels is in the author's portrayal of Around The World and the pop cultural phenomenon that is reality television. With an eye for detail and authenticity that would make Bertram van Munster and Phil Keoghan proud, it quickly becomes clear that Cherry has some familiarly with the subject matter at hand and/or did extensive research beforehand as the author's portrayal of the race and the behind-the-scenes machinations rang absolutely true. In addition to devising more than a dozen wildly inventive, disturbing (and hilarious) fictional shows like Speed Breed, Derby Doctors, Obstacle Kitchen and Paws of Fury, Cherry perfectly captures the challenges, characters, and tropes that have now become synonymous with this genre of television. Each challenge that Claire and Miranda were tasked with accomplishing is described in lush, vivid detail that brings them immediately to life and transports the reader to exotic locales like Surabaya, New Delhi and Athens. The reader also experiences the frenetic rush of pressure and excitement as each leg of the race unfolds – You can all but feel the other racers nipping at Claire and Miranda's heels! Putting the reality show aspects aside for a moment, I must also take a moment to appreciate the daring narrative choices the author makes. There are a number of twists and turns throughout the novel that took me entirely by surprise and took the novel in new and unexpected directions. While I'm not sure that all readers will be as happy with the choices Cherry made as I was, I appreciated that the author was brave enough to subvert expectations and place her focus where she did. While it might not be the right book for everyone, For Real will prove extremely gratifying for readers searching for a novel that isn't afraid to break the mold.
"…Why don't you tell me what you wished for?"
"Fine," I say. "I wished for the power to turn anything I wanted into cheese."
He laughs. "That was your wish about love and romance?"
"Maybe. Cheese is very romantic."
If I had one small complaint, and it's a minor one, it would be in regard to the secondary characters. In For Real, Cherry creates a number of vibrant, memorable characters with interesting backstories that unfortunately go relatively unexplored. For example, there are fellow racers Jada and Tawny, two best friends who bonded over yoga and a shared ex-husband. This is a fascinating, funny, and undeniably engaging premise and I immediately wanted to know more. How long have they been friends? What was their motivation for running the race? What do they hope to gain from this experience? Sadly, we're never really given the opportunity to learn anything more than what is provided on a relatively superficial level. With a cast as large as this one, it would be unrealistic to expect that every secondary character be as well developed as Claire and Miranda. There is so much potential in the supporting cast that the author has created, however, that I couldn't help but long for more. There are times when this is achieved successfully, such as in the case of Troy, one half of a team of two male strippers who, unbeknownst to the rest of the cast, has hidden depths and secret motivations of his own. This is where the writing excels, dashing expectations and putting a unique twist on a familiar archetype. I only wish this sort of attention could have been paid to the other secondary characters as well who were all extremely interesting in their own right, if a little under-developed.
"Over and over, I tell myself that I'm strong and clever and that everything's going to turn out okay. If I think it enough times, maybe I'll actually start believing it. Maybe I can make it true."
Fun, fast-paced and irresistibly clever, For Real is the sort of novel one can devour in a single sitting and will make the perfect stocking stuffer for the adventurous spirit on your Christmas list this holiday season. In her sophomore publication, Alison Cherry places her focus squarely on the relationship between sisters Claire and Miranda Henderson and in doing so exquisitely captures the trials, tribulations and, ultimately, the triumphs of a sibling relationship. As riotous as it is heartwarming and as charming as it is unexpected, I fell head over heels for Cherry's latest and ended the book with a smile from ear-to-ear and (happy) tears burning the back of my throat. This book is a gem. For real.
Please Note: All quotations included in this review have been taken from an advance reader copy and therefore might be subject to change.
Still not sure this is the right book for you? Why not listen to what some other bloggers had to say about it?
● Alexa @ Alexa Loves Books wrote "For Real is a pretty fun read! It is the perfect book to take on vacation (which I did), and to indulge in when you have an hour or two to spare." (Read the rest of the review Here!)
● Jen @ YA Romantics wrote "This book was fun and funny, with just enough depth to satisfy me. If you're a fan of reality TV and/or sister stories, definitely give this a try." (Read the rest of the review Here!)
● Michelle @ Adventure In Bookland wrote "This was such a great read that kept me engaged the whole time and I could not put it down!" (Read the rest of the review Here!)