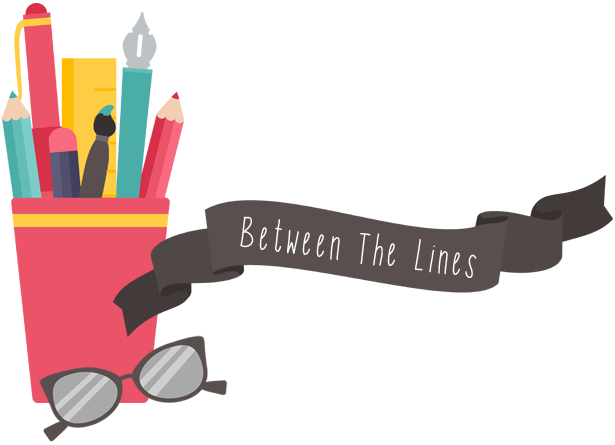 Between The Lines is a sporadic feature on Pop! Goes The Reader in which authors and other industry professionals provide further insight into the writing and publishing process, whether it be in the form of interviews, guest posts, etc. So, sit back, relax, and enjoy as we read between the lines.
Today, I'm very excited to welcome the endlessly kind, funny and talented Alison Cherry to Pop! Goes The Reader. I was lucky enough to be offered a place in the blog tour for Alison's sophomore novel, For Real, which is available now in a bookstore near you. Set against the backdrop of Around The World, an Amazing Race-style reality television series, For Real examines the ever-evolving relationship between sisters Claire and Miranda as the two participate in the race in order to seek revenge on Miranda's cheating ex-boyfriend, Samir. I reviewed this title earlier this month and strongly, strongly recommend it. (You can find my review Here!) The relationship between Claire and Miranda could not have been more well-rendered, and its fast-paced, non-stop action and fun, unexpected twists make it a book that you won't be able to set down for a second. Alison talks reality television, the publishing process and taxidermy bears in today's exclusive interview!
About Alison Cherry

Alison grew up in Evanston, IL. She is a professional photographer and spent many years working as a lighting designer for theater, opera, and dance. Now she lives in Brooklyn and writes young adult novels full time. She is represented by the lovely and amazing Holly Root of Waxman Leavell.

The Interview…
1. First, tell us a little more about yourself. If you could describe yourself in only five words, what would they be?
"I'd like another cookie, please."
2. Did you always know you wanted to be an writer? If not, what did you dream of becoming?
Nope! I didn't start writing in a serious way until 2007. Before that I spent four years as a lighting designer for theater and dance, then another four years as a photographer for the Metropolitan Opera. (My degree is in photography.) When I was younger, I wanted to be a conservation biologist and help save endangered species.
3. When you're not writing, what do you like to do in your spare time?
I live in New York City, so I try to take advantage of it as much as I can by going to performances and lectures and museums. This week I've heard Margaret Atwood and Neil Gaiman speak and done a self-guided tour of the Met Museum. I also read constantly and enjoy a good Netflix binge.
4. What was your favourite book as a child?
Gwinna by Barbara Berger. It's about a redheaded girl with wings who can communicate with owls. A curse turns her parents to stone, and she has to fly to the center of a magical mountain to find the cure. My fourth grade teacher read it aloud to us, and I remember aching to have my own copy.
5. What book(s) and/or authors do you feel have inspired and influenced your life and/or your work in a positive manner?
Matilda by Roald Dahl taught me that smart girls are powerful people. The Phantom Tollbooth by Norton Juster taught me that words are fun to play with. The Giver by Lois Lowry taught me that reading a story can turn your whole world upside down. The Robber Bride by Margaret Atwood taught me about writing characters so complete you feel like you know them. These days, I want to roll around in every sentence written by Rainbow Rowell and A. S. King.
6. What book(s) can currently be found on your bedside table?
Right now I'm in the middle of Beware The Wild by Natalie C. Parker, One More Thing by B.J. Novak, and By the Book, which is a collection of interviews with authors from the New York Times Book Review.
7. If you could describe your novel, For Real, in only five words, what would they be?
Sisters circumnavigate globe, get revenge.
8. For Real appears to have been loosely based on the reality television series, The Amazing Race. In it, you perfectly capture the challenges, tropes and character archetypes we've come to expect from this genre of television. How much (or how little) research did you do to prepare for this novel?
I did tons of research for this book. I had watched a bunch of seasons of The Amazing Race as a fan, but it's really difficult to tell what's going on behind the scenes, so I needed to delve much deeper. Unfortunately, everyone who goes on a reality show has to sign a non-disclosure agreement, so there are very few tell-alls or even blog posts about the experience. I found one book that contained all the behind-the-scenes information a bunch of fans dug up about the first seven or so seasons of the show, which was incredibly helpful, and I managed to get interviews with one field producer and one reality show contestant. And then I had to do loads of location-based research, since I've never been to three of the four countries where the book takes place!
9. Who was the easiest character to write? Who was the most difficult?
In real life, I'm the big sister, so I expected to have more trouble writing Claire than Miranda. It turned out to be the opposite. Claire's voice came very easily to me, but Miranda's view of her sister is so vastly different from my view of my sister that I had a hard time nailing down her motivations. She's the character who changed the most in revisions.
10. The relationship between sisters Claire and Miranda Henderson takes centre stage in For Real and is one of the best rendered familial relationships I've encountered in recent memory. What inspired you to take the novel in this direction and make their relationship your focus?
Thank you! Don't get me wrong, I love writing kissing scenes as much as the next girl, but writing friendships and family relationships has always been more interesting to me than writing about romance. I feel like they're often far more layered and nuanced, and I love figuring out how a person might act when she's furious and frustrated with someone she also loves unconditionally. There are far too few books that focus on siblings, in my opinion. I once asked my Twitter followers to name their favorite sister books, and a shocking number of people couldn't think of even one.
11. Tell us a little more about your writing process. Do you have a particular routine? Is there a time of day or writing space in which you best like to work?
I've never been very good at sticking to routines. As long as it's daytime, I have my laptop, and there isn't anything wildly distracting going on, I can work. The only places I absolutely can't write are the subway (too crowded) and airplanes (too scary.) My favorite work spot is the cafe a few blocks from my apartment, where the baristas know my name and I can get spectacular waffles all day long.
12. Do you like to listen to music when you write? If so, is there a song or songs that you feel best capture the mood and feeling of For Real?
I actually don't listen to music while I write; I find it distracting!
13. Are you a 'plotter' or a 'pantser'? Do you like to plan out each stage of your narrative beforehand, or do you prefer to write scenes as they come to you?
I'm a plotter through and through. I need to know the full arc of my book before I can even start writing. I also tend to write in order; if I allow myself to skip around, I'm afraid I'll just do all the fun scenes and then give up.
14. It has often been said that an author should write what they know. How much, or how little, of For Real is comprised of your own personal experience?
Almost none of it! The limerick game Claire and Miranda play in the book is something my sister and I really used to do, but pretty much everything else came from my imagination. My "write what you know" book is my next YA novel, Look Both Ways, which is about working at a summer theater festival. Most of the time I think it's much more interesting to write about things I WANT to know about.
15. For Real is your sophomore publication. With your wealth of experience, if you could give one piece of advice to debut authors everywhere, what would it be?
In the words of my genius agent, Holly Root, keep your eyes on your own paper. The only thing you can control in this industry is what you write. Thinking about other people's relative success or failure is exhausting and totally counterproductive.
16. What is your favourite part of the publishing process? The most difficult?
My favorite part is the amazing community of writers I've become a part of since I sold my first book. Three years ago, I knew three writers, and now at least half my friends are kidlit people. The worst part, by far, is all the waiting. Publishing moves unbelievably slowly, and it's sometimes hard to sustain enthusiasm for a project when there are four-month breaks between rounds of edits.
17. You have two releases forthcoming in 2016, the young adult novel, Look Both Ways, and the middle grade novel, Grandma Jo's Guide to Prim & Proper Pilfering. What made you decide to write your first middle grade novel and how did writing it compare to writing for a young adult audience?
I didn't actually set out to write middle grade – I just had a story idea that ended up working far better with a twelve-year-old main character than a high-schooler! I can get away with being much goofier and more ridiculous in middle grade, which I really appreciate, since that's kind of my brain's default setting. There's literally a scene in that book where a taxidermy bear falls through a plate glass window. Not sure that would fly in YA…

Let's Have A Little Fun…
1. If you could race around the world with any one person, who would you choose and why?
Hermione Granger. Wait, did you mean a real person? In that case, my sister. She has a great sense of direction, she doesn't get motion sick, and she's not afraid of heights, so she could do all the challenges I couldn't handle.
2. Of all the reality television series you invented and included in For Real, which one would you be most likely to watch and why?
TwinCognito, in which identical twins switch lives and jobs and try to fool their friends and coworkers. I kind of can't believe nobody has made this show already. There's so much potential for drama and disaster.
3. They're making a film adaptation of For Real tomorrow. Who do you cast as Claire, Miranda, Will, Isis, and some of the other colourful members of the cast?
Claire: A less cute, teenaged Zooey Deschanel. She's great at playing awkward and anxious, which are the two states in which Claire spends the most time.
Miranda: Kate Hudson circa 1998. Think Almost Famous-era.
Will: Gilmore Girls-era Matthew Czuchry.
Isis: Lupita N'yongo
Troy: Gaius Charles, circa Friday Night Lights
Samir: Danny Pudi

Either/Or…
1. Early bird or night owl?
What is this "morning" you speak of?
2. Reality or scripted television?
Scripted. My favorite shows of all time are Six Feet Under, Mad Men, The West Wing, and Freaks and Geeks.
3. Phil Keoghan or Jeff Probst?
I didn't even have to read the second choice before I picked Phil. Because PHIL.
4. Reality Challenge: Eat a bug or walk a tightrope?
Eat a bug. Heights and I don't get along.
5. Hermione Granger or Luna Lovegood?
Hermione, but that's definitely the hardest choice on this list.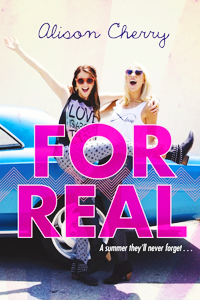 Title For Real
Author Alison Cherry
Pages 304 Pages
Genre Young Adult, Contemporary, Romance, Travel
Publisher Delacorte Press
To Be Published December 9th, 2014
Find It On Goodreads
No parents. No limits. No clue what they're in for.

Shy, cautious Claire has always been in her confident older sister's shadow. While Miranda's life is jam-packed with exciting people and whirlwind adventures, Claire gets her thrills vicariously by watching people live large on reality TV.

When Miranda discovers her boyfriend, Samir, cheating on her just before her college graduation, it's Claire who comes up with the perfect plan. They'll outshine Miranda's fame-obsessed ex while having an amazing summer by competing on Around the World, a race around the globe for a million bucks. Revenge + sisterly bonding = awesome.

But the show has a twist, and Claire is stunned to find herself in the middle of a reality-show romance that may or may not be just for the cameras. This summer could end up being the highlight of her life…or an epic fail forever captured on film. In a world where drama is currency and manipulation is standard, how can you tell what's for real?