Child's Play is a regular feature on Pop! Goes The Reader in which I review picture books, chapter books, and middle grade books for the young and the young at heart.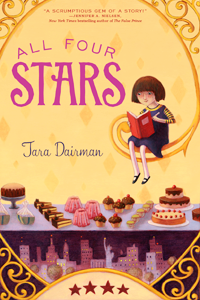 Title All Four Stars
Author Tara Dairman
Published July 10th, 2014 by Putnam
Pages 288 Pages
Intended Target Audience Middle Grade
Genre & Keywords Contemporary, Realistic Fiction
Part of a Series? Yes (Book 1 in the All Four Stars series)
Source & Format Received an Advanced Reader Copy from the author for review (Thanks Tara!), eBook
Find It On Goodreads ● Amazon.com ● Chapters
Meet Gladys Gatsby: New York's toughest restaurant critic. (Just don't tell anyone that she's in sixth grade.)
Gladys Gatsby has been cooking gourmet dishes since the age of seven, only her fast-food-loving parents have no idea! Now she's eleven, and after a crème brûlée accident (just a small fire), Gladys is cut off from the kitchen (and her allowance). She's devastated but soon finds just the right opportunity to pay her parents back when she's mistakenly contacted to write a restaurant review for one of the largest newspapers in the world.
But in order to meet her deadline and keep her dream job, Gladys must cook her way into the heart of her sixth-grade archenemy and sneak into New York City — all while keeping her identity a secret! Easy as pie, right?
"…Gladys knew one thing for sure: Today would not be remembered as the day she proved what a great cook she was and earned more kitchen privileges. No, today would forever be the day Gladys Gatsby set the house on fire…and, if her family survived, the day she got into a great, big, fat amount of trouble."
Move over, Julia Child! Here comes eleven year old Gladys Gatsby, a precocious wunderkind who promises to take the culinary world by storm. At least, she could if only her parents were willing to buy her the mini torch and other assorted supplies any burgeoning chef might need. Alas, Gladys' parents have little appreciation for the epicurean arts and would much rather sample the rather dubious selections at Sticky Burger and Fred's Fried Fowl than any of the delicacies Gladys has been whipping up in the kitchen. Forced to keep her cooking a secret but happy nonetheless, everything is going swimmingly for Gladys until one little mishap while making crème brûlée threatens to take away everything she holds dear. Who could have guessed that the kitchen curtains weren't flame retardant? Soon, Gladys is forbidden by her parents from so much as entering the kitchen. There will be no more cooking, no cookbooks, and no cooking TV shows in Gladys' future for the next six months! All hope appears to be lost until Gladys' new teacher, Ms. Quincy, challenges their sixth grade class to write an essay detailing what they believe their future might hold. Coincidentally, this assignment coincides with the New York Standard's student essay contest topic, "My Future". The best essay from each class will be chosen and submitted to the newspaper, with the winning piece published and the winner awarded an impressive five-hundred-dollar cash prize. One administrative mistake and a disastrous hot chocolate incident later, however, and Gladys' essay lands on the desk of none other than Fiona Inglethorpe, the New York Standard's chief editor of the dining section. Sure, Gladys isn't the winner of the essay competition as she had hoped. Instead, she's the recipient of something infinitely better: A position as the newspaper's newest food critic. Now all she'll have to do is hide her true identity from the newspaper, keep her new occupation a secret from her parents, and figure out how to travel into New York City alone to complete her first assignment. As Gladys quickly finds out, however, this will be anything but a piece of cake.
"But it was hard to think of the future without thinking about food. Ever since she'd read her first Dining section, Gladys had known what she wanted to be when she grew up – the restaurant critic for the New York Standard. She would eat incredible meals all over New York City and write about them for millions of people to read. She would probably have to eat some bad meals, too, but at least then her reviews could help other people avoid eating the same awful things she had."
Don't believe what they tell you; Love at first sight is real. How do I know this, you ask? Because it's precisely what I experienced the first time I laid eyes on Tara Dairman's 2014 debut, All Four Stars. It had me at the proverbial 'Hello'. I couldn't wait to start reading it and yet, for a little while at least, was too nervous to begin it, worried that it couldn't possibly live up to the expectations I had unintentionally created. Now, I'll be the first to admit that my experience with the middle grade genre has been tumultuous at best. I always begin with the greatest of intentions and highest of expectations, but inevitably become disappointed somewhere along the way, primarily because I fail to connect with the stories being told in any significant manner. Ever the eternal optimist, however, I was determined to keep looking. The right middle grade book for me was out there, I just knew it. Now all I had to do was find it! So, with visions of sugarplums and Ratatouille dancing in my head, I began reading All Four Stars and, from the first moment when Gladys accidentally set the kitchen curtains alight, I knew I had found it. The One. In short? All Four Stars is adorable. Fun. Delightful. Witty. Magical. Scrumptious. Select any (or all) of these adjectives, because I can promise you that they all apply. However you choose to describe it, one thing is for certain: All Four Stars is the middle grade masterpiece I've been waiting my entire adult life for.
"Another Christmas at the big brown buffet. The food this year seemed even browner than usual. Maybe the new heat lamps they got are stronger, like those tanning beds people lie in when they want to pretend they just went on a tropical vacation? The turkey definitely looked like it had spent some time on a desert island – and tasted like it, too."
If there's one thing I appreciate in a protagonist, it's passion. Whether it's running, singing, dating, theatre, or even schoolwork, I want to see a character become excited about something in their life. Thankfully, this is one characteristic that eleven-year-old Gladys Gatsby is in no short supply of. Her plucky enthusiasm and determination were both admirable and infectious. As a result, it was all too easy to become emotionally invested in her story. Would she be able to write her review on time? Could she ever convince her parents how much cooking meant to her? Had her career as a food critic ended before it ever truly begun? Silly though it may sound, I was swept away with Gladys as she embarked on her life-changing adventure and devoured the story in a single sitting, reading as fast as my eyes would allow. Although told from a third person perspective, which I know many readers can (and have) struggled with, Gladys' voice is strong enough to surmount what some find to be an otherwise alienating narrative style. Clever, witty, and as cute as a button, Gladys leapt off the page and is one heroine who I have no doubt will remain with me for many years to come.
"…Last year, in fifth grade, everything had changed. Or maybe it happened the summer before at Camp Bentley, where most of the kids in town went. All Gladys knew was that when she got back to school that year, everyone seemed to be part of a group. And whether it was the soccer players, or the brainiacs, or the super-popular girls, every group seemed to be on guard against anyone who was too weird or too different. Suddenly, one random comment about a delicious arugula salad could get you laughed at for weeks. Gladys was alone, in a foodie group of one."
The cast of secondary characters are equally well rendered. From Gladys' shy and computer savvy best friend, Sandy Anderson, to the wealthy, dictatorial taste maker and 'mean girl', Charissa Bentley, each were given enough quirks and foibles to make even the most periphery of characters interesting in their own right. Even Sandy's two pet rabbits, Edward and Dennis Hopper (Ha!) have a trick or two up their sleeve. Or should I say up their paws? In all seriousness, however, I would also like to take a moment to address the role adults play in Gladys' journey. All too often parents and other older authority figures are conspicuously absent in novels aimed at middle grade and young adult audiences, largely because of an author's inability to integrate them into the story with any sort of success. Not so in All Four Stars! Mr. And Mrs. Gatsby are the exception to this lamentable rule, managing to be both realistic and believable in their concern for Gladys' well-being while also remaining sympathetic. The marvellous adult characters do not end there, either. From Gladys' supportive and inspiring sixth grade teacher, Ms. Quincy, to the kind and knowledgable shopkeeper, Mr. Eng, there are no end to the myriad of loveable, multifaceted characters that Dairman has created.
"I'll pick you up right here at three o'clock," Gladys's mom said as she pulled up in front of the school. "I'm sure you'll be anxious to catch up with the other kids, but try to be here on time so I can get back to the office, okay?"
Gladys nodded blankly and shut the car door behind her. If she needed any more proof that her mom was completely clueless about her life at school, this was it."
Generally speaking, there is little doubt that All Four Stars is an impressive triumph in the middle grade genre, made all the more so given that this is Dairman's debut novel. One can only imagine how the her abilities will continue to grow and develop from here. Nowhere is this more apparent than in the author's absolutely luscious descriptions of the various tasty treats that abound in this novel. Your mouth will water and your taste buds will tingle as Dairman describes everything from the savoury Indian cuisine that Gladys samples at her friend, Parminder 'Parm' Singh's, house to the sugared, frosted delights at Classy Cakes. Don't believe me? See for yourself! "Creamy-looking custards were followed by beautifully decorated slices of cake. Crisp-shelled pastries were set down next to gooey-centered pies. Dainty little goblets featuring ice cream and sorbet came out on a silver tray…" There's something visceral and extremely memorable about the inclusion of food in a novel. For whatever reason, all too often it is these descriptions that linger with me long after I've turned the final page. The pickled limes in Little Women. The snow candy in Little House on the Prairie. The lickable wallpaper in Willy Wonka and the Chocolate Factory (Oh, and the snozberries. Fizzy lifting drink. Edible marshmallow pillows. I could go on and on) Because of this, All Four Stars is precisely the sort of book I enjoyed as a child and continue to enjoy as an adult. It excites the senses and inflames the imagination, all while inspiring an immediate visceral reaction. I was starving despite having just eaten, and could only wish I was able to taste each of the dishes included in the novel alongside Gladys. On a more serious note, given Gladys' initial struggle to fit in given her disparate interests from the rest of her peer group, All Four Stars also presents a wonderful opportunity to open up a dialogue with one's children about the importance of individuality and following one's dreams. Even when Gladys' passion for food and cooking flies in the face of conventionality, she is never forced to compromise herself or what she cares most about. Instead, she makes friends who understand and appreciate her interests and is even celebrated for them. I can think of few things that are more wonderful than a book that both entertains and educates and All Four Stars certainly succeeds at doing both.
"The chance to achieve worldwide fame in the New York Standard was one thing, but being well-known at East Dumpsford Elementary might be more than she could handle."
An uplifting story of friendship, family, belonging and chasing one's dreams, Tara Dairman's delectable debut is sure to charm even the most cynical of readers. With a pinch of wit, a dash of humour and a generous helping of heart, All Four Stars is the perfect recipe for a fun, frolicking adventure that is easy to devour in a single sitting and will inspire you to laugh right alongside your children. Thankfully, this isn't the end, but only the beginning, of Gladys's story. Although it has not yet been added to Goodreads, I have it on good authority that Ms. Dairman is currently working on an as-yet-unamed sequel to All Four Stars and I for one am extremely grateful to be given any opportunity to spend more time with these irresistible characters. So what are you waiting for? Be sure to pick up your own copy of All Four Stars on July 10, 2014! My only advice? Just don't read it on an empty stomach. The results might prove hazardous to your health.
Please Note: All quotations included in this review have been taken from an advanced reader copy and therefore might be subject to change.
Still not sure this is the right book for you? Why not listen to what some other bloggers had to say about it?
● Michael @ Project Mayhem wrote "All Four Stars is worth 5 stars." (Read the rest of the review Here!)
● Krista @ Mother. Write. (Repeat.) wrote "If you like cooking, comedy, or pint-sized characters with gallon-sized hearts, you'll love All Four Stars." (Read the rest of the review Here!)
● Eli @ Tweens Read Too wrote "All Four Stars is a genuine pleasure to read and I enjoyed every word of it. It's a fun, quick story and Gladys will have you guessing as to what's next the whole way through." (Read the rest of the review Here!)