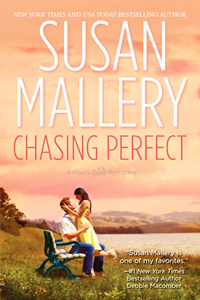 Title Chasing Perfect
Author Susan Mallery
Published April 27th, 2010 by HQN Books
Pages 376 Pages
Intended Target Audience Adult
Genre & Keywords Contemporary, Romance, Small Town, Family
Part of a Series? Yes (Book 1 in the Fool's Gold series)
Source & Format Purchased from Amazon.com, eBook
Find It On Goodreads ● Amazon.com ● Chapters
Synopsis
Welcome to Fool's Gold, California, a charming community in the foothills of the Sierra Nevada. There's lots to do and plenty of people to meet, especially women. Because there's just one tiny problem in Fool's Gold: The men don't seem to stick around. Maybe it's the lure of big-city life, or maybe it's plain old bad luck, but regardless of the reason, the problem has to be fixed, fast. And Charity Jones may be just the city planner to do it.Charity's nomadic childhood has left her itching to settle down, and she immediately falls in love with all the storybook town has to offer – everything, that is, except its sexiest and most famous resident, former world-class cyclist Josh Golden. With her long list of romantic disasters, she's not about to take a chance on another bad boy, even if everyone else thinks he's perfect just the way he is. But maybe that's just what he needs — someone who knows the value of his flaws. Someone who knows that he's just chasing perfect.
"Charity Jones loved a good disaster movie as much as the next person – she would simply prefer the disaster in question not be about her life."
Charity Jones is looking for a change of pace. Following a bad breakup and desperate for a sense of stability and a place to set down roots after an unsettled, chaotic childhood, Charity applies for and is given the job of city planner in the quaint, small California town of Fool's Gold. Her primary order of business? To encourage new businesses to establish themselves in the fledgling town. Little does she know that there is much more to her job description than initially meets the eye. That business Charity is meant to attract? Ideally they need to be in male-dominated fields, as Fool's Gold is suffering from a rather debilitating scarcity of a few, good men. Leading the charge is Mayor Marsha, who explains to Charity that most men born in Fool's Gold either move away or find a spouse outside of the town's borders. This is increasingly a point of concern for all the single, eligible women who are looking for Mr. Right.
"Charity moved toward them, doing her best to appear friendly without actually looking at Josh. When she made the mistake of meeting his hazel-green eyes, she could have sworn she heard the theme from Gone with the Wind playing softly in the background."
After a rather disastrous technological malfunction that makes her meeting with California University go awry, Charity is lent a helping hand by a handsome, mysterious stranger who commandeers the meeting and easily closes the deal, all while simultaneously stopping Charity dead in her tracks. What arises between them is an instantaneous physical attraction that she can't explain and that that leaves Charity momentarily speechless. She's even more shocked to find out that her helpful, hunky aide is none other than Josh Golden, the once world-renowned cyclist and three-time winner of the Tour De France who retired early under rather mysterious circumstances. Despite the chemistry between them, Charity resists their attraction at every turn. Her mother's poor taste in men coupled with her own abysmal dating history has left Charity wary of involving herself with the 'wrong' sort of man, which is exactly what she deems Josh to be. Handsome, famous, with a rakish reputation that makes all the ladies in Fool's Gold swoon, Charity actively avoids him in an attempt to protect herself against what she perceives as inevitable heartbreak.
"There had to be a reasonable explanation, she told herself firmly. She hadn't been sleeping that well. Or she could be missing a B vitamin or not eating enough broccoli. Whatever the cause, she would figure it out and fix it. She refused to live her life all quivery and weak. She was strong. She was self-actualized. She was not going to let a little thing like a gorgeous man with a butt like a Greek god mess up her day."
There are few things I enjoy in a romance novel more than a picturesque, small town setting. I don't know if it's because I've always lived in or around big cities, but the dynamics of small town life have always fascinated me. The lack of privacy, coupled with the ease with which people have the potential to make friends (or enemies) acts as the perfect basis for a potentially lively and interesting setting. So, when I recently saw a review written by Estelle on Rather Be Reading about the eleventh book in the Fool's Gold series, Just One Kiss, I was immediately intrigued. When I saw the series had an emphasis on friends, family, and small town living, I knew I had to check out the first novel in Susan Mallery's Fool's Gold series.
"A man shortage? Was this a joke? Part of a small-town initiation ritual?"
Admittedly, Chasing Perfect's premise is a little silly. The solemnity with which Mayor Marsha treats Fool's Gold's 'man shortage' is laughable, and I found myself rolling my eyes on more than one occasion. I do have to give Mallery points for originality, though. The reader gets the impression that this 'problem' is more than a little tongue-in-cheek. As seriously as Marsha treats the problem, most of the women in the town are able to laugh about it. I was also happy to see that one of the unintentional results of this male drought is seeing women employed in otherwise male-dominated fields. Everyone from the forensic accountant to the chief of police are female, and I thought this was empowering. The fact that Mallery never seemed to take herself, or her novel, too seriously, coupled with the fact that the reader's own incredulity is reflected in Charity's skepticism regarding Fool's Gold's biggest 'problem', helped to assuage any issues I might have otherwise had with such a premise.
"That does sound good," he began.
Sound good? It was better than good. It was a once-in-a-lifetime deal. It was everything the university had asked for. It was a zero calorie brownie with ice cream."
Charity Jones is a fascinating heroine with no shortage of personality. With a wit and vivacity that often had me smiling, I enjoyed being privy to her inner thoughts. Much of Charity's growth throughout the course of the novel arises from her relationship with her now-deceased mother. Charity's mother had a revolving door of boyfriends and a nomadic lifestyle, both of which have had a profound effect on Charity's perspective as an adult. Isolated from the rest of family by her mother who refused to acknowledge any of her relatives, even in death, Charity feels alone. Moving to Fool's Gold allows her a sense of permanence and home that she has never known, but she still struggles to move past the legacy her mother has left for her, particularly in regards to her relationship with men.
"She covered her face. "Why am I so stupid?"
"A question people in love have been asking themselves for thousands of years."
If I had one small complaint, it would be a lack of depth regarding Charity's character. We're told that Charity has a history of domestic violence and abusive or dysfunctional romantic relationships. I would have expected this to have a greater impact on her going forward and I would have ideally liked to have seen her struggle with issues of trust in her relationship with Josh. Apart from the occasional worry about the incompatibility of their lifestyles and insecurity regarding whether or not she is 'good enough' for him, Charity's past romantic history seemed to have very little bearing on her relationship with Josh, which seemed a tad unrealistic.
"He thought she would step back then. Turn away in disgust. That's what Angelique had done. Curled her perfect lip at him and said she wasn't interested in a coward for a husband. She wanted a real man. Then she'd walked out.
He'd bared his deepest flaw, had exposed his soul and she'd left. That's what people did. They left when you were broken. His mother had taught him that."
Josh was a relatively good guy, albeit largely forgettable. After bearing witness to a devastating accident during his last race, Josh is unable to compete again in the future, haunted by the brutal images and his own perceived culpability in the accident. Forced into early retirement, Josh is now a shadow of his former self. Suffering from crippling anxiety, estranged from his former best friend, Ethan Hendrix, and filled with a combination of self-hatred and overwhelming guilt, Josh is your typical tortured romantic hero without much of a twist. While there was nothing in particular to dislike about his character, I doubt that I'll remember him a few months from now.
"…He felt the bands lock around his chest. He couldn't breathe, but that was the least of it. What killed him was the mind-numbing terror. Anywhere but here, he told himself. He'd rather stand in fire than go through this."
Mallery's portrayal of Josh's anxiety was well done and realistic, although I wasn't particularly happy with Josh's own attitude toward his disorder. He repeatedly minimized the severity of his anxiety, despite the fact that it is often times debilitating, simply because there was nothing physically wrong with him. Given the stigma associated with mental illness today, I couldn't help but find Josh's attitude toward his anxiety disorder as nothing short of negligent. Charity repeatedly suggests that Josh seek the help of a professional, but he summarily dismisses this idea, insisting that therapy will be of no help (Despite the fact that he has never tried it) Josh is miraculously able to conquer his anxiety with exposure therapy but unfortunately many aren't so lucky. Is this the message we want to send? I don't think we should be implying that mental illness can be conquered with a little will power and by white-knuckling through the process.
"She's kidding, Gladys," Marsha said, then sighed. "Pia, don't try to be funny."
"I don't try it. It just happens spontaneously. Like a sneeze."
The charming town of Fool's Gold, the primary reason I picked up Chasing Perfect to begin with, did not disappoint. I loved the descriptions of the various shops, homes, and the characters that populated them. While this very much feels like the first novel in a long running series (We are introduced to an immense number of characters over the course of the story) I never had any trouble differentiating one from the next. From Mayor Marsha, the incurable matchmaker, to Josephine 'Jo' Torrelli, the tough-as-nails barkeeper with a mysterious past, from Eddie Carberry, Josh's seventy-year-old assistant with little patience and even less tact and everyone in between, Chasing Perfect introduces us to a cast of quirky and lively characters who come to life off the page. I found Pia, the town's resident party planner, to be a particularly interesting character. Spunky and spirited, Pia has the uncanny ability to put her foot into her mouth at every available opportunity. Her blunt and often thoughtless comments were alternatively a source of pain and amusement, both for the other characters in the story as well as for the reader. I appreciated her no-nonsense approach, particularly when she encouraged Charity to speak to Josh directly about the problems in their relationship as opposed to expecting him to read her mind. There was only one minor issue I had with the world Mallery fashioned – The number of characters who had lost either a spouse, a child, or were suffering from some sort of incurable disease bordered on the absurd. It would have been nice to hear about one character who didn't have a tragic backstory.
"Knowing what to do is the easy part. Finding the right person to do it with is a whole lot harder."
Chasing Perfect fell a little short of the mark. With a painfully predictable secondary 'whodunnit' storyline involving the embezzlement of over a million dollars from the town council as well as the inclusion of one of my least favourite tropes in the form of a 'plot twist' toward the end of the novel, Chasing Perfect is by no stretch of the imagination a 'perfect' book. That said, I couldn't put it down for an instant! This very well might be a case of reading the right book at the right time, or perhaps my expectations were adjusted appropriately before I began the novel, but whatever the reason, it was exactly what I was looking for in the moment. A relatively light, charming, reliable read, Chasing Perfect was akin to slipping on a comfortable sweater. While I clearly had more than my fair share of problems with Mallery's first installment of the Fool's Gold series, I will undoubtedly be purchasing the second novel in the series, Almost Perfect, which centers around Ethan's story of reuniting with a lost love. What can I say? I'm a glutton for punishment.

Overall Rating


Around The Web
Still not sure this is the right book for you? Why not listen to what some other bloggers had to say about it?
● Brianna @ The Book Vixen wrote "Chasing Perfect was a quick and fun contemporary romance read. Great for an afternoon delight." (Read the rest of the review Here!)
● Elizabeth @ Don't Take My Books Away wrote "While I liked the setting, the main characters and plot felt overly cliched to the point that this was more frustrating to read than anything. I wasn't invested in the characters' love story and that's really the whole point of a romance novel. Plain and simple, Chasing Perfect was far from perfect for me." (Read the rest of the review Here!)
● Jess @ Gone With The Words wrote "I devoured Chasing Perfect. It was just what I needed: a happy romance. I believe I have found a new favorite author in Susan Mallery. I cannot wait to get started with the rest of this series!" (Read the rest of the review Here!)