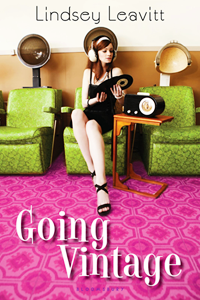 Title Going Vintage
Author Lindsey Leavitt
Published March 26th 2013 by Bloomsbury
Pages 320 Pages
Intended Target Audience Young Adult
Genre & Keywords Contemporary, Realistic Fiction, Romance, Humour
Part of a Series? No
Source & Format Purchased from Chapters, Hardcover
Find It On Goodreads ● Amazon.com ● Chapters
Synopsis
When Mallory's boyfriend, Jeremy, cheats on her with an online girlfriend, Mallory decides the best way to de-Jeremy her life is to de-modernize things too. Inspired by a list of goals her grandmother made in 1962, Mallory swears off technology and returns to a simpler time (when boyfriends couldn't cheat with computer avatars).
The List:
1. Run for pep club secretary
2. Host a fancy dinner party/soiree
3. Sew a dress for Homecoming
4. Find a steady
5. Do something dangerous
But simple proves to be crazy-complicated, and the details of the past begin to change Mallory's present. Add in a too-busy grandmother, a sassy sister, and the cute pep-club president – who just happens to be her ex's cousin – and soon Mallory begins to wonder if going vintage is going too far.
"Married. For a moment, a tiny hopeful second, I'm flattered that he's carried me over to Bizarro-World. And then I know. BubbleYum is his main squeeze.
My boyfriend is cheating on me with a cyberwife."
When sixteen-year-old Mallory Bradshaw accidentally stumbles upon her boyfriend, Jeremy's, Friendspace page one afternoon, she's shocked to find out that he has been having a long-term relationship on the online gaming website Authentic Life with a user named BubbleYum. Following the demise of their romance, Mallory comes to the rather sobering conclusion that her life primarily revolved around Jeremy and their relationship. When she discovers a cache of photos and keepsakes from her grandmother's past while helping to pack up her belongings in preparation to move her to a senior living center, Mallory believes she has hit upon the perfect solution to her problem. Amongst the documents is a to-do list composed by her grandmother in 1962 at the age of sixteen, listing a series of goals she wanted to complete in her junior year of high school. In an effort to get over Jeremy's betrayal, simplify her life, readjust her priorities and unplug from the technology that contributed to the demise of her relationship, Mallory decides to use her grandmother's list as the inspiration to enact change in her own life. She sets out to accomplish all six tasks, all while 'going vintage' and exorcising all modern conveniences from her life.
"The sun is dipping below the horizon, there's an insect buzzing nearby, and the breeze holds the promise of fall. Sunrise this morning, sunset tonight. That's twice in one day that I'm outside like this, just sitting, breathing, waiting, watching, without my fingers tapping out something on my phone.
Now if only I had some soap or wood to whittle. Super-vintage."
When I first heard about Lindsey Leavitt's Going Vintage, I was immediately intrigued. As someone who, like Mallory, has many vintage-inspired pieces in her wardrobe and has what can only be deemed a passionate obsession with antiquing and 'Old Hollywood', particularly that of the 1950's and 1960's, I felt a particular kinship with this book. I loved the concept behind Mallory's desire to 'go vintage' and abstain from the use of all modern technology – It was the sort of experiment I could have easily seen myself participating in as well. However, after reading a series of reviews by bloggers who had rather tepid feelings about the novel, my anticipation and excitement were more than a little dampened. Despite that, I decided to forge ahead and read Going Vintage one balmy summer afternoon last weekend. Am I ever glad I did! The story of one girl's rather unique solution for getting over a broken heart and her nostalgia for a period she never personally experienced, Lindsey Leavitt's Going Vintage was a sweet, quirky contemporary romp that I quickly devoured in a matter of hours.
"Jeremy elopes with a flavour of gum and I'm the bad guy."
Mallory Bradshaw and I had a very complicated relationship. While I greatly admired her desire to discover who she truly was independent of Jeremy, even if that meant challenging herself to new and potentially intimidating experiences in the process, there were moments where I found myself becoming increasingly irritated with her. Mallory's ignorance and naïveté about the decade she's so desperate to recapture was a little frustrating and occasionally bordered on unbelievable. The girl has never even heard of Happy Days! While I realize the show aired well before her time, it's an iconic television staple. Even today, it's so prevalent in the public consciousness that I think you would be hard-pressed to find a teenager who hasn't, at the very least, heard a passing reference to The Fonz. Ayyy! What can I say? I just didn't buy it. Mallory also idealizes the period she's trying to emulate, conveniently forgetting the race riots, violence and political upheaval that plagued the era. She seemed to know very little about the period she's trying to pay tribute to and I couldn't understand what, if any, purpose Mallory's ignorance served. Every time a reference went over her head or she reminded herself to Google an event or phenomenon she knew nothing about that had occurred during the period she professed to love, all this accomplished was to accentuate how uninformed, immature, and frankly, shallow, Mallory could be.
"I thought Oliver was trying hard before, but now I realize it's quite the opposite – he doesn't try, he just is, makes up his mind and doesn't check if it's going to work for his image or come off wrong. Since the rest of us are being so self-aware, his presence seems calculated. No one can possibly be that breezy, saying what he thinks, feeling what he feels. I can see why people don't like him for this very reason – it's so much easier to call him a poser.
Because if he's the real deal, then that makes the rest of us fakes."
Ironically enough, the character I expected to dislike was actually the one who most grew on me. Oliver Kimball, Jeremy's eccentric cousin, was initially a difficult character to grow to like. Accustomed to dressing in full costume as an homage to the '80's band, Mötley Crüe, during his participation in the city basketball league and famed for having worn the same shirt for forty-two days straight with no explanation whatsoever, Oliver seems to typify the very definition of the word 'Hipster'. There were times, particularly at the outset of the novel, when I could practically hear him shouting "I'm quirky! I'm different! Pay attention to me!" every time he made an appearance on the page. Thankfully, to know him is to truly love him. Because this novel is told from the first person perspective of Mallory, much of the initial information the reader gleams about Oliver comes directly from Mallory herself. Predisposed to dislike him because her information has been derived primarily from Jeremy's less-than-favourable opinion of his cousin, it was gratifying to watch as Mallory slowly grew to uncover and understand the real Oliver Kimball as she began to spend time with him. Unconcerned with the perception others have of him, Oliver is entirely uninhibited and I couldn't help but admire his absolute confidence, which was an extremely attractive quality, and his ability to throw himself into almost any project with his own unique brand of verve and quirkiness.
"Oliver wants to get to know me. Oliver thinks I'm pretty. This is Oliver Kimball we're talking about, a guy so far out of my social sphere he's not even in my solar system. He's, like, Pluto. No, Pluto isn't a planet anymore, but it is still in the solar system…Wait. He's far out, okay? And I'm not talking in a groovy kind of way."
It is primarily because of Oliver that the romantic relationship between Mallory and Oliver worked as well as it did. Both know that they're in a rather untenable position in that their relationship begins and evolves in the shadow left by Mallory's former relationship with Jeremy. While this could have been uncomfortable in the hands of a less capable author, Leavitt navigates the potential pitfalls with grace and ease. Neither character rushes into a romantic relationship, and the development between them from friends to something more felt natural and realistic. Their scenes together sparkled with chemistry and were a lot of fun to read about. What I most appreciated, however, was Oliver's wealth of understanding and patience. He doesn't rush Mallory into a relationship despite his obvious feelings for her and is willing to take as much time to wait as Mallory needs to ensure that their relationship starts off on the right foot. In this regard, both characters act with a maturity well beyond their years and I was happy to see that they both thought critically rather than rushing thoughtlessly head-first into a relationship.
"…Breakups blow."
"Like a hurricane."
"Is that a song? If not, we need to write it."
My heart feels fuller, like when the Grinch unstole Christmas. "Thanks for joining pep club."
"Girl, there aren't a lot of clubs I can get into, but pep?" Cardin readjusts her bra. There's plenty to readjust. "Pep I got."
The supporting cast of characters were equally delightful. I adored Mallory's friends, Paige and Cardin, despite the fact that they made fewer appearances than I would have liked. I'm also very happy to report that Going Vintage does not suffer from the much-dreaded Absent Parent Syndrome. While Mallory often interprets her parent's concern as a stifling, irritating interference, it was a pleasant change to see parents who were active, interested participants in their daughters' lives. While there were times that Mallory's parent's interest, particularly her mother's, bordered on intrusive and somewhat dysfunctional, it was obvious that their concern always arose out of a genuine feeling of love for their daughter. Leavitt paints both parents with a realistic brush as they struggle to tackle common marital difficulties that arise in their relationship, most notably those of a monetary-concern. I was impressed by how well Leavitt demonstrated what affect the parent's often passionate and volatile relationship had on their two children. Mallory's younger sister, Ginnie's, reaction was particularly heart-wrenching. Ginnie takes it upon herself to do everything in her power to 'fix' her parent's relationship and ensure their happiness together, worried that their occasional blow-ups are impending signs of a divorce. This seemed like a realistic reaction given her age, and I liked how Ginnie used aspects of Mallory's vintage-inspired experiment in her own unique way as a means to encourage her parent's reconciliation.
"Do you know how hard this is? I'm already completely isolated from my friends – I don't know what they're doing during the day, I have no clue what's happening online. My reputation is going up in flames and I can't even watch it play out. And now my room is prehistoric."
As much as I liked Leavitt's concept and characters, there were a few issues I had with Going Vintage that detracted from my overall enjoyment of the novel and prevented me from attributing four or five stars to what was otherwise an enjoyable novel. Mallory's complaints regarding her frustrations and the inconvenience of her social experiment were a little irritating, particularly when one considers that this was a self-imposed project of very short duration. Her adherence to the experiment is also sporadic at best. She doesn't divest herself of all modern conveniences like her LED alarm clock and personal computer until her sister Ginny confiscates them in the name of authenticity. She also selectively chooses when she will and will not adhere to the strictures of her moratorium on the use of modern technology. She protests against a homework assignment about the Industrial Revolution because the research necessary to complete it requires the use of the internet, yet has no problem using a microwave to heat up a burrito. While the microwave oven was invented in 1947, it was cost prohibitive and was not widely sold for common use as a household appliance until the middle of the 1970's. Given the voluntary, short-term nature of Mallory's 'going vintage' project (I believe it lasted a little over a week), I would have appreciated more dedication to her experiment and fewer complaints.
There was also a secondary storyline involving a secret about Mallory's grandmother's past that I felt could have benefited from further development and depth. While I didn't begrudge the author's inclusion of it as I greatly enjoyed the grandmother's character and was eager to learn more about her, this seemed like a particularly weighty topic given the rather limited scope of the novel. Very little time and attention is devoted to the development of this storyline and the conflict that arose seemed to be resolved a little too quickly and easily. Realistically speaking, I'm certain that not all the characters would have been able to accept the grandmother's secret as easily as they did. Where I expected feelings of betrayal or resentment, I was instead treated to a series of hugs and well-wishes. It simply didn't ring true. Given how much I enjoyed Leavitt's unflinching, realistic examination of other aspects of the Bradshaw family's dynamics within the novel, I was a little disappointed when I didn't see a similar approach reflected in this particular storyline.
"Sorry, but practicing phone calls doesn't sound like scouting. Aren't you supposed to make a bear trap out of a lunchbox?"
"Ah, yes. The bear-in-the-lunch-box merit badge. Took me weeks to get that."
A light, cute contemporary read, Going Vintage by Lindsey Leavitt would be the perfect addition to any beach bag or the ideal book to read while enjoying a cold refreshing drink outside on a hot summer day. A heartfelt, quirky little story that made me want to break out my rotary dial telephone and don the nearest available seersucker dress, Going Vintage was a wonderful surprise and would act as the perfect palate cleanser between more serious fare. Now, if you'll excuse me, I'll be pulling on my Mary Jane's, calling my steady, and enjoying a refreshing root beer float down at the local soda shop.

Overall Rating


Around The Web
Still not sure this is the right book for you? Why not listen to what some other bloggers had to say about it?
● Renae @ Respiring Thoughts wrote "Going Vintage is a really good book, but not for the actual vintage part — that was a little lackluster. I like books about families, and Lindsey Leavitt gave me that here. I enjoyed that aspect. The rest was okay." (Read the rest of the review Here!)
● Anna @ Anna Reads wrote "For a fun and light but ultimately meaningful contemporary story — with a cute romance to boot! — absolutely check out Going Vintage." (Read the rest of the review Here!)
● Ashley @ Nose Graze wrote "It's cute, it's fun, and it's a little different. I just think this is the kind of book you have to be in a certain mood for." (Read the rest of the review Here!)