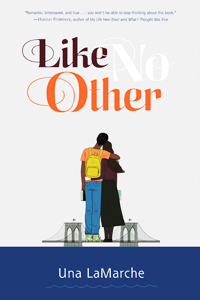 Title Like No Other
Author Una LaMarche
Published July 24th, 2014 by Razorbill
Pages 352 Pages
Intended Target Audience Young Adult
Genre & Keywords Contemporary, Realistic Fiction, Romance
Part of a Series? No
Source & Format Received an advance reader copy from the publisher for review (Thanks Penguin Canada!), Paperback
Find It On Goodreads ● Amazon.com ● Chapters

Fate brought them together. Will life tear them apart?
Devorah is a consummate good girl who has never challenged the ways of her strict Hasidic upbringing.
Jaxon is a fun-loving, book-smart nerd who has never been comfortable around girls (unless you count his four younger sisters).
They've spent their entire lives in Brooklyn, on opposite sides of the same street. Their paths never crossed . . . until one day, they did.
When a hurricane strikes the Northeast, the pair becomes stranded in an elevator together, where fate leaves them no choice but to make an otherwise risky connection.
Though their relation is strictly forbidden, Devorah and Jax arrange secret meetings and risk everything to be together. But how far can they go? Just how much are they willing to give up?
In the timeless tradition of West Side Story and Crossing Delancey, this thoroughly modern take on romance will inspire laughter, tears, and the belief that love can happen when and where you least expect it.

"Where do I begin? I'm here because the night of the hurricane, my parents were just three miles from here, sitting around my Aunt Varda's kitchen table having instant coffee instead of sitting in the waiting room of Interfaith Medical Centre. I'm here because I got thirsty, and the stairs seemed like too much work. I'm here because I let myself talk to a stranger, whose kind eyes managed to light a flame in a heart I had always just assumed was fireproof. I'm here because once I questioned why I wasn't allowed to be with Jaxon, I started to question everything."
When her elder sister Rose's water broke two months before her due date, plunging their entire family into chaos, sixteen-year-old Devorah Blum thought her biggest concern would be having to coach her sister through the birth with only the help of her intractable, pious brother-in-law, Jacob, for support. Instead, what begins as an innocent trip to the hospital cafeteria during a storm of biblical proportions will soon become a pivotal moment that promises to change the course of Devorah's life forever. When the power suddenly goes out, Devorah finds herself unexpectedly trapped alone in the elevator with Jaxon 'Jax' Hunte, an awkward, shy, but handsome boy who had accompanied his friend to the hospital after a skateboard trick gone awry. While a clear violation of yichud, a Jewish law which prohibits an unmarried man and woman from being alone together in order to prevent the temptation to sin, Devorah expects this to be nothing more than a unavoidable blip on an otherwise staid, unblemished life of devotion and proper behaviour. Devorah tries her best to remain silent, having been taught that God is always watching, but she can't help but be charmed by Jaxon's bashful attempts to soothe her nerves and make her feel comfortable in an undoubtedly scary situation. Despite a world of differences between them, Devorah and Jaxon soon find themselves talking in earnest and begin grappling with feelings they can neither help nor ignore. Devorah worries about transitioning from frum to frei in the blink of an eye but, desperate to see one another again, the two begin to navigate the many obstacles that threaten to separate them. In doing so, Devorah and Jaxon embark on a relationship that will call their families, their friendships, their faith, and even their very futures into question in a modern love story of star-crossed lovers and self-discovery in which worlds, beliefs and hearts collide.
"She stands up and takes a step toward me, and as the light filters down through the hole above us, like artificial light on a movie set, I can really see her eyes for the first time, big and grey flecked with shimmering hints of sky blue, like someone bottled that moment when Dorothy steps out of her black-and-white farmhouse and into Oz.
That's the moment I know I'm in trouble."
"This book is so much more than a love story." This was my first, last, and most prevalent thought while I devoured Una LaMarche's Like No Other in a single sitting. That isn't to say that there is anything wrong or lesser-than about a romance. In fact, statistically speaking I'm 85% more likely to read a novel that involves kissing and declarations of love in some form. Trust me. I've checked. That said, I might not have heard of this novel at all were it not for my friends at Penguin Canada, who pitched this novel in an email back in March as the perfect choice for those searching for diversity and a story that would challenge their preconceptions and open their minds to a world previously unknown to them. This novel undoubtedly does both. Marketed predominantly as a modern day re-telling of Shakespeare's Romeo and Juliet and Ernest Lehman's West Side Story, Like No Other is a beautiful, empowering, uplifting story in which young love provides the catalyst for a greater message about forging one's own path and being true to oneself, even in the face of overwhelming opposition.
"…Something about this year feels very different. Suddenly nothing quite fits – and not just my billowy white school blouse, which is straining at the bust for the first time under my thick navy vest. I feel an unrest creeping in, that expanding, unknown universe straining against the confines of my consciousness. And it's paralyzing."
Like the thick, woollen tights she must wear even in the heat of the summer, sixteen-year-old Devorah Blum chafes against the restrictions placed against her by her strict Hasidic faith and the resultant lack of personal agency this creates in her life. For years she has been told about the fine match she will make because of her beautiful face and obedient nature. So obedient, in fact, that Devorah's best friend, Shoshana, has begun to joke that Devorah should change her initials to 'FFB' or 'frum from birth' for her devotion and good behaviour. But what if Devorah wants more, to venture outside of the claustrophobic confines of the small community she has always inhabited but never questioned until a single boy brought everything into stark relief? Faced with a future that is anything but desirable that begins with matrimony at the age of eighteen followed by children soon afterward, Devorah experiences the first stirrings of rebellion as she begins to explore her feelings for Jaxon. Having been taught never to trust 'outsiders', Devorah's continued contact with Jaxon is in direct conflict with everything she has been taught. Of the two characters, Devorah is the one I could most closely identify and empathize with. Her academic achievement. Her strict adherence to rule following. Her desperate desire to seek the approval of authority figures. Devorah is at war within herself, her feelings for Jaxon, and by extension her desire for freedom, in conflict with her familial devotion and tradition. For Jaxon Hunte, the consequences of his relationship with Devorah are far less dire, although his character is no less charismatic and compelling. A boy of West Indian descent who aspires to attend college and achieve all that his parents have not, Jaxon's conflict with his peers, his racial identity and how the latter effected his relationship with those around him, was authentic and well rendered.
"I've never felt adrenaline like this before, never felt the air fill my lungs so sweetly or the sun bathe my skin so gloriously. I run all the way home, half a mile, my feet barely touching the pavement, my heartbeat flooding my ears again and again like a bass line that sings, Devorah, Devorah, Devorah."
Given its comparison to other tragic love stories featuring star-crossed lovers, such as Romeo and Juliet and West Side Story, it isn't difficult to discern the intended end for Devorah and Jaxon's whirlwind romance. LaMarche perfectly captures the heady rush of feeling typified by first crushes and young love. The possibility. The excitement. The desperation. Despite one's immediate sense that the relationship is doomed from the outset, the author's intimate portrayal of Devorah and Jaxon's growing feelings for one another, helped in large part by LaMarche's masterful use of a dual, first-person narration from the perspective of both characters, makes this relationship a tumultuous thrill ride that the reader can't help but invest in. It's romantic and sweet, exhilarating and potentially dangerous, particularly for Devorah, for whom discovery could mean the loss of the meagre ounce of freedom and trust she had once enjoyed. The constant threat of discovery and the forbidden nature of their relationship make their story all the more captivating.
"When Jaxon kissed me on that bridge I felt like the world was limitless, spinning out to infinity in all directions, making anything seem possible. Now three days later I feel like the world could fit inside that ugly MOMA hourglass that Rose keeps on her bedside table, and I'm drowning in the sands."
Despite the growing call for diversity in books aimed at the young adult audience, I think there's a natural fear amongst authors that they will be accused of misappropriating or misrepresenting a cultural, race, or religion that is not their own. While this is concern is both understandable and justified given that stereotypical, two-dimensional portrayals of minorities are not uncommon no matter what the genre or intended target audience, this is not a charge that could be levelled at LaMarche, whose construction and examination of Devorah's faith is handled with grace and sensitivity. While my experience with the Hasidic religion is non-existent and I cannot speak to the strict veracity of the author's portrayal, it is glaringly obvious that a great deal of time, care and research went into the study of a form of worship of which relatively little is known given the insular and private nature of its worshipers. That said, given my complete ignorance on the subject, it was fascinating to be given an opportunity to learn more about it. From concepts such as tz'ni'ut, an adherence to modest dress to avoid drawing attention to oneself, to yoledet and niddah, periods during which a woman is considered 'unclean', either during her menstrual cycle or childbirth, and is prohibited from all physical contact with their significant other, LaMarche's meticulous attention to detail should be applauded and held up as the standard to which other such novels aspire. Admittedly, I struggled to understand the implied, apparent preference of males, who are allowed, and even encouraged, to become scholars, and the resultant subjugation of women, who are expected to relinquish a desire for higher education and become married and begin a family of their own instead. That said, this challenged me to open my mind and accept that while this might not be the behaviour to which I've become accustomed, having been raised in a socially liberal, feminist household, this novel is not about what I find to be 'acceptable'. While it should be common sense and self-evident, the notion that what's right for one person might not be right for another (and vice versa), bears repeating. Although Devorah clearly chafes against the restrictions placed against her by a strict adherence to the Chabad-Lubavitch teachings, other members of her family, such as her mother, her father, and her sister Rose, are all portrayed as happy, functioning adults who feel that this method of worship allows them a sense of harmony and a closer communion with God. LaMarche provides an all-encompassing perspective, from the intolerant, religious zealot antagonist to those interested in challenging the accepted notions of piety and rebelling against the status quo. In this and a number of other respects, Like No Other forced me to step outside of my comfort zone and approach the subject of religion from an entirely new perspective. I feel privileged to have been given this opportunity to broaden my horizons in a novel that will challenge young readers to confront issues of multicultural relationships, personal autonomy, religious restriction and forging one's own future.
"The books packed in all around us are full of stories of people who made decisions that changed history. Of course, not all of them ended well. But luckily I don't have time to dwell on that. I have to go home and get ready to say goodbye to life as I know it."
Thoughtful, diverse, smart, bittersweet, unsettling, uplifting, and undeniably special, Una LaMarche's Like No Other encapsulates in a single volume the powerful potential that literature holds to test our preconceptions and redefine our relationship with the world around us. There is no better story than one that challenges and educates, that will inspire personal reflection and impassioned discussion. In her sophomore publication, Una LaMarche has accomplished all of this and more in a compelling, complex narrative about small minds and big dreams, young hearts and old beliefs.
Please Note: All quotations included in this review have been taken from an advanced reader copy and therefore might be subject to change.

Overall Rating


Still not sure this is the right book for you? Why not listen to what some other bloggers had to say about it?
● Scott @ Scott Reads It wrote "I absolutely loved Like No Other and I think it has the ability to educate so many readers about a culture that is completely foreign to them." (Read the rest of the review Here!)
● Beth @ That's Normal wrote "It's a great summer read that won't just pass the time; it'll leave you with a little more empathy and understanding than you started with." (Read the rest of the review Here!)
● Emily @ Lit Up Review wrote "Like No Other is at once about staying true to yourself and exploring new ideas, finding love and learning when to let it go." (Read the rest of the review Here!)