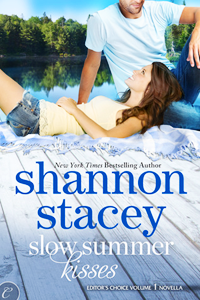 Title Slow Summer Kisses
Author Shannon Stacey
Published June 4th, 2012 by Carina Press
Pages 80 Pages
Intended Target Audience Adult
Genre & Keywords Contemporary, Romance, Novella
Part of a Series? No
Source & Format Purchased from Amazon.com, eBook
Find It On Goodreads ● Amazon.com ● Chapters
Synopsis
Anna Frazier is used to living life at 100 mph, but being downsized out of a job in the financial industry has her permanently stalled. With nowhere to "go, go, go" Anna hails a cab to her grandparents' neglected New Hampshire camp to plan her next move. It seems like a good idea – until she realizes there's no takeout to be had and the boy next door has grown into a sexy but surly recluse.
Cameron Mayfield knows he can kiss his peace and quiet goodbye when Hurricane Anna blows in. She was loud and bossy as a ten-year-old – and besides developing some attractive curves, she hasn't changed. Cam's not looking for a relationship, especially not with a woman like Anna. He nearly broke down on that road once before. So why can't he stop thinking about her?
It's not long before their sizzling attraction leads to smoking-hot kisses. But as the days get shorter, Anna must decide if she's found a new road to happiness, or just taken a detour.
"Cam got out of his truck and the door slamming drowned out the curse he let loose. He wanted to sit on the dock and drink a beer, not play bellhop for a woman who didn't have the sense to wear sneakers."
When Cameron Mayfield is asked by his close friends Jim and Betty Frazier to look out for their granddaughter, Anna, while she's staying at their cottage on Lake Askaskwi over the summer, Cameron is anything but pleased. Although the two haven't seen one another since they were children, Cameron hasn't forgotten the uptight, bossy ten-year-old he once knew. After escaping a former life of stress and pressure, Anna's return to the lake is little more than a potential reminder of all that Cameron has chosen to leave behind. Returning to New Hampshire after losing her job in the fast-paced, high-powered world of New York City finance, Anna needs some time to decompress and reevaluate her life and her priorities. Armed with a series of lists, a can-do attitude and what she believes is a foolproof plan for success, the one thing Anna never planned on was to fall in love with her inscrutable and mercurial neighbour.
"She jumped and then pointed her finger at him. "I'm going to put a bell around your neck."
"You're welcome to try."
I haven't always had the best luck with novellas. I often find that the unfortunate consequence of a shortened word count is the limitation of an author's ability to explore their story with any amount of depth or substance. In all honesty, I didn't notice that Slow Summer Kisses was a novella until after I had purchased it. Had I known, I likely wouldn't have read this particular book, and that would have been a shame because I absolutely loved this sweet little story! I completed this novella after a particularly egregious two-week-long reading slump and it was precisely what I needed to snap me out of my funk. With a touch of sensuality and a whole lot of heart, Slow Summer Kisses is the ideal addition to anyone's summer reading list.
"She was still listing off things she needed to add as she walked away and Cam shook his head. So much for knitting relaxing her. He was beginning to suspect the only thing that would relax Anna were a couple of Valium with a whiskey chaser."
Former class valedictorian and all-around Type-A personality Anna Frazier has returned to spend the summer at her grandparents' cottage in New Hampshire following the unexpected loss of her job in the financial district. Having spent the last fifteen years following a very specific plan for success and doing exactly what is expected of her, Anna is left adrift and unsure of what to do when her job search doesn't immediately yield results. Plagued by anxiety, high blood pressure and an ulcer, Anna's former high-stress lifestyle has left her with a rather painful legacy. Having grown constantly used to being on the go, Anna struggles to adjust to the slower pace of the small New Hampshire community. Although she takes up both knitting and gardening, Anna soon finds out that her favourite pastime is trading kisses with the often-grumpy Cameron Mayfield. With every intention of making her stay of short duration, Anna knows she can't afford to develop feelings for him, but for the first time in her life, her head and her heart may not be in agreement about what is best for her. While I could certainly empathize and connect with Anna as a fellow planner and Type-A personality, I did grow a little tired of her continual complaints about being 'bored' when she wasn't constantly involved in something. To quote the illustrious Betty Draper from AMC's Mad Men – "Only boring people are bored". Her constant need for attention and engagement unfortunately reminded me a little of a child who can't entertain themselves. That small gripe aside, I was happy to see Anna willing to stand up to Cameron, who could often be more than a little intimidating, as well as challenging herself to learn new things. Her willingness to grow and compromise was extremely admirable and she was a character who was easy to care for.
"He'd had sex with a woman who thought the New York Yankees were better than the Boston Red Sox. There was probably going to be a special place in hell just for him. A place with no beer and no sports and remote controls with dead batteries while the TVs were all stuck on Real Housewives of someplace or another."
For rugged outdoorsman Cameron Mayfield, Anna Frazier is a reminder of the life he left behind. Formerly married to a woman who was more interested in their gross annual income than in Cameron's well-being and employed as an attorney in a high-powered, competitive law firm, Cameron left it all behind following the untimely death of his father. Having been settled in Askaskwi Lake for the past four years, Cameron has left the trappings and inevitable strain of his former consumer-driven life behind and now lives a relatively simple life working as a carpenter and roofer, all while doing other assorted odd jobs around town. A man of few words who likes nothing more than a cold beer, a quiet afternoon spent fishing and listening to the Red Sox play on the radio, Cameron is the epitome of a 'man's man'. Wild and a little rough around the edges, Cameron certainly had the ability to make me weak at the knees! That said, while I found Cam attractive within the context of the story, I'm not sure I would personally be able to put up with his rather mercurial moods and domineering attitude in real life. I don't mind Alpha males in romance stories as long as their behaviour doesn't border on abusive, but I could certainly understand why select readers might find a couple of his comments a little irritating. While Cameron had a tendency to act a little bossy and overbearing towards Anna, I felt as though he only ever had Anna's best interests at heart and worried and cared deeply for her.
"You're a Yankees fan."

"Yup."
"I kissed a Yankees fan."
"Yup. Really well, too."
It was too late for mouthwash, so he did the next best thing and wiped the back of his hand across his mouth. "Get off my dock."
On the surface of things, Anna and Cameron are about as incompatible as they come. With vastly different ideas of what their futures will entail and with personalities that seem to clash at every turn, Stacey perfectly captures the 'love-to-hate' dynamic. Painfully aware of the differences between them, both struggle with their growing feelings as they grapple with the fact that their affair will likely be of short duration because of Anna's plans to eventually leave New Hampshire and return to the financial sector in a major city. Their hesitation about confronting the depth of their true feelings for one another because of this obstacle added an additional element to their relationship that I greatly appreciated.
As I mentioned earlier, often times in novellas romances have a habit of feeling rushed because of the abridged nature of the story. This often results in the much-dreaded 'instalove' phenomenon where characters seem to fall too hard and too fast in order to necessitate the development of their relationship in a rather short period of time. While Cameron and Anna do grow quite close rather quickly in Slow Summer Kisses, I was more able to accept this in this particular case because of their past history together. The foundation of their relationship, formed as a friendship when they were children, made their eventual romantic coupling more believable. Their playful banter and occasional reminiscences about their past as children together were very cute. While I would have loved to read about Anna and Cameron's story in greater depth in a full-length novel as I was very engaged in their relationship, I was completely satisfied with what Stacey provided us within the strict parameters of a novella-length story.
"You can't rush kisses. You have to slow down and savour them. Lose yourself in them."

"There's no right or wrong way to kiss, Cam."
"There may not be a wrong way, but there are better ways than standing in Home Depot or kissing so fast I thought a bird flew by and smacked me in the mouth."
…
Cam took a half step closer to her, definitely crowding her space a little, and ran his hand from her elbow to shoulder. "A kiss should be anticipated. You should know it's coming so your heart can beat faster and your skin can flush with heat."
Perfect for fans of Jill Shalvis and Victoria Dahl, Slow Summer Kisses is a cute contemporary romance that will sweep you away and leave you longing for more. Shannon Stacey accomplishes a lot within the restrictive confines of a novella-length story. If you're in the mood for a fast-paced, delightful, light-hearted summer romance, this is the book for you! Currently retailing for a mere $2.36 on Amazon.com, Shannon Stacey's Slow Summer Kisses is a veritable steal.

Overall Rating


Around The Web
Still not sure this is the right book for you? Why not listen to what some other bloggers had to say about it?
● MinnChica @ The Book Pushers wrote "All in all I really enjoyed this Stacey novella. Although I wish it was longer – these characters were so easy to fall in love with – I also didn't feel as if he story was rushed or cut short. The romance was so sweet and sexy and I fell in absolute love with Anna and Cam both." (Read the rest of the review Here!)
● Hilcia @ Impressions Of A Reader wrote "The beginning of the relationship is well rendered – those wonderful fun moments that turn to hot sex – but the rest is glossed over, and the end feels rushed. Regardless, Slow Summer Kisses is a quick summer read, that romance readers might enjoy for those fun, sexy moments, and others might actually love as a short, light, beach romance read." (Read the rest of the review Here!)
● Kimba @ Caffeinated Book Reviewer wrote "Slow Summer Kisses is the perfect summer read. It is light, sweet and perfect for an afternoon escape." (Read the rest of the review Here!)