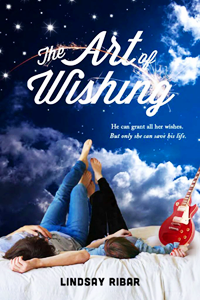 Title The Art of Wishing
Author Lindsay Ribar
Published March 21st 2013 by Dial Books For Young Readers
Pages 314 Pages
Intended Target Audience Young Adult
Genre & Keywords Contemporary, Fantasy, Paranormal, Romance, Genie, Magic
Part of a Series? Yes (Book 1 in The Art of Wishing series)
Source & Format Purchased from Chapters, Hardcover
Find It On Goodreads ● Amazon.com ● Chapters
Synopsis
Margo McKenna has a plan for just about everything, from landing the lead in her high school play to getting into a good college. So when she finds herself in possession of a genie's ring and the chance to make three wishes, she doesn't know what to do. Why should she put her life into someone else's hands?
But Oliver is more than just a genie – he's also a sophomore at Margo's high school, and he's on the run from a murderer. As he and Margo grow closer, she discovers that it will take more than three wishes to save him.
A whole lot more.
"The plan was this: I'd get up on that stage, blow them away with the best damn audition they'd ever seen, and walk out knowing the part I wanted was mine.
And when I was called into the auditorium, that was exactly how it happened."
Straight-A student and musical aficionado Margaret 'Margo' McKenna seems like she has the world at her fingertips and everything firmly under control. So, when she auditions for the lead role of Mrs. Lovett in the school's musical production of Sweeney Todd, Margo is confident that the role is hers for the taking. Eventually cast in a supporting role instead, Margo is shocked when the role of Mrs. Lovett is given to one Victoria Willoughbee, a relatively unknown sophomore who suddenly seems to be taking the school by storm. Even more surprising? The cast and crew seem inexplicably enthralled with Vicky's performance, while all Margo is able to see is wooden, monotone acting and a negligible singing voice. Little does she know that losing the lead role in the school play will soon be the least of her worries. After overhearing a heated conversation between Vicky and Oliver, a new student and the yearbook photographer who has been documenting their rehearsals, Margo discovers a peculiar ring abandoned in the girl's bathroom one evening. After holding it between thumb and forefinger, Margo is shocked to discover that the ring seems to have summoned Oliver out of thin air. Suddenly, all the pieces begin to fall into place. Much to her shock and disbelief, Margo soon learns that Oliver Parrish is a genie and was responsible for Vicky's rather implausible rise to drama club fame. Once the queen of organization and order, Margo's life is abruptly turned upside down. Rocked by the sudden realization that magic is real, grappling with her growing feelings for a boy who grants wishes for a living and is old enough to have experienced the Irish potato famine firsthand, Margo must also fend off a vicious murderer who will go to any lengths to get what he wants most. Her life as she knows it will never be the same again.
"I'd spent the better part of eighteen years thinking magic meant card tricks and Harry Potter books and questionable vampire movies – and here was what seemed very much like the real thing, right in front of me. Even though I knew it was impossible."
In my relatively short time writing reviews, I've often found that the reviews that are the most difficult to write are often for the books that I love the most. While it's very easy to identify what I don't like about a novel, it's much more difficult to quantify what worked for me on an emotional or elemental level. Never was this more clear then when I completed The Art of Wishing by Lindsay Ribar and sat down to write this review. I absolutely adored this novel, but was suddenly faced with a rather unusual problem: How do I write a review that isn't compromised solely of hearts and exclamation points? Well, here goes nothing.
"I smirked at him. "Is that your way of saying you're cold, but you're too manly to admit it?"

"I'm not manly," he retorted, then paused. "That came out wrong."
"Of course it did," I said, fighting the giggles bubbling up inside me. "You are the most manly. The absolute manliest."
I can't tell you how refreshing it was to read about a strong, confident heroine who isn't constantly plagued by insecurities and self-doubt. The socially awkward, insecure, clumsy protagonist has been done to death and as such, Margo McKenna was like a breath of fresh air. Margo is neither a loner nor the most popular girl in school. Despite her self-confidence, Margo occasionally struggles to relate to others, particularly to boys, and I found it particularly endearing when she would scramble to come up with a quick retort or flirty reply in a conversation, only to come up short. I think we've all been there a time or two ourselves. While her confidence can often border on arrogance and she tends to display a sense of entitlement, particularly when it comes to her role in the play, I felt this was realistic given her age. That said, Margo's vivacity and perseverance allow her to triumph where other heroines would simply accept defeat. Although she isn't cast in the lead role in the play as she expected, Margo is determined to make the best out of a bad situation. Rather than moping or bemoaning her luck, she immediately throws herself into the role of Toby with a passion and determination I couldn't help but admire. I also appreciated the fact that Margo is intelligent, skeptical, and a critical thinker. Initially hesitant to accept Oliver's abilities at face value, she takes the time to learn what she can, and attempts to make logical and thoughtful choices when it comes to her wishes. Perhaps it's because I was able to recognize a lot of myself in Margo, but I found it extremely easy to care for her and invest in her character and development throughout the course of the story.
"And then he moved toward me. He leaned down, so his face was only inches away from mine. "Just for the record," he whispered, his breath fogging the night air between us, "this is a very bad idea."
It was a good kiss. I mean, a good freaking kiss. The kind of kiss where I didn't even care how much time we had together, because as long as I could feel his lips against mine, time didn't matter at all. He followed my lead, responding almost instinctively when I paused for breath, when I leaned into him, when I tilted my head just so."
Oliver Parrish – Be still my heart. Filled with a youthful optimism and innocence despite his advanced age, Oliver was a gentle, occasionally bashful soul who stole my heart and refused to let it go for an instant. Despite his initial outward appearance of enthusiasm and happiness, Oliver is not without his own very unique set of problems. On the run from a former master and close friend who still has one wish remaining, the consequences of which could be deadly, Oliver only has a limited amount of time in which to grant Margo's wishes. It was very sweet to watch as Oliver slowly opened up to Margo about his past and risked his own safety so that he might grow closer to her in the limited time he had left. His spontaneity and desire to live in the moment were the perfect compliment to Margo's organized and rational personality.
"You know," he said softly, his eyes slightly downcast, "if anyone new had to find my ring, I'm glad it was you."
I felt myself blush.
"Uh-oh," said Oliver.
"I'm not blushing," I shot back, just a fraction of a second before realizing he hadn't said anything about blushing. In fact, he wasn't even looking at me."
The adorable, blossoming relationship between Margo and Oliver was a true delight. Their chemistry was immediately palpable and I greatly enjoyed the playful, light-hearted banter the two characters often engaged in. I also appreciated the fact that their moments together were not comprised solely of a number of well-choreographed scenes in which everyone did and said the right thing. Ribar perfectly captures the idealism, excitement, and awkwardness of young love. There are misunderstandings and moments of uncertainty, doubt, and awkward pauses, and I loved every single second of it. This made their relationship feel all the more natural and realistic. I also greatly enjoyed the additional depth that the paranormal aspects of the novel brought to Margo and Oliver's burgeoning relationship. More than a mere spirit vessel, the celtic ring that binds Oliver and Margo together also creates an interesting sense of transparency and intimacy between them. Able to read Margo's mind and forced to answer all of her questions as quickly and honestly as he can, an interesting balance of power emerges in which both parties are forced to trust that the other will not exploit this newfound connection. Finally, I was pleasantly surprised to find that Margo was often the aggressor in their relationship. It was gratifying to watch a woman take control, particularly in regards to the physical aspect of their relationship. Oliver often followed Margo's lead, and I thought this was a nice change of pace. Bravo, Lindsay Ribar! I salute you!
"So what now? Is there a ceremony or something?"
He pursed his lips, looking very serious. "Well, there's a special hat you have to wear, made of ferns and cat food cans and glitter. And then -" He stopped abruptly, wincing, and looked accusingly at the sky. "For heaven's sake, I was kidding. No, there's no ceremony."

"Good thing, too," I said quickly, before the light mood could disappear again. "The cat food cans are no problem, but I was wondering where we'd get ferns in March."
Ribar's interpretation of genie lore was both fascinating and innovative. While she does retain some of the most basic premises, such as the ability to make three wishes, Ribar also adds her own unique spin to the mythology. I particularly appreciated that unlike in most genie stories, Oliver is genuinely happy with his position and is not eager to be freed or 'rescued' by Margo. He revels in his power and takes immense joy and satisfaction in being able to use his magic to benefit others. While not all his experiences with his previous masters have been positive, he always looks forward to the next master as a new opportunity.
"You want your mother to stop putting your father first all the time." I shifted uncomfortably, but didn't deny it. "You want her to understand you. You want to be happy that they're back together, but you're not -"
"Of course I am!" I interrupted. "Who wouldn't be? It's like the ultimate dream: Mommy and Daddy getting back together. That's what everyone wants."

"But you're not everyone," he said softly. "You're you."
The supporting cast of characters were the cherry on top of an already delicious sundae. Margo's biological parents have recently remarried after being separated for a number of years. Swept away by the romance of their reunion, her parents embark on a series of honeymoon trips, often leaving Margo behind to fend for herself. Mourning the loss of the close relationship she once had with her mother following her parent's divorce, Margo can't help but feel left out, unimportant and largely ignored. Despite experiencing what many children of divorce would consider the ideal resolution to their family's story (i.e. The reconciliation of her parents) Margo can't help but wish that things would go back to the way they were before. Ribar's touching exploration of Margo's conflicted feelings about the shifting dynamics within her family added an unexpected depth to the story that I greatly appreciated. Given that I'm always on the lookout for the portrayal of positive female friendships in literature, I also enjoyed the relationship between Margo and her best friend, Naomi. While I wish we could have explored this relationship in more depth and been provided with a sense of resolution regarding an argument the two experience approximately three quarters of the way through the novel, this in no way detracted from my overall enjoyment of the story. I have no doubt that Ribar will address this in the sequel.
"It's the most awesome thing in the world. The awesomest thing that ever awesomed. Except even more awesome."
I really couldn't have said it any better myself. Inventive, whimsical and undeniably charming, Lindsay Ribar's The Art of Wishing is nothing short of magical. With a unique premise, swoon-worthy romance and a protagonist that made me want to stand up and cheer, Ribar's debut novel is one that should not be missed! The only things I'm now left to ponder are how I'm ever going to pass the time until the release of Ribar's sequel, The Fourth Wish, and what I'll wish for should Oliver ever come knocking at my door. Perhaps the ability to finally complete my work-in-progress to my satisfaction…Or maybe a date with Idris Elba. What? A girl has to have her priorities, after all.

Overall Rating

Around The Web
Still not sure this is the right book for you? Why not listen to what some other bloggers had to say about it?
● Tara @ Hobbitsies wrote "If you're looking for a paranormal YA that's a breath of fresh air to the genre, I definitely recommend picking up The Art of Wishing by Lindsay Ribar." (Read the rest of the review Here!)
● Andrea @ The Bookish Babes wrote "The Art of Wishing will have you believing in magic, and cheering for love." (Read the rest of the review Here!)
● Becky @ Stories & Sweeties wrote "The Art of Wishing was a fun quick read, light and humorous at times, with a little darkness slipped in; an interesting take on genie legend, and a sweet love story. " (Read the rest of the review Here!)