Child's Play is a regular feature on Pop! Goes The Reader in which I review picture books, chapter books, and middle grade books for the young and the young at heart.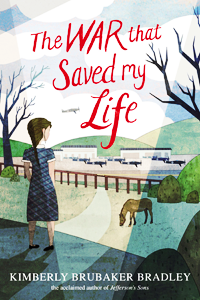 Title The War That Saved My Life
Author Kimberly Brubaker Bradley
Published January 8th, 2015 by Dial
Pages 320 Pages
Intended Target Audience Middle Grade
Genre & Keywords Historical Fiction, Realistic Fiction, World War II
Part of a Series? No
Source & Format Received an Advance Reader Copy from the publisher for review (Thanks, Penguin Canada!), Paperback
Find It On Goodreads ● Amazon.com ● Chapters

Nine-year-old Ada has never left her one-room apartment. Her mother is too humiliated by Ada's twisted foot to let her outside. So when her little brother Jamie is shipped out of London to escape the war, Ada doesn't waste a minute — she sneaks out to join him.
So begins a new adventure of Ada, and for Susan Smith, the woman who is forced to take the two kids in. As Ada teaches herself to ride a pony, learns to read, and watches for German spies, she begins to trust Susan — and Susan begins to love Ada and Jamie. But in the end, will their bond be enough to hold them together through wartime? Or will Ada and her brother fall back into the cruel hands of their mother?
"If I could walk, maybe Mam would't be so ashamed of me. Maybe we could disguise my crippled foot. Maybe I could leave the room, and stay with Jamie, or at least go to him if he needed me.
That's what happened, though not the way I thought it would. In the end it was the combination of the two, the end of my little war against Jamie, and the start of the big war, Hitler's war, that set me free."
Ten-year-old Ada Smith is trapped. Trapped by impoverishment and ignorance. Trapped by prejudice and misconceptions. Trapped, quite literally, in the one room to which she's been confined since she was born, her entire world composed of that which she can glimpse through a solitary window. Until the most unlikely of sources gives Ada the power and the motivation to change her life forever. As World War II begins and preparations are made to evacuate the children of London to the neighbouring countryside in order to protect them against the expected bombings, Ada knows that she will be left behind and separated from her younger brother, Jamie, if she does not learn to walk. This task is made all the more difficult by the club foot with which she was born. Mortified by her daughter's disability, Mam never sought treatment for Ada's affliction, which has become a constant source of discomfort, shame and unhappiness for Ada. Despite this, however, step by painstaking step Ada teaches herself to walk and against all odds, manages to escape with Jamie to the bucolic beauty of Kent. The two are eventually billeted with Ms. Susan Smith, a solitary woman also no stranger to loss and heartbreak, and her gentle pony, Butter. Not even the promise of regular meals, new clothing and lessons can help remove the nagging pit in the bottom of Ada's stomach, however, as she struggles to trust in the security and permanence of their new home and put the pain of the past behind her. As the war escalates, the bombings worsen and Ada and Jamie's mother makes a sudden reappearance in their lives, everything the two have come to care about is placed in jeopardy and Ada will be forced to question the true nature of home and family and to what lengths she'll go to secure them.
"The teachers started yelling then, and we all climbed onto the train. Before the noon church bells rang, the train began to move.
We'd escaped. Mam, Hitler's bombs, my one-room prison. Everything. Crazy or not, I was free."
Comparative marketing is a popular strategy employed by many in the literary market and nowhere is this more evident than in the case of books aimed at the middle grade and young adult audiences. It seems that not a week goes by without a new book being touted as "the next Fault In Our Stars" or "the next Eleanor & Park". Unfortunately, experience has taught me that these comparisons are often as misleading as they are prolific. This is why I was filled with a mixture of both trepidation and excitement when I was approached about reviewing Kimberly Brubaker Bradley's The War That Saved My Life and it was described as being comparable to Kit Pearson's Guests Of War trilogy. Pearson's work were seminal touchstones throughout my adolescence, entertaining, educating and even comforting me during some of the best (and worst) moments of my young life. Nowhere was this more true than in the case of The Sky Is Falling, Looking At The Moon and The Lights Go On Again, the three books in Pearson's aforementioned series about English siblings Norah and Gavin who emigrate to Canada during World War II. Thankfully, much to my relief The War That Saved My Life proved that not only was this comparison apropos, but that Bradley's latest is exceptional enough to be celebrated for its own, unique merits as well. Powerful, evocative, diverse, and destined to become a childhood classic for generations to come, The War That Saved My Life is a touching tale of hope and perseverance that should be at the very top of every reader's 2015 to-be-read list.
She nodded. "You must have been scared. Scared and angry."
"Of course not," I said, though I had been, at least until I'd seen the sea. "Of course I wasn't scared."
"Angry," Susan said, putting her arm around me.
"No," I said through clenched teeth. But I was. Oh, I was.
I haven't always had the best luck with middle grade literature. For obvious reasons, the stories written for this age group skew a little younger, and as a result I often have a more difficult time connecting with them in a significant, meaningful manner. Ultimately, much of what determines my level of engagement with a middle grade novel is the narrative voice. Thankfully, this is one of the areas in which The War That Saved My Life excels. Told from the first-person perspective of the protagonist, ten-year-old Ada Smith, Bradley's narrative voice is rich and intricately crafted. The author strikes the perfect balance between the dichotomous elements of Ada's personality, simultaneously capturing the innocence and naïveté born of her youth and inexperience while also touching upon her cynicism and detachment born of years of chronic abuse. A lifetime of physical, emotional and psychological trauma have left Ada permanently scarred, the damage remaining long after she has been removed from the turbulence of her mother's home. Worse still, Ada lacks the understanding or the vocabulary to express all the feelings that have become bottled up inside. Fear, anger and resentment are left to fester and often appear at the most unexpected and inopportune moments. From episodes of post-traumatic stress to complete disassociation, Ada's trauma is exquisitely well-rendered as Bradley does not stigmatize or fetishize her mental illness, but rather examines the topic with the care and sensitivity it deserves. In turn, Ada's experiences act as a testament to both the crippling, long-term consequences of abuse as well as the triumph of the human spirit. She walks, though she was told she was crippled. She reads, though she was told she was unteachable. Ada's perseverance, tenacity and strength of character, even in the face of debilitating disability and abuse, will be an inspiration to readers young and old alike and provide a valuable lesson about overcoming adversity even in the face of overwhelming odds to the contrary.
"Right," she said. "We'll go to the doctor tomorrow, find out what we should do for you."
"He won't want her," Jamie said. "Nice people hate that ugly foot."
Miss Smith let out a short, harsh laugh. "You're in luck, then," she said, "because I am not a nice person at all."
Ada's depth and complexity are reflected in the secondary characters as well, as Bradley uses subtlety and an exquisite eye for detail to bring the supporting cast to life. Even Mam, whose treatment of the children is unequivocally horrendous, is given further depth when it is revealed that she was effectively coerced into motherhood, shamed into having children by her late husband, who told her that her desire not to do so was 'unnatural'. While it makes her subsequent behaviour no less reprehensible, Bradley's insight into Mam's motivations did not go overlooked or unappreciated. This detail also allows Bradley to touch upon the stigma that women who did not conform to the mores of the period would face and how these rigid, misogynistic ideals would have far-reaching repercussions for generations to come. Best of all, Bradley's secondary characters add diversity as well as depth, examining experiences often overlooked in a traditional exploration of the period. Although it is never explicitly stated, it's strongly implied that Susan Smith, the woman with whom the children are billeted, is a lesbian mourning the loss of her romantic partner, and not her close friend as Susan explains to the children. The two women shared a home together and the depth of Susan's loss, coupled with her fractured relationship with her father and her contentious relationship with both the church and the other townspeople points strongly to this interpretation. Whether or not other readers recognize and respond to this subtext, Susan is a superlative character, forced to look beyond her grief and personal limitations and take on a position she never once envisioned for herself. Despite her constant arguments to the contrary, Susan's kindness, generosity and care for the children make her the most memorable and beloved of Bradley's creations.
"How did I feel? I had no idea. I didn't know the words to explain. I was choking and now I could breathe."
Set against the turbulent background of World War II, Kimberly Brubaker Bradley's latest is a heartbreaking, hopeful novel that examines the true nature of home, family, disability and perseverance that will make the perfect addition to any home or classroom. The War That Saved My Life is the ideal choice for fans of the historical fiction genre and even the most reluctant of middle grade readers, combining diversity, realism, and exceptional characterization to create a compassionate, captivating tale that promises to take up permanent residency in your heart.
Please Note: All quotations included in this review have been taken from an advance reader copy and therefore might be subject to change.
Still not sure this is the right book for you? Here's what some other reviewers had to say about it!
● Bonnie @ Books For Children wrote "This is the kind of book you can't put down, not just because of the plot, but because you have fallen deeply in love with the characters." (Read the rest of the review Here!)
● Jess @ The Reading Nook Reviews wrote "The War that Saved My Life is one of those stories that remains with you, long after you've finished reading. You know that the characters have all found their rightful places in life, but they're so beautifully written and wonderfully skeched out, you can't help but want to read more about them." (Read the rest of the review Here!)
● Sam @ Cherry Blossoms & Maple Syrup wrote "I cannot recommend this book enough as it is easily one of the most thoughtful and engaging middle grade novels I've read in recent memory." (Read the rest of the review Here!)