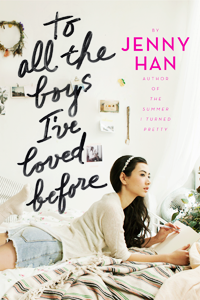 Title To All The Boys I've Loved Before
Author Jenny Han
Published April 15th, 2014 by Simon & Schuster Books for Young Readers
Pages 368 Pages
Intended Target Audience Young Adult
Genre & Keywords Contemporary, Realistic Fiction, Romance
Part of a Series? Yes (Book 1 in the To All The Boys I've Loved Before duology)
Source & Format Received an Advanced Reader Copy from the publisher for review (Thanks, Simon & Schuster Canada!), Paperback
Find It On Goodreads ● Amazon.com ● Chapters

Lara Jean Song keeps her love letters in a hatbox her mother gave her. They aren't love letters that anyone else wrote for her; these are ones she's written. One for every boy she's ever loved— five in all. When she writes, she pours out her heart and soul and says all the things she would never say in real life, because her letters are for her eyes only. Until the day her secret letters are mailed, and suddenly, Lara Jean's love life goes from imaginary to out of control.

"I like to save things. Not important things like whales or people or the environment. Silly things. Porcelain bells, the kind you get at souvenir shops. Cookie cutters you'll never use, because who needs a cookie in the shape of a foot? Ribbons for my hair. Love letters. Of all the things I save, I guess you could say my love letters are my most prized possession."
Can you remember your first crush? The touch of their hand, the boom of their laughter, the curve of their smile? For many, these first flutterings of love can be as memorable as they are important moments in our lives. For sixteen-year-old romantic daydreamer, Lara Jean Song, there have been five boys with whom she has fallen in love from afar and given a little piece of her heart. So she writes them each a letter. Not for public consumption or for anyone else to see, but an affectionate tribute to the hours she spent agonizing over their favourite breakfast cereal or the perfect love song to dedicate to them. A fond goodbye. And even when these feeling have long passed, as they inevitably do, Lara Jean saves the letters in a hatbox given to her by her mother. Because something that special, however transient, deserves to be remembered. Saved. When the love letters are mysteriously mailed out and fall into the unsuspecting hands of her long lost loves, however, Lara Jean's life is thrown immediately into chaos. Desperate to keep the depth of her feelings from the true object of her affections, her sister Margot's ex-boyfriend, Josh, Lara Jean concocts a fictional relationship with popular lacrosse player Peter Kavinsky in order to throw Josh off the scent. Fairly simple, right? But as the scheme continues and the lines between fantasy and reality begin to blur, Lara Jean will have to question where her true heart lies and whether or not she has the courage to follow it, wherever it might lead.
"They're not love letters in the strictest sense of the word. My letters are for when I don't want to be in love anymore. They're for goodbye. Because after I write my letter, I'm no longer consumed by my all-consuming love. I can eat my cereal and not wonder if he likes bananas over his Cheerios too; I can sing along to love songs and not be singing them to him. If love is like a possession, maybe my letters are like my exorcisms. My letters set me free. Or at least they're supposed to."
Delightful. Clever. Playful. Funny. Exuberant. Sharp. These are just a few of the words that ran through my mind as I devoured this book in a single sitting and are some of the (many) reasons why Jenny Han's To All The Boys I've Loved Before provided one of the most positive, enjoyable reading experiences I've had to-date in 2014. Having been one of the five people on the planet who had not read Han's wildly popular young adult Summer series, I was entirely unfamiliar with Han's narrative style and wasn't quite sure what to expect. Thankfully, sometimes the unknown holds the biggest and best surprises of all. Like a beautiful, delectable dessert with a candy-coated exterior and a rich, decadent centre, To All The Boys I've Loved Before is a fun, feel-good treat with a thoughtful, heartfelt message about family, friendship and romance that charms and surprises at every turn.
"All of a sudden I feel panicky and it's hard to breathe and I couldn't care less about cherry chocolate-chunk custard. I can't picture Thanksgiving without Margot. I can't even picture next Monday without her. I know most sisters don't get along, but I'm closer to Margot than I am to anybody in the world. How can we be the Song sisters without Margot?"
The best and brightest aspect of this novel is undoubtedly its emphasis on family, more specifically on the relationship between the three Song sisters, Margot, Lara Jean and Kitty. Admittedly, as an only child my limited understanding of the complicated dynamic that exists between siblings has been gleamed secondhand from extended family, friends or fiction. That said, I thought Han did an admirable job striking the perfect balance between idealistic congeniality and adversarial antagonism. Of course, there are moments when the interactions between the three sisters are difficult, messy, and complicated, but there was never any doubt as to their unconditional love for one another. In fact, I was reminded on another such novel (and favourite) as I read this story, Louisa May Alcott's beloved classic, Little Women. Like Alcott, Han places much of the emphasis on the relationship between the Song sisters first and foremost, often using it as the catalyst for other, secondary storylines. After the untimely death of their mother six years prior, Margot, Lara Jean and Kitty were forced to band together out of necessity, determined to care for one another and their father, instinctually attempting to fill the void left by their mother's loss. When the novel begins, the Song family is once again in the midst of a significant transition in their lives as the eldest sister, Margot, prepares to embark on her first semester studying abroad. As a result, Lara Jean, Kitty and their father are forced to redefine both themselves and their roles within the family in the wake of Margot's departure. You will cry for Margot as she embarks on a terrifying and exciting new stage in her life. You will hope along with Kitty as she pesters their father for the dog she simply has to have. Most of all, you will laugh and cheer for Lara Jean as she attempts to traverse the difficult, often treacherous, path of young adulthood and all that it entails. Perhaps most touching of all are Lara Jean's father's attempts to encourage an enduring connection to their maternal Korean heritage. In a genre that is still in great need of further diversification and inclusivity, it was a welcome change not only to have a protagonist who was a person of colour, but whose ethnicity was not used as the character's sole defining characteristic or the primary focus of the narrative. Lara Jean's biracial ancestry is merely one small part of who she is, making her one of the most accessible and authentic characters I've encountered in recent memory.
"How did this even happen?
I sink to the floor. I've had the going-to-school-naked dream before. I've had the going-to-school-naked-to-study-for-an-exam-in-a-class-I-never-signed-up-for combo, the naked-exam-somebody-trying-to-kill-me combo. This is all that times infinity."
As an individual character, Lara Jean is a pure delight. Kind, creative, funny, thoughtful and often a little awkward, Lara Jean is a bright, effervescent protagonist who will quickly steal your heart. Everything from her choice of wardrobe to her passion for baked goods was adorable and extremely endearing. Did I mention her wardrobe? Oh, the outfits. Speaking as someone who also has a passion for vintage design, the descriptions of each of Lara Jean's outfits was enough to make this self-proclaimed fashionista swoon. Each of these small, seemingly inconsequential details coalesce to transform Lara Jean into a more complete character. Thanks in large part to Han's meticulous eye for detail and vivid descriptions of Lara Jean's every outfit, gesture and expression, Lara Jean fairly leaps off of the page, and I wish she would. Because I would love to have a friend like her.
"He drives off into the night and I'm still standing there with my fingers to my lips. Peter Kavinsky just kissed me. He kissed me, and I liked it. I'm pretty sure I liked it. I'm pretty sure I like him."
Objectively speaking, this novel had the potential to be both formulaic and predictable. Reminiscent of the romantic comedies that were geared toward teenagers and popular in the 1990's, To All The Boys I've Loved Before is a fun, fast-paced romp that seems tailor-made for the big screen. Thankfully, Han's work is anything but predictable. I often pride myself on being able to predict with relative accuracy the direction any given story is headed. No so with To All the Boys I've Loved Before! I was continually kept guessing throughout and was surprised (and thrilled) with the direction the novel eventually took. As a narrator, Lara Jean's voice is strong, engaging and original. Sprinkled throughout with adorable, witty asides that had me laughing aloud on more than one occasion, Lara Jean's voice positively sang with youth and vivacity. While I would have been perfectly happy with the resolution we were given and feel as though To All The Boys I've Loved Before is more than adequate as a standalone novel, selfishly I can't help but be thrilled at the news that this novel is, in fact, the first in a duology. I adore the world and the characters that Han has created and I welcome the opportunity to spend more time with them.
"How was I supposed to know what's real and what's not? It feels like I'm the only one who doesn't know the difference."
The perfect, heartwarming combination of family, friendship, and romance, Jenny Han's To All The Boys I've Loved Before is everything one could ever wish for in a contemporary novel and more. Funny, uplifting and original, I have absolutely no doubt that To All The Boys I've Loved Before will remain one of the best and most enjoyable books I encounter in 2014 and will be one I re-read for years to come. Now if you'll excuse me, I'm off to write my own love letter to Peter Kavinsky, plan a grilled cheese sandwich date with Josh, raid Lara Jean's wardrobe and see whether Jenny Han will respond to cupcake-shaped bribes in exchange for a sneak peek at the forthcoming companion novel in this series, P.S. I Still Love You. Just kidding! Mostly. Unless you think it might work.
Please Note: All quotations included in this review have been taken from an advanced reader copy and therefore might be subject to change.

Overall Rating


Still not sure this is the right book for you? Why not listen to what some other bloggers had to say about it?
● Liz @ Along For The Read wrote "Jenny Han hit so many high notes with this story, and left me wanting more." (Read the rest of the review Here!)
● Gillian @ Writer of Wrongs wrote "I'm so glad I took a chance and bought this book. It was beautiful inside and out." (Read the rest of the review Here!)
● Ginger @ GReads! wrote "From the authentic family relationships, to the well planned character development, To All The Boys I've Loved Before was like reading a love letter to my own literary heart…This is truly Jenny Han at her finest." (Read the rest of the review Here!)