'Tis The Season: Authors Talk Holidays is a special seasonal feature on Pop! Goes The Reader in which some of my favourite authors help me to celebrate the spirit of the season and spread a little holiday cheer. So, pour yourself a cup of hot chocolate and snuggle in by the fireside as they answer the question: "What does the holiday season mean to you?" You can find a complete list of the participants and their scheduled guest post dates Here!
About Janet Sumner Johnson

Janet Sumner Johnson lives in Oregon with her husband and three kids. She bakes a mean cinnamon twist and eats way more cookies than are good for her, which explains her running habit. Though her full-time occupation as evil tyrant/benevolent dictator (aka mom) takes most of her time, she sneaks in writing at night when her inner funny bone is fully unleashed.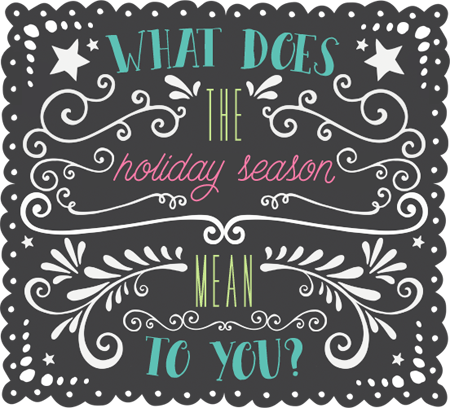 "What does the holiday season mean to you?"
This question is so simple, yet so complicated. How does one put onto paper all the complexities of emotion this holiday evokes?
Growing up, we had all kinds of Christmas traditions in our home. Starting with Christmas music in October. That was the compromise between my mom (who wanted to start in July) and my Dad (who wanted to wait for Thanksgiving). Thanksgiving weekend was never about Black Friday for us. It was about seeing the lights on temple square (SLC, UT), choosing a Christmas tree and eating Winchell's donuts afterward (at least until they closed).
Then December 1st came along with the beloved chocolate advent calendar – a cross-stitched thing that my mom made and then painstakingly sewed on kisses and peanut butter cups every year. Sending goodies to our neighbors – our famous homemade cinnamon twists, and our double famous homemade toffee. I'd get so sick on those cinnamon twists, I'd eat so many! But I could never resist.
We varied from year to year being Christmas angels, and choosing a family for the 12 days of Christmas, or simply surprising someone who needed it with a box of food and presents. I have lovely memories of ding-dong-ditching and hiding in the bushes while we watched their confusion turn to smiles.
Every year we would earn our Christmas money (to buy gifts for others) by memorizing the Christmas stories from the Bible. Luke 2 and Matthew 2. I remember practicing with my mom while she yanked my hair into ponytails before school.
We grew up opening one present on Christmas Eve…one present that was always pajamas. Putting out cookies and milk for Santa. Writing a letter welcoming Santa to our home and thanking him for coming.
When it was time for bed, we piled into one bedroom and usually did a puzzle all night long because I could never sleep. No matter how hard I tried.
We were forbidden to go into the room with the presents until everyone was awake, and we absolutely 100% could NOT wake our parents before 7 AM. That was the rule.
A huge Christmas breakfast. Always getting my favorite cereal as a present. Traipsing with my family to the Movie Theater to watch the latest Disney cartoon…or Lord of the Rings as we got older.
I remember one year, taking the bus to the mall with my older sister to do some Christmas shopping. My sister and I didn't always get along back then. We fought like crazy, and I know she would have rather gone shopping with a friend. But in that moment – when the bus dropped us off – all our sibling rivalry vanished. It was dark, and snow was gently falling. The world was so quiet, and I remember gazing up at the street light and the shining triangle of snowflakes. I wanted time to stop so I could soak in the peace of the moment.
What does the holiday season mean to me?
It means smiles and joy. Warmth filling my home and my heart. It means forgetting myself and hatching secretive plans to make others happy. It means a world that is a little softer and a little kinder. The kind of world we should strive for year round.
There is something magical about December. A month that simultaneously speeds up and slows down. A month where strangers smile at each other. A month where we forgive a little easier and love a little harder. Our worries get smaller as we focus on others. And our lives are filled with that longed-for peace as we remember a baby who changed the world.
"Peace I leave with you, my peace I give unto you: not as the world giveth, give I unto you. Let not your heart be troubled, neither let it be afraid." (John 14:27)
Title The Last Great Adventure Of The PB&J Society
Author Janet Sumner Johnson
Pages 256 Pages
Target Audience & Genre Middle Grade, Contemporary, Realistic Fiction
To Be Published April 2016 by Capstone Young Readers
Find It On Goodreads ● Amazon.com ● Chapters
Some things are better together. Like peanut butter and jelly. Or Annie and Jason. So when her best friend's house is threatened with foreclosure, Annie Jenkins is bursting with ideas to save Jason's home. She could sell her appendix on eBay. (Why not?) Win the lottery. (It's worth a shot!). Face the evil bankers herself. (She's one tough cookie, after all.) Or hunt down an elusive (and questionably real) pirate treasure. Whatever the plan, it has to work, or this is undoubtedly The Last Great Adventure Of The PB&J Society.