'Tis The Season: Authors Talk Holidays is a special seasonal feature on Pop! Goes The Reader in which some of my favourite authors help me to celebrate the spirit of the season and spread a little holiday cheer. So, pour yourself a cup of hot chocolate and snuggle in by the fireside as they answer the question: "What does the holiday season mean to you?" You can find a complete list of the participants and their scheduled guest post dates Here!
About Michelle Smith

Michelle Smith was born and raised in North Carolina, where she developed a healthy appreciation for college football, sweet tea, front porches, and a well-placed "y'all." She's a lover of all things happy, laughs way too much, and fully believes that a little bit of kindness goes a long way.

Michelle lives near the Carolina coast with her family.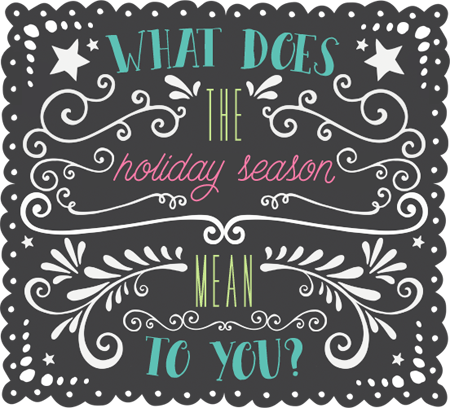 The holidays are a magical time of year — the lights, the carols, the hot cocoa and decorations and all-around cheerfulness make December downright fantastic. Oh, and we can't forget the cookies. And the pie. And more cookies.
Needless to say, I'm a big fan.
But one thing that sticks out to me even more during the holiday season is the explosion of kindness. I'm not sure why acts of kindness have become a recurring theme during the holidays, but I love it.
I have a four-year-old. As he gets older, I've become more and more determined to make sure that he understands the pure joy that comes with simply being nice to people (and he's proven time and time again that he loves it just as much as I do). So, we fully embrace the holidays' kindness explosion. We'll pay for that person behind us in the drive-thru. Donate toys and clothes to the local thrift store. Last year, we bought a bunch of holiday cards and passed them out to strangers in front of Wal-Mart.
And then there's my favorite tradition. A week or so before Christmas, we dedicate a day to making fudge and baking cookies for all of our neighbors. It gets a little messy (sprinkles + chocolate + pre-schooler = CHAOS), but so much laughter and heart goes into that mess that it's totally worth the cleanup. Once the cookies are set to go, we deliver them to our neighbors' doorsteps and take a few minutes to chat. There's one house in particular that always turns into an hour-plus visit, and that visit alone makes the "work" worth it.
But it goes further than the cookies — it's the laughter and the heart and the excitement of bringing joy to others. And to our family, that's what the holidays are all about.
Title Play On
Author Michelle Smith
Pages 296 pages
Genre Young Adult, Contemporary, Realistic Fiction, Romance
Publisher Spencer Hill Press
To Be Published April 14th, 2015
Find It On Goodreads
In the small town of Lewis Creek, baseball is everything. Especially for all-star pitcher Austin Braxton, who has a one-way ticket out of town with his scholarship to a top university. All that stands between him and a new start is one final season. But when Austin starts flunking Chemistry, his picture-perfect future is in jeopardy. A failing grade means zero playing time, and zero playing time means no scholarship.

Enter Marisa Marlowe, the new girl in town who gets a job at his momma's flower shop. Not only is Marisa some home-schooled super-genius, she's also a baseball fanatic and more than willing to help Austin study. As the two grow closer, there's something about Marisa that makes Austin want more than just baseball and out of Lewis Creek – he wants a future with her. But Marisa has a past that still haunts her, one that she ran all the way to South Carolina to escape.

As Austin starts to peel back the layers of Marisa s pain, it forces him to look beyond the facade of himself and everyone he thought he knew in his town. What he sees instead is that in a small town like Lewis Creek, maybe baseball isn t everything – maybe it is just the thing that ties them all together.