'Tis The Season: Authors Talk Holidays is a special seasonal feature on Pop! Goes The Reader in which some of my favourite authors help me to celebrate the spirit of the season and spread a little holiday cheer. So, pour yourself a cup of hot chocolate and snuggle in by the fireside as they answer the question: "What does the holiday season mean to you?" You can find a complete list of the participants and their scheduled guest post dates Here!
About Sarah Glenn Marsh

Sarah Glenn Marsh writes young adult novels and children's picture books. An avid fantasy reader from the day her dad handed her a copy of The Hobbit and promised it would change her life, she's been making up words and worlds ever since. She lives in Virginia with her husband and four rescued greyhounds. When she's not writing, she's often painting, or engaged in pursuits of the nerd variety from video games to tabletop adventures and dungeon crawls. Her work is represented by Christa Heschke of McIntosh and Otis, and her debut YA historical fantasy, Fear The Drowning Deep, debuts from Sky Pony in September of 2016.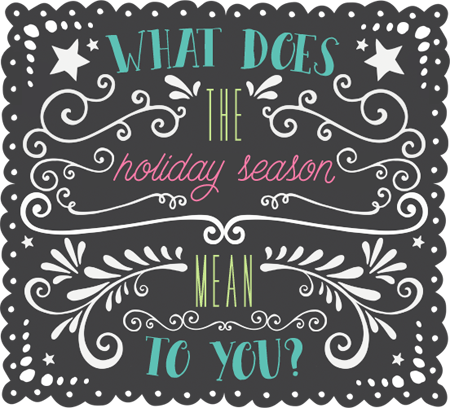 Christmas, for many people, is a time of traditions. And as someone who's never liked change, it's a magical time of year for me, when I can count on certain events happening and certain foods being made — and indeed, certain people to share in all those things, year after year.
Many of my family's Christmas traditions began with my grandmother — Mom's mom. She came from an impoverished part of rural Southwest Virginia, and worked very hard her whole life to distance herself from that upbringing. As such, she always tries to give her grandkids (my sister and I) the most lavish, postcard-worthy holiday celebrations. It's her favorite time of year, just as it is mine. I'd like to think I inherited my love of Christmas from her.
Every year growing up, I looked forward to: The day after Thanksgiving, when we'd pick out our Christmas tree; Listening to my father invent a flurry of new curse words as he tried to string lights on said tree (ironically, one of his favorite curses is actually, "Oh, Christmas!"); A month of blasting our favorite holiday music; Baking holiday treats with my mom; Helping to prepare the Christmas feast of a turkey, a ham, homemade mac and cheese, rolls, green beans, stuffing, deviled eggs, corn pudding, baked apples, broccoli cheddar casserole, sweet potatoes, and my mom's famous triple-layer pumpkin cake with cream cheese icing; Helping my grandmother set up her Christmas village; Reading The Polar Express in front of the tree on Christmas Eve; Playing games with the whole family; A huge Christmas morning breakfast (never mind the evening feast!); Watching everyone open presents at my parents' house before traveling five minutes to my grandparents' house to do it all again!
There also used to be a tradition of eating fried oysters on Christmas Eve, but after the one holiday when my grandfather's deep fryer went up in a glorious blaze and he had to run through the house with the flaming fryer and throw it into the snow (which we were lucky to have, in Virginia!), we decided we'd switch to short ribs.
I didn't really care about ditching the oysters; in fact, I hate seafood, so my grandparents always had to make me chicken tenders on Christmas Eve anyway. But as the years went by, other things changed, too. Namely, I got married and moved to a town about an hour away from the rest of my family. That may not seem like a big deal to most, but I've always had my whole family just a few minutes away. It was huge to me.
Even though I now that I have a family of my own (me, my husband, and our greyhounds), some things are still the same. My husband and I pick our Christmas tree the day after Thanksgiving; I still get to watch a man invent curses while untangling the tree lights, only now it's my partner instead of my dad; I read The Polar Express, but with my husband and our dogs; I bake a ton of holiday treats with my husband; And on Christmas Eve, we head to my parents' house for the feast, the pumpkin cake, the company and joy.
But a lot is different, too. My husband and I made new traditions together. The day before Christmas Eve, we do "our" Christmas, where we cook bacon and Belgian waffles for breakfast (and the smoke alarm sings us a little song. Every. Freaking. Time.). We give the dogs "Santa-Paws" treats from their stockings. We watch the Lord Of The Rings movies, because Tolkien should be part of every family's traditions! When we do the holiday baking, we make my mother-in-law's Spritz cookies, one of my husband's favorite holiday traditions from his childhood. And when we go to my parents' house on Christmas Eve and break out the family board games, we play a lot less Scrabble and a lot more Cards Against Humanity (I can always tell when my dad has a really dirty card because his face gets brick red!). And unfortunately, my grandmother's health is declining.
While my holiday traditions have merged with my husband's, I can safely say I love my new traditions all the more because he's part of them, and because they reflect how our family has grown over the years. Maybe that's part of the holidays' magic, too — helping me embrace changes, at least the good kind. As long as Christmas continues to be a time when the whole family comes together, it will remain my favorite time of year!

Happy Holidays from the Marsh Pack!
Title Fear The Drowning Deep
Author Sarah Glenn Marsh
Pages N/A
Target Audience & Genre Young Adult, Historical Fiction, Fantasy
To Be Published September 2016 by Sky Pony Press
Find It On Goodreads
Witch's apprentice Bridey Corkill has hated the ocean ever since she watched her granddad dive in and drown with a smile on his face. So when a dead girl rolls in with the tide in the summer of 1913, sixteen-year-old Bridey suspects that whatever compelled her granddad to leap into the sea has made its return to the Isle of Man.

Soon, villagers are vanishing in the night, but no one shares Bridey's suspicions about the sea. No one but the island's witch, who isn't as frightening as she first appears, and the handsome dark-haired lad Bridey rescues from a grim and watery fate. The cause of the deep gashes in Fynn's stomach and his lost memories are, like the recent disappearances, a mystery well-guarded by the sea. In exchange for saving his life, Fynn teaches Bridey to master her fear of the water — stealing her heart in the process.

Now, Bridey must work with the Isle's eccentric witch and the boy she isn't sure she can trust — because if she can't uncover the truth about the ancient evil in the water, everyone she loves will walk into the sea, never to return.