"Top Ten Tuesday" is a weekly meme hosted by The Broke and the Bookish!

This week's Top Ten Tuesday topic is the Top Ten Authors Who Deserve More Recognition.
As always, these choices are listed in no particular order.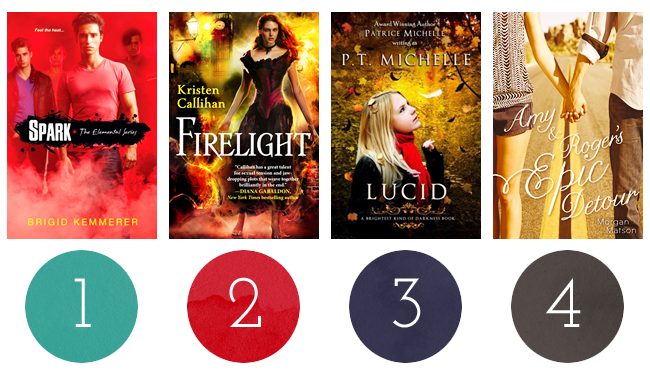 Brigid Kemmerer's work is just plain fun. It's really as simple as that. While I knew the second I finished the first novel in her Elementals series, Storm, that Kemmerer's work would be something I would enjoy, it wasn't until the release of Spark that I was completely sold. The addictive and enthralling story of a series of brothers who have been blessed with the powers of the elements (Earth, Air, Fire, Water), Kemmerer's paranormal romance series is vaguely reminiscent of the work of eminently popular and famous romance authors like Nora Roberts. There's something compulsively readable about Kemmerer's work that will have you frantically flipping pages until the very last one. With a touching portrayal of the dynamics between the four brothers in addition to stories of young love that will steal your heart and leave you longing for more, Brigid Kemmerer's work is not to be missed under any circumstance.

Discovering the work of Kristen Callihan was one of the best and most fortuitous literary accidents I've ever experienced. Desperate for something to read but not in the mood for anything I owned, I stumbled upon Firelight while searching aimlessly through the Kindle store late one night. Deciding to purchase it on a whim, I began reading it, only expecting to read twenty or thirty pages before I turned in for the night. Cut to me, bleary-eyed and wide awake, frantically turning the pages as the sun began to rise the next morning. While I do suffer from insomnia, this was one of only a handful of times that a book was so well-written and engaging that I stayed up the entirety of the night to read it. And I would do it again in a heartbeat! With a touch of magic, fantasy, and a whole lot of love, Callihan's Victorian-era paranormal romance series for adults is one of the best I've ever read. With a vast range that denies all categorization, Callihan's work is really something that should be experienced first hand. I don't feel properly qualified to describe it, as I worry that I would never be able to do it justice. My advice? Go in entirely blind and fall down the rabbit hole – I guarantee you will be delighted and charmed at every turn. I dare you not to fall in love with the headstrong Miranda Ellis, and the mercurial, tormented and charmingly vulnerable Lord Benjamin Archer.

Writing under the pseudonym P.T. Michelle, Patrice Michelle crafted one of my favourite paranormal romance series aimed toward young adults. After purchasing the first novel in the series, Brightest Kind of Darkness, as something of a fluke last year when it was on sale, I was immediately transfixed as I fell head-over-heels in love with Nara, Ethan, and the strange shadowy dream world in which they often reside. Likely drawing upon her wealth of experience writing adult romance, Michelle created a couple that took my breath away and threatened to set the pages alight as they both struggled to overcome their differences and become accustomed to the new and often terrifying world into which they're thrust. With palpable chemistry, Nara and Ethan were certainly one of the most memorable romantic couples I read about last year, which is certainly saying something given the 200+ novels I read in 2012. While I was less enthused with the apparent love triangle that was introduced in the second novel in the series, Lucid, and the fact that Ethan played a smaller role, I'm still eagerly looking forward to the release of the third novel, Destiny, and have every confidence that Michelle will handle the next chapter in Nara and Ethan's story with the same depth and sensuality as she has always done. A series that is perfect for those who prefer an emphasis on romance with an undercurrent of the paranormal, in her Brightest Kind of Darkness series P.T. Michelle has proven that mediocrity is not an unavoidable byproduct of self-published work. With searing chemistry, sexual tension and an intriguing paranormal lore, I continue to wish that more people were aware of Michelle's young adult series.

Much to my immense surprise, during a recent #LitLush discussion on Twitter, it came to light that there was a large number of young adult book bloggers and reviewers who had never read Morgan Matson's Amy and Roger's Epic Detour. This came as quite a shock to me as I had always considered Matson's work a staple within the contemporary young adult genre and had assumed that her work was widely read. While many would argue that Matson's work is already quite popular, this recent revelation made me wonder if perhaps she's as well-known as she undeniably ought to be. With a sensitivity and unique talent for touching upon universal issues like the grieving process and the uncertainty of young love, Matson continually writes stories that steal my heart and stay with me for months or years after reading them. I was absolutely blown away by the creativity of Amy and Roger's Epic Detour and fell in love with the doodles, music mixes and photos that littered the pages. It's these sort of individual touches that truly make a novel something special, and I have absolutely no doubt that Morgan Matson gave everything she had when writing that particular story. While I'm hesitant to read her other novel, Second Chance Summer, which is an issue I've touched upon in a past Top Ten Tuesday post, I have absolutely no doubt that when I finally work up the courage to read it, that it will be just as emotional, inspiring and authentic as her debut novel. Until then, perhaps I should re-visit Amy and Roger once again. A novel that features a boy who adores The Wire as much as I do? I'm sold.

Upon completion of my third novel penned by Jackson Pearce, I was suddenly struck by the realization that I rarely, if ever, am able to find in-depth reviews of Pearce's work on the book blogs that I regularly frequent. I can't count the number of times I've spoken with a fellow blogger who is aware of her work but has no personal experience with it themselves, or who even owns one of her novels but has yet to read it, even months or years after purchasing it. While Pearce has undoubtedly crafted a large internet presence and received recognition for her now-famous series of Youtube videos (And for good reason – They're a blast to watch!), her written work seems to be less well-known. Pearce does something in her work which I find admirably brave. In her series of Fairytale Retellings, Pearce has the difficult and unenviable task of putting her own unique spin on beloved and well-known stories that have been passed down for generations. While this literary legacy might prove too much for a less-capable writer, I always find that Pearce manages to bring an aspect of modernity while still retaining the essence of the classic tale. Jackson Pearce has perfected her role in a very specific niche and writes stories that I always find surprisingly evocative and moving.

Myra McEntire's 2011 debut novel Hourglass had me at 'hello'. While I was undeniably initially drawn to the novel because of its stunning cover, it was McEntire's writing that kept me coming back for more. With an intriguing mixture of humour, romance and suspense and an intelligent and thoughtful perspective on the subject of time travel, McEntire has crafted a combination that will delight even the most reluctant reader. While I was originally concerned about the shift in perspective from the first to second novels in the Hourglass series, I should have known better than to doubt McEntire's abilities or second-guess her choices. While I loved reading the first novel from Emerson's perspective, McEntire perfectly captured Kaleb's essence in the second novel of the series, allowing her admittance into the woefully small group of female authors that are able to write from a male perspective with any modicum of success. I'm always shocked and disappointed every time I recommend this series to friends and loved ones only to be met with blank stares. I would argue that McEntire's work is some of the best that the science fiction and paranormal genre has to offer to a young adult audience and can only hope that she will one day grow to become a household name in the same vein as Lauren Oliver or Beth Revis.

In a genre arguably dominated by authors such as Sarah MacLean, Julia Quinn and Elizabeth Hoyt, I can't help but desperately wish that more recognition and acclaim was aimed in Jennifer Ashley's direction. I was first introduced to her work last year, when I began with The Madness of Lord Ian Mackenzie and could not stop until I had read every single novel she had penned. While her numerous series and works varied in success, Ashley's Highland Pleasures is hands-down my favourite historical romance series of all time. I re-read The Madness of Lord Ian Mackenzie no less than four times last year and have re-read the series in its entirety more than once as well. Ashley has made an art form out of the damaged love interest, and nowhere was this more apparent than in the first novel in her Highland Pleasures series. Her thoughtful, subtle, and sensitive portrayal of a romantic hero suspected of suffering from autism in a time when there was absolutely no understanding about this sort of disorder was simultaneously heart-wrenching and undeniably beautiful. It is a story that has stayed with me for well over a year now and which I constantly return to again and again. Ashley also excels at penning three-dimensional heroines who are both strong and vulnerable and have compelling development and stories independent of their relationship with their respective love interests. No two of Ashley's stories are alike and I will continue to press her work into the hands of anyone who calls themselves a fan of the historical romance genre. If you have not yet had the pleasure of reading The Madness of Lord Ian Mackenzie, I vehemently suggest you remedy this at your earliest opportunity. You won't regret it.

8) Robin Benway
Robin Benway's 2008 novel Audrey, Wait! is one of those hidden gems in the young adult genre, strangely overlooked and rarely talked about or featured on book blogs for some inexplicable reason. I myself might never have had the opportunity to read it had I not stumbled upon a copy on one of the sale shelves at my local bookstore earlier this year. And boy, am I ever glad I did! What I most appreciate about Benway's writing, apart from the sharp, witty prose and her wonderfully nuanced characters, is the attention that she pays both to the familial relationship between parent and child (In a genre that is dominated by the negligent or entirely absent parent) and that of female friendships. Benway pens the sort of book that you can't help but devour in a matter of hours, writing with a unique insight into the minds of young adults and penning dialogue that inevitably rings true. With exceptionally realistic characters that are allowed to make mistakes and stumble and fall on occasion, Benway writes with an authenticity and irreverent humour that will have you clapping your hands in appreciation. Robin Benway is an oft-forgotten star in the contemporary young adult genre.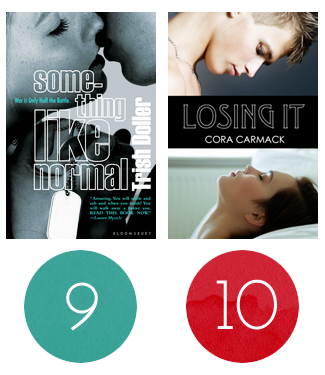 9) Trish Doller
A heart-breaking portrayal of a soldier suffering from the devastating effects of post-traumatic stress disorder after returning from a tour in Afghanistan, Something Like Normal runs the emotional gamut, effortlessly eliciting every emotion from searing anger and boundless joy to acceptance and hope. Trish Doller perfectly captures the voice of a lost, disillusioned twenty-something boy with an ease that I admired and envied in equal measure. Very few authors are able to accomplish such a feat without straying too far into unrealistic or over-the-top portrayals but Doller navigates the terrain without ever taking a misstep, bringing to life a character that seems eminently real. A novel that made me cry like a baby and grin like a loon, Something Like Normal was one of the best novels I read last year and remains one of my favourite contemporary YA novels of all time. While I have yet to have the opportunity to read Doller's sophomore novel, Where The Stars Still Shine, I have no doubt that it will be every bit as powerful and poignant as her 2012 debut. I have absolutely no qualms about recommending Trish Doller's work based on my experience with a single novel, as that one novel was more powerful than any ten others I have red in recent memory. Doller should be recognized and celebrated for her effort in bringing difficult subjects like post-trauamatic stress disorder and parental alienation to the forefront, forcing us to confront issues that we might as soon forget or otherwise choose to ignore. Now, if you're looking for me on September 24th, 2013, I'll be the girl bouncing excitedly up and down at the front of the line on the day that Doller's second novel is released in bookstores everywhere. Join me, won't you?

10) Cora Carmack
While I think society has made a concerted effort in recent years to celebrate rather than denigrate women who are in control of their sexuality and has become more conscious about misogyny and the injurious effect of practices like slut-shaming, there are times when I fear that the pendulum has swung too far the other way. Literature, particularly the 'New Adult' genre, is littered with stories of naive twenty-something virgins desperate to cast off the last vestiges of their innocence. While the 'loss of virginity' trope is one I can rarely abide, I was pleasantly surprised when I read Cora Carmack's 2012 debut novel, Losing It. The story of Bliss Edwards, a looming college graduate who attempts to lose her virginity only to strike up an unexpected and potentially inappropriate relationship with one of her TA's, Losing It was written with a sensitivity and wit that I admittedly never expected. While I have yet to have the pleasure of reading the sophomore novel in the series, Faking It, from what I've seen Cora Carmack is certainly an author to watch, who was able to make much of a relatively simplistic premise and whose work inspires reflection of many important societal issues. I wish more people were able to conquer their initial reservations about the trope this novel employs and read it first before coming to any final conclusions. Carmack's work perfectly typifies the potential inherent in the 'New Adult' genre and emphasizes why stories aimed at this age group are so important.