"Top Ten Tuesday" is a weekly meme hosted by The Broke and the Bookish!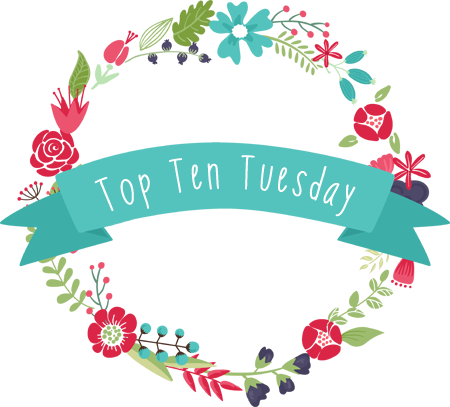 This week's Top Ten Tuesday topic is the Top Ten Books I Adored But Never Wrote A Review For.
When I saw that this week's Top Ten Tuesday topic was to be left to our discretion, I couldn't have been more excited. Having blogged for fewer than two years, there are so many interesting prompts I have yet to touch upon and I was eager to jump at the chance to remedy that. The topic I eventually chose – Top Ten Books I Absolutely Adored But Never Wrote A Review For – is one that's extremely close to my heart. There are a number of books that, for whatever reason, I never had the opportunity to review on Pop! Goes The Reader, and I'm so thankful I'll have the chance to touch on them, however briefly, in this post today. Some, like Sloppy Firsts, Audrey, Wait!, In Honor and Amy and Roger's Epic Detour, were books I read long before Pop! Goes The Reader's inception, and was therefore without a medium on which to share my thoughts. Others, like Simon vs. The Homo Sapiens Agenda, Ask The Passengers and Attachments, were books that meant so much to me, that touched me so deeply, as to render me entirely speechless. No matter what the reason, however, I consider each and every one of these titles life-long favourites and some of the best books I've read in this or any other genre or age categorization. Whether it takes me two months or two years, I have every intention of eventually reviewing each and every title on this list because work this special deserves that and so much more.
As always, these choices are listed in no particular order.
1) Amy and Roger's Epic Detour by Morgan Matson
2) Ask The Passengers by A.S. King
3) In Honor by Jessi Kirby
4) The Truth About Twinkie Pie by Kat Yeh
5) Audrey, Wait! by Robin Benway
6) Attachments by Rainbow Rowell
7) Sloppy Firsts by Megan McCafferty
8) Kissing Ted Callahan (and Other Guys) by Amy Spalding
9) Something Like Normal by Trish Doller
10) Simon vs. The Homo Sapiens Agenda by Becky Albertalli