"Top Ten Tuesday" is a weekly meme hosted by The Broke and the Bookish!

This week's Top Ten Tuesday topic is the Top Ten Books I've Read So Far In 2013.
As always, these books are listed in no particular order.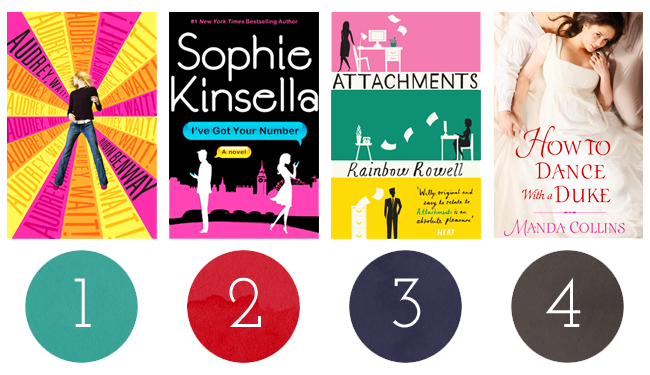 1) Audrey, Wait! by Robin Benway
Rarely have I had the pleasure of reading a book that is as lively and energetic as Robin Benway's Audrey, Wait! Filled with a cast of characters as colourful and vibrant as the book's cover and a romantic lead that gave Marcus Flutie a run for his money when it came to competing for my affections, this was one novel I couldn't put down for an instant. I particularly enjoyed the positive female friendship that Benway portrays between Audrey and Victoria, a rare treat in the young adult genre. Intelligent, witty, and a whole lot of fun, Audrey, Wait! had everything I look for in a young adult contemporary novel and more!
2) I've Got Your Number by Sophie Kinsella
Easily the most enjoyable of Kinsella's standalone novels, I've Got Your Number was a pleasant surprise for me after having been less-than-enthused with Kinsella's other standalone work. A quirky tale about the joys and dangers of technology, Poppy and Sam's story will be one I remember for some time to come.
» Read my complete review Here.
3) Attachments by Rainbow Rowell
Set against the backdrop of 1999 and the madness that was Y2K, Attachments is the story of the unlikely romance that blossoms between a journalist and movie reviewer and the man given the unenviable task of reading her emails as a part of his job as the newspaper's internet security officer. Charmingly reminiscent of the great Nora Ephron romantic comedies of the past, like When Harry Met Sally and You've Got Mail, Rowell's first novel solidified her place on my auto-buy list and is a story I will re-visit for years to come. Smart, witty, effervescent and undeniably romantic, Attachments sweeps you back to a time in the past from which you never wish to return.
4) How To Dance With A Duke by Manda Collins
Who knew that one little dance card could have the power to change six lives forever? The first novel in the Ugly Duckling series, Manda Collins' How To Dance With A Duke centres around the romance between Miss Cecily Hurston, a stubborn, intelligent Egyptologist and all-around bluestocking, and Lucas Dalton, the Duke who can't seem to keep his mind (or hands) off of her. Embroiled in a mystery that will entangled both of their lives and interests in unimaginable ways, Cecily will soon be a wallflower and ugly duckling no longer. With witty dialogue, palpable sexual tension and scenes that will set your book's pages alight, this was one of the most enjoyable historical romance novels I've read in recent memory.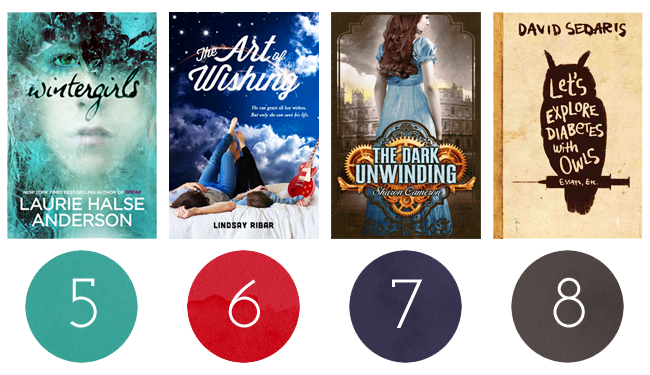 5) Wintergirls by Laurie Halse Anderson
Laurie Halse Anderson's courageous, unflinching examination of one's girl struggle against grief and anorexia in the wake of her friend's death was easily one of the most powerful novels I've read thus far this year. Merciless in its raw, unfiltered first-person narrative style yet in a lyrical prose that is hauntingly beautiful, this character-driven novel allows you a glimpse into the mind of one girl battling against a disorder she is either unwilling, or unable, to escape from. Having suffered from disordered eating for as long as I can remember, this novel touched me personally in a way that very few novels are able to. I doubt I will ever forget Laurie Halse Anderson's Wintergirls.
6) The Art of Wishing by Lindsay Ribar
A contemporary novel with a little touch of magic and a whole lot of heart, Lindsay Ribar's debut novel is one that I will recommend to friends again and again.
» Read my complete review Here.
7) The Dark Unwinding by Sharon Cameron
Sharon Cameron's The Dark Unwinding was the first book I read in 2013, and I still find myself thinking of it regularly six months later. Set against the haunting, gothic backdrop of Victorian England, Cameron's debut novel follows protagonist Katharine Tulman as she is sent to visit her eccentric uncle with the express purpose of attesting to his rumoured insanity in order to protect and preserve the family's estate and inheritance. Once there, however, Katherine is exposed to a world unlike any she could have ever imagined. Complete with a cast of characters as compelling and interesting as they are varied and a romantic hero who is as mercurial and mysterious as he is generous and captivating, The Dark Unwinding had me riveted until the very last page.
8) Let's Explore Diabetes with Owls by David Sedaris
You can never go wrong with David Sedaris. Although perhaps not as witty or engaging as When You Are Engulfed in Flames or Naked, Sedaris' Let's Explore Diabetes with Owls was one of my most highly anticipated releases in 2013 and I'm happy to report that I was not disappointed. Whether he's relating his one-man recycling campaign in the sleepy English countryside in which he now resides or haunting local taxidermy shops for the ideal Valentine's Day present, Sedaris consistently delights and entertains in a way that only he can.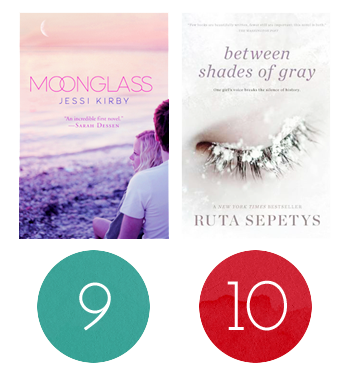 9) Moonglass by Jessi Kirby
There are few authors whose work typify summer more for me than Jessi Kirby. Having read In Honour last summer and fallen head-over-heels in love with Honor, Rusty, and Kirby's unique ability to touch upon universal topics like love, loss and identity in an accessible, eminently moving way, I was desperate to read anything else that Kirby had authored. A touching story of one girl's struggle to come to terms with the death of her mother after moving back to the sleepy beach town where her parents first met, Moonglass had everything I've now come to expect from a Jessi Kirby novel. While I didn't love it as much as In Honour, I still find Kirby's contemporary novels far more moving and evocative than 95% of the other novels in the young adult contemporary genre. Now a staple on my auto-buy list, I have high hopes for Golden, which I have every intention of reading this summer.
10) In Between Shades of Gray by Ruta Sepetys
What is there left to say about a book that has already garnered near-universal praise and has become one of the most highly-acclaimed novels in the young adult genre? Documenting the lives of a group of ordinary Lithuanian citizens suffering under the cruel NKVD regime in Soviet labour camps during World War II, Ruta Sepetys's Between Shades of Gray is a historical fiction masterpiece that simultaneously breaks one heart and instills one with a sense of hope in the resilience of the human spirit. This is one novel that should be a staple on required and voluntary reading lists alike.

Honourable Mention: The Immortals After Dark series by Kresley Cole, which I devoured in its entirety earlier this year. Undeniably sexy and set in a fully-realized world populated by vampires, lykae, fey, phantoms, sorceresses, assassins, and almost anything else you could ever imagine, I couldn't stop until I had read every single book in Cole's much-beloved paranormal romance series.