"Waiting on Wednesday" is a weekly meme hosted by Jill at Breaking The Spine!
This week I'm waiting on…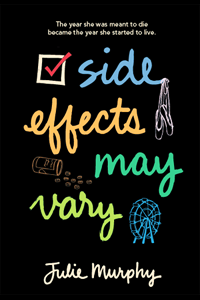 Title Side Effects May Vary
Author Julie Murphy
Pages 304 Pages
Genre Young Adult, Contemporary, Realistic Fiction, Romance
Publisher HarperCollins, Balzer + Bray
To Be Published March 18th, 2014
Find It On Goodreads
What if you'd been living your life as if you were dying – only to find out that you had your whole future ahead of you?

When sixteen-year-old Alice is diagnosed with leukemia, her prognosis is grim. To maximize the time she does have, she vows to spend her final months righting wrongs — however she sees fit. She convinces her friend Harvey, whom she knows has always had feelings for her, to help her with a crazy bucket list that's as much about revenge (humiliating her ex-boyfriend and getting back at her arch nemesis) as it is about hope (doing something unexpectedly kind for a stranger and reliving some childhood memories). But just when Alice's scores are settled, she goes into remission.

Now Alice is forced to face the consequences of all that she's said and done, as well as her true feelings for Harvey. But has she done irreparable damage to the people around her, and to the one person who matters most?

Julie Murphy's Side Effects May Vary is a fearless and moving tour de force about love, life, and facing your own mortality.
I'll admit that I was initially skeptical when I first heard about this book. While the contemporary genre is by far my favourite, years spent reading the soul-crushing novels of Lurlene McDaniel as an adolescent, most of which centred around cancer or other life-threatening illnesses, have left me a little wary when I encounter the word 'leukemia' in a book's synopsis. But when Jessi Kirby, author of Moonglass, In Honor and Golden, and coincidentally one of my favourite authors of all time, recommended Side Effects May Vary (1, 2) in glowing, no uncertain terms, I knew I had to experience it for myself. I've always been drawn to stories which revolve around characters coming to terms with their own mortality (Six Feet Under comes immediately to mind) and I think this story will inspire a lot of reflection on what I would do if I learned I only had a certain amount of time left on this earth. Despite my initial reservations, this 2014 debut is at the very top of my to-be-read list!
Thankfully, Side Effects May Vary was recently made available on Edelweiss, and I was lucky enough to have the opportunity to download an advance reader copy. While the novel isn't set to be released until March, I don't know how long I'll be able to wait until I read it, although the review won't be posted until closer to the book's publication date. It sounds too amazing for words and like something that's right up my alley!