"Waiting on Wednesday" is a weekly meme hosted by Jill at Breaking The Spine!

This week I'm waiting on…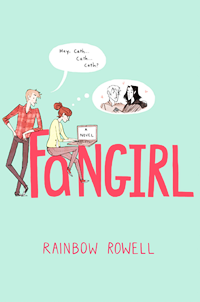 Title Fangirl
Author Rainbow Rowell
Pages 416 Pages
Genre Contemporary, Realistic Fiction, Romance
Publisher St. Martin's Press
To Be Published September 10th, 2013
Find It On Goodreads ● Amazon.com ● Chapters
Cath is a Simon Snow fan.

Okay, the whole world is a Simon Snow fan . . .

But for Cath, being a fan is her life — and she's really good at it. She and her twin sister, Wren, ensconced themselves in the Simon Snow series when they were just kids; it's what got them through their mother leaving.

Reading. Rereading. Hanging out in Simon Snow forums, writing Simon Snow fan fiction, dressing up like the characters for every movie premiere.

Cath's sister has mostly grown away from fandom, but Cath can't let go. She doesn't want to.

Now that they're going to college, Wren has told Cath she doesn't want to be roommates. Cath is on her own, completely outside of her comfort zone. She's got a surly roommate with a charming, always-around boyfriend, a fiction-writing professor who thinks fan fiction is the end of the civilized world, a handsome classmate who only wants to talk about words…And she can't stop worrying about her dad, who's loving and fragile and has never really been alone.

For Cath, the question is: Can she do this?

Can she make it without Wren holding her hand? Is she ready to start living her own life? Writing her own stories?

And does she even want to move on if it means leaving Simon Snow behind?
There was a time, in the days when Livejournal was still the place to be, that I was very heavily involved in various fandoms. While I never wrote fanfiction, I would spend hours creating picspams, icons, and other various graphics of my favourite TV characters and couples.
Who am I kidding? I'm still like that! You're looking at a girl who just recently proudly pledged $165 toward the recent Veronica Mars Kickstarter campaign in order to qualify for the 'Logan Lover's' package and to help bring her favourite television show to the big screen! How could I not love Rainbow Rowell's Fangirl!?
This week's Waiting on Wednesday post and confession has been brought to you by Logan Echolls, your favourite obligatory, psychotic jackass.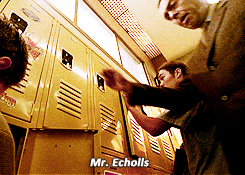 (©)