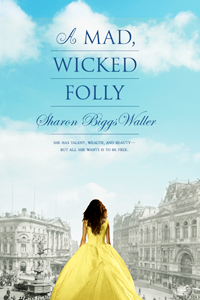 Title A Mad, Wicked Folly
Author Sharon Biggs Waller
Published January 23rd, 2014 by Viking Juvenile
Pages 448 Pages
Intended Target Audience Young Adult
Genre & Keywords Historical Fiction, Romance, Feminism, Women's Suffrage
Part of a Series? No
Source & Format Received an Advanced Reader Copy from the publisher for review (Thanks, Penguin Canada!), Paperback
Find It On Goodreads ● Amazon.com ● Chapters

Welcome to the world of the fabulously wealthy in London, 1909, where dresses and houses are overwhelmingly opulent, social class means everything, and women are taught to be nothing more than wives and mothers. Into this world comes seventeen-year-old Victoria Darling, who wants only to be an artist — a nearly impossible dream for a girl.
After Vicky poses nude for her illicit art class, she is expelled from her French finishing school. Shamed and scandalized, her parents try to marry her off to the wealthy Edmund Carrick-Humphrey. But Vicky has other things on her mind: her clandestine application to the Royal College of Art; her participation in the suffragette movement; and her growing attraction to a working-class boy who may be her muse — or may be the love of her life. As the world of debutante balls, corsets, and high society obligations closes in around her, Vicky must figure out: just how much is she willing to sacrifice to pursue her dreams?

"I never set out to pose nude. I didn't, honestly. But when the opportunity arose, I took it."
Who could have imagined that a single choice could hold the power to alter the course of one's life so completely? When Victoria 'Vicky' Darling agrees to pose in the nude at the art studio in which she studies when their usual model fails to make an appearance, she never dreamt it would cause a firestorm of controversy and scandal that would result in the loss of all she holds dear. News of her dishabille quickly reaches her parents and Vicky is placed on the first steamship back to England, forced to relinquish Monsieur Tondreau's atelier, the esteem of her peers, and the small semblance of freedom she had managed to establish in the more bohemian France. Desperate to save the Darling family name and legacy, her parent's solution is to marry her off as quickly as possible. What begins as a dreaded and unavoidable chore, however, soon seems to offer the only glimmer of hope Vicky has of ever pursuing her lifelong dream of supporting herself as an artist. Now, as the days before the Royal College of Art's admission period begin to dwindle, Vicky must rush to complete her portfolio, all while attempting to reconcile her parent's expectations, her marriage of convenience, her burgeoning interest in the women's suffrage movement, and her growing feelings for a certain handsome police constable. What is a girl to do?
"Madame has already sent a telegram to your father."
"My…father?" I whispered. The shock of it made my cheeks tingle and my limbs go weak. Panic rose hot and fast inside me. I might have felt like Queen Boadicea before, but I had forgotten one important fact about the Iceni warrioress: in the end, the Romans had crushed her.
My father. That was it, then. My time in France with the artists was over."
For whatever inconceivable reason, Sharon Biggs Waller's A Mad, Wicked Folly has flown below the radar, going largely overlooked in lieu of other more widely publicized 2014 releases. I can only hope that my review will help, in whatever small part, to remedy this, as this is one novel that is not to be missed under any circumstances. In truth, I had never heard of this novel prior to receiving an unsolicited advanced reader copy in the mail from Penguin Teen, and I am so immensely thankful that I did! Otherwise I might never have had the opportunity to read this sparkling debut from a brilliant new voice in the young adult market. Sharon Biggs Waller's A Mad, Wicked Folly is a clever, engaging story with an audacious, outspoken heroine, sweet, understated romance, and an empowering feminist message that acts as a thoughtful and fitting tribute to the women who dedicated their lives to sowing the seeds of gender equality by ensuring women the right to vote and thereby have their voices heard. Waller brings the Edwardian era to life with the stroke of her pen in this dazzling historical fiction piece which in no way felt like a debut novel, but rather a new addition from a seasoned, consummate professional.
"And there it was. The final blow. My head was rolling down the steps. The solution to the pressing problem of Victoria and her bad behaviour was marriage. My parents would also be able to wash their hands of me for good. I would now be my husband's problem."
There's really no other way to put it: Victoria Darling is an absolute firecracker and a pure delight to read about. Intelligent, headstrong and opinionated, Vicky chafes against the restrictions placed on her by the social mores of the Edwardian time period and rebels at every turn. Perhaps what I appreciated most about her character, however, was that despite her arguably modern and progressive views, even Vicky struggles to cast off the profoundly ingrained notions of female inferiority and weakness that were inherently accepted during the Edwardian period. Watching her struggle with this, as opposed to being entirely immune to it, made her characterization all the more authentic and made her far easier to relate to. Waller is not afraid to show her characters' flaws and foibles, and the protagonist is thankfully no exception. Victoria makes a number of mistakes throughout the novel, and the audience is often placed in the rather uncomfortable position of having to question the moral implications of said choices. She is also in no way a reactionary character, but instead must take decisive action in order to ensure her happiness and success.
"I couldn't help but look at PC Fletcher sideways out of the corner of my eyes as we walked. He was handsome in a distracting way. Too handsome for his own good. Or mine. I caught him looking at me the same way. He grinned at me smugly and I flicked my gaze to the front.
I decided that my artistic senses had terrible taste in muses."
For those of you who prefer a little romance in the stories you read, never fear – William Fletcher is here! William, or 'Will' as he prefers to be called, is an eighteen-year-old police constable from East Sussex who traveled to London in order to pursue his life's passion to write fiction. The two are soon thrown on a veritable collision course, quite literally, when Vicky decides to attend one of the suffragette's public demonstrations which Will is patrolling, and their relationship continues to develop from there. Will is one of the few characters who supports Vicky's dreams of becoming an artist and shares her progressive views about women's equality. As beautiful and touching as the blossoming feelings between Vicky and Will are, I also appreciated the thoughtful dialogue this relationship inspires about the effect class difference can have on a relationship, be it romantic or otherwise. Things that Vicky often takes for granted like first-class transportation and indulgences like sumptuous toiletries and chocolates are considered luxuries by Will and his family. As their relationship evolves, Vicky is forced to become more aware of her privilege. This added an underlying tension and complexity to Vicky and Will's interactions that I greatly appreciated. I think what I liked most of all about Will, however, was the ancillary role he takes in Vicky's journey. That isn't to say that he isn't a valuable addition to the cast of characters or that he wasn't interesting to read about – He was both of these things, and more! What I mean is this: All too often I've read a novel where the protagonist is presented with a problem, only to find a solution in the mysterious boy she meets or the ensuing relationship that follows. This was thankfully not the case in A Mad, Wicked Folly. While Will is supportive of Vicky, he in no way can be credited for her evolution over the course of the story.
"My mother no longer saw the things only artists noticed, things other people would walk straight past, like the light dappling the trunk of a tree; a cat turning its whiskers to the sun, eyes closed in contentment; or the quiet contemplation of a person's face as he sat reading. Instead she saw flaws. Things that were wrong with the house, with her embroidery or flower arranging. Things that were wrong with me.
And then I understood. These were the things a frustrated artist would see.
Suddenly my hands felt strange – restrained, as if I wore a pair of manacles instead of silk opera gloves."
The other secondary characters are equally impressive. While Victoria's parents act as a form of antagonist, often preventing her from doing what she loves most and discouraging her from her dream of ever supporting herself financially as an artist, it was not difficult to sympathize with their position. Questionable though their methods might be, it's clear that they are products of their time and most often act with Victoria's best interests at heart. As parents are want to do, they do what they believe is best in order to protect Victoria's reputation and future for, loveable though she may be, she is often her own worst enemy and gives little thought to the consequences of her actions. One is never given the impression that Victoria's parents are acting out of malice, and both characters are given additional attributes which allow them to remain accessible, often even relatable and sympathetic, characters. Her mother's own unrealized dreams of becoming an artist and her father's adorable apprehension and grudging acceptance of modern technology demonstrate the author's superb attention to detail and meant that no character in A Mad, Wicked Folly exist in a world of moral absolutes. Rather, Waller has crafted a world composed almost entirely in shades of grey. No character is created solely to cast the protagonist in better relief. In fact, even the morality of the protagonist's behaviour is called into question a time or two. Each character challenges the reader's preconceptions of traditional archetypes and adds further depth to an otherwise already beautiful, nuanced story.
"A familiar feeling washed over me as I drew. It was the one I'd had with Bertram and the other artists in the cafe that day in France after I had posed. I felt accepted for who I was. I didn't have to sort the words in my head first, making sure they were socially acceptable before I said them. I groped around for a word that fit.
Peace. It felt peaceful. I had come looking for a reference, but I had found so much more. I knew I would come back."
As indicated in my discussion of the secondary characters, Waller's writing is one of the many areas in which this novel excels. This in no way felt like a debut novel, but instead seemed like a release from a seasoned professional who had spent years honing her craft. I've read a lamentable number of novels which purport to be historical fiction but include only the barest of trappings in order to establish their setting. Not so with A Mad, Wicked Folly! Waller brings the sights, sounds and smells of the Edwardian period to life with such vibrancy that I felt as though I was being transported there firsthand. Admittedly, my knowledge about the era and the women's suffrage movement are both woefully lacking, but this in no way prevented me from thoroughly enjoying the novel. Instead, I suddenly found myself desperate to learn all I could about the subjects at hand. Almost immediately after completing the novel I was scouring Goodreads for further non-fiction reading on both subjects, inspired by the colourful and interesting tidbits the author included in her novel. This, I think, is one of the highest compliments that can be paid to a historical fiction novel.
"I felt my shoulders relaxing, my nerves disappearing. I felt like Queen Boadicea taking on the Romans. I leaned forward, propped my chin in my hand, and stared out at the boys.
Now I'm one of you."
The entirety of the text is also underscored by an empowering, feminist message that intelligently articulates the importance of gender equality, an issue that remains as important today as it was over one hundred years ago. It was difficult not to be swept up in the enthusiasm of the movement and to admire the immense work and sacrifice that women before us made so that we might enjoy the rights and freedoms we do today. While we still have a long way to go, it helped me to reflect on the legacy of the women who came before me and think about what I might do to contribute to the empowerment of future generations. Vicky's struggle for freedom of expression and independence runs parallel to that of the women's suffrage movement. The two stories complimented one another perfectly and it was gratifying to see that they often intersected in the most interesting and unexpected ways. As a much-appreciated bonus, A Mad, Wicked Folly also includes a series of author's notes on the period in question and a recipe for pikelets, one of Victoria's favourite foods, both of which I very much enjoyed!
"His touch compelled me to step a little closer to him. I hadn't noticed before how his mouth lifted up at one corner, as if he found life too humorous to stop smiling completely. Such a smile should be preserved forever in a drawing. If only the feeling of his hand on my arm could somehow be captured and kept. My stomach fluttered strangely and my mind recalled that moment when I fell on top of him. I found that it wasn't an unpleasant memory anymore."
If I had one small complaint, it would be in regard to the anachronistic language Waller periodically employs. I would like to believe that I have a relatively large vocabulary, but even I found myself reaching for a dictionary on more than one occasion in order to decipher the meaning of a character's thoughts or dialogue. For example, Victoria makes reference to a 'wodge of bumf', which I later learned meant a large quantity of useless documents, and to William Fletcher as 'bumptious', which I'm ashamed to admit I didn't know meant 'self assertive or proud to an irritating degree'. (Don't say I never taught you anything!) As much as I applaud the lengths the author went to in order to ensure historical accuracy whenever possible, I fear this might discourage readers who do not have the time or patience to consult their dictionary as often as I did. That said, I did appreciate that Waller did not condescend to her audience or compromise the integrity of her work. She challenges readers to take the initiative to learn something they might not otherwise know, and I for one will now look for any excuse to use these new-found phrases in my everyday life.
"Do you remember what Christabel said – 'Women who are unwilling to fight for the vote are unworthy of it'? That applies to life, too, Vicky."
What could I possibly say about this novel that I haven't already? Simply put, A Mad, Wicked Folly is a spectacular debut novel by a promising new voice in the young adult market. This is easily one of the best historical fiction novels I've read in recent memory and it's quite clear how much time, effort and energy Sharon Biggs Waller dedicated to making sure even the most minuscule of details was just right. A story in which the beauty of Waller's prose is matched only by the power and importance of the novel's message, A Mad, Wicked Folly includes something to interest every reader. This is one 2014 debut that should be at the very top of your to-read list!
Please Note: All quotations included in this review have been taken from an advanced reader copy and therefore might be subject to change.

Overall Rating


Still not sure this is the right book for you? Why not listen to what some other bloggers had to say about it?
● Rachel @ Paper Cuts wrote "Do not be deceived by A Mad, Wicked Folly's pretty appearance. There's substance and heart to this book, and it's an absolute joy and pleasure to read Vicky's story." (Read the rest of the review Here!)
● Keertana @ Ivy Book Bindings wrote "A Mad, Wicked Folly is a debut to kick the year off with a bang and if it's anything to go by, then the coming year is going to be unusually promising." (Read the rest of the review Here!)
● Heather @ The Flyleaf Review wrote "So, in conclusion, fans of historical fiction, especially the Victorian and Edwardian Era are going to love this book. Fans of feminist leanings, and instances of fist-pumping girl power are going to want to read this book. Lovers of art and Anglophiles are going to be charmed. Romance fans and fans of well crafted characters will most definitely appreciate this book too." (Read the rest of the review Here!)