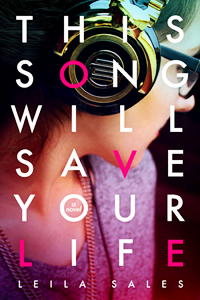 Title This Song Will Save Your Life
Author Leila Sales
Published September 17th, 2013 by Farrar, Straus and Giroux
Pages 288 Pages
Intended Target Audience Young Adult
Genre & Keywords Contemporary, Realistic Fiction, Bullying
Part of a Series? No
Source & Format Given ARC by a friend (Thanks, Jamie!)
Find It On Goodreads ● Amazon.com ● Chapters
Synopsis
Making friends has never been Elise Dembowski's strong suit. All throughout her life, she's been the butt of every joke and the outsider in every conversation. When a final attempt at popularity fails, Elise nearly gives up. Then she stumbles upon a warehouse party where she meets Vicky, a girl in a band who accepts her; Char, a cute, yet mysterious disc jockey; Pippa, a carefree spirit from England; and most importantly, a love for DJing.
Told in a refreshingly genuine and laugh-out-loud funny voice, This Song Will Save Your Life is an exuberant novel about identity, friendship, and the power of music to bring people together.
"What do you think it takes to reinvent yourself as an all-new person, a person who makes sense, who belongs? Do you change your clothes, your hair, your face? Go on, then. Do it. Pierce your ears, trim your bangs, buy a new purse. They will still see past that, see you, still a beat behind, still – always, wrong. Change all you want; you can't change that.
I know because I tried."
There are few feelings worse than being the odd man out, and this is one sensation with which sixteen-year-old Elise Dembowski is painfully familiar. Unpopular since the fourth grade, Elise has been the target of bullies for as long as she can remember. Determined that this year will be different, Elise spends the ten weeks of summer vacation prior to her sophomore year diligently studying what it means to be 'cool' in an effort to turn over a new leaf. As Elise will soon learn, however, it will take more than a new wardrobe and an intimate knowledge of pop culture to help her find where she truly belongs. When even Elise's best efforts to reinvent herself go unrewarded and largely unnoticed, she can't help but be struck by what she perceives as the hopelessness of her situation – The inside jokes she'll never understand. The long-running histories with close friends, both of which she believes she'll never have. The impossibility of reinventing herself when her classmates seem determined to define her in the same way in which they always have. All of these issues coalescence until the futility of her situation bears down upon her like an immovable weight and Elise finds herself courting thoughts of suicide as a coping mechanism. In a single, desperate act, Elise cuts herself in order to release the pain, only to panic at the depth of the wound and the revelation that she doesn't truly wish to die, and calls a classmate to confess what she has done. Seven months later after being hospitalized and treated for depression and suicidal ideations, Elise is back in school and feeling as lost as ever. Having taken to walking the streets at night while the rest of the city sleeps, Elise eventually stumbles across Start, an underground dance party where music is king and everyone is free to be themselves. Alongside her new friends, Victoria, Pippa and the enigmatic Char, who begins to tutor Elise in the art of DJ'ing, Elise will begin to unearth previously undiscovered passions, a world in which she seems to fit and will find that, in the company of the right people, being yourself truly is enough.
"Picking up soggy paper napkins, thick with milk, I realize, too: this year wasn't going to be any different. I had worked so hard, wished so hard, for things to get better. But it hadn't happened, and it wasn't going to happen. I could buy new jeans, I could put on or take off a headband, but this was who I was. You think it's so easy to change yourself, but it's fucking impossible.
So I decided on the next logical step: to kill myself."
Music has always been a significant part of my life. For any given moment in my life, whether it be a first date, the death of a loved one or my high school graduation, I can invariably cite a song that, for me, held some significance to the moments in question. It should therefore come as little surprise that Leila Sales' latest contemporary novel, This Song Will Save Your Life, was one of my most highly anticipated releases in 2013. I was so excited for this novel, in fact, that I went so far as to feature it in a recent edition of Waiting on Wednesday, and when my friend Jamie from The Perpetual Page-Turner saw this, she was kind enough to offer to send along her advanced reader copy of the novel so that I might read it. And I'm so incredibly thankful that she did! Beautifully written and achingly heart-wrenching in the best possible way, Leila Sales writes with an authenticity and raw candor that will steal your breath and have you hanging on her every word until the very end. A surprisingly poignant reflection on the nature of identity and belonging with a cast of nuanced, multifaceted characters and a protagonist who is as compelling as she is unintentionally charming, This Song Will Save Your Life is one novel that will leave you smiling and blinking back tears as you turn the final page.
"I feel sometimes like…there are all these rules. Just to be a person. You know? You're supposed to carry a shoulder bag, not a backpack. You're supposed to wear headbands, or you're not supposed to wear headbands. It's okay to describe yourself as likable, but it's not okay to describe yourself as eloquent. You can sit in the front of the school bus, but you can't sit in the middle. You're not supposed to be with a boy, even when he wants you to. I didn't know that. There are so many rules, and they don't make any sense, and I just can't learn them all."
In addition to being someone who I would have been more than happy to befriend in high school, Elise Dembowski is easily one of my favourite protagonists in recent memory. Unique, cynical, creative and intelligent, Elise simply wants to find a place to belong. Like many of us, she feels lost and overwhelmed by the unwritten rules that dictate social interaction and struggles to make sense of a period in our lives that makes anything but. Convinced that she can change her lot in life with enough time and dedication, Elise is shattered to find there are certain things that are simply out of our control, in particular how others perceive and relate to us. It was painful to watch as Elise attempted to shine a little less brightly and mask what truly made her special in order to make herself more palatable to her classmates, only to have her efforts rebuffed. I was reminded again and again of the senseless cruelty of our teenage years and yearned to take Elise under my wing and protect her from those who simply didn't appreciate her for who she was.
"Sometimes people think they know you. They know a few facts about you, and they piece you together in a way that makes sense to them. And if you don't know yourself very well, you might even believe they are right. But the truth is, that isn't you. That isn't you at all."
If I might be allowed to become a little more personal for a moment, I could closely relate to Elise's struggles to fit in, despite the fact that our paths diverged rather sharply. Unlike Elise, I had some measure of success in masking who I was and achieving some semblance of popularity in high school, the unfortunate result being that I was forced to sacrifice pieces of myself along the way. I'm ashamed to admit that I chose the path of least resistance in that I allowed others to define who I was in order to fit it, and while I'm thankful that I was not bullied or ostracized as I know many are in high school, the 'victory', if you could call it that, was hollow at best. Unable to talk about the music or movies I liked or dress the way I wanted because it was drastically different from the norm and therefore 'uncool', I quickly acquiesced to the accepted convention and had a pleasant, if not altogether genuine, time. While I'm happy to report that if anyone were to denigrate my adoration of The Beach Boys or American Graffiti now I would be quick to put them in their place, I didn't have the self confidence then to stand up for myself, and I'm not sure I truly understood who I was. All I knew was that many of the things I liked set me apart from others, and at that period in my life 'apart' simply seemed like another word for 'alone'. But I digress.
"I had this feeling suddenly. I get this feeling a lot, but I don't know if there's one word for it. It's not nervous or sad or even lonely. It's all of that, and then a bit more.
The feeling is I don't belong here. I don't know how I got here, and I don't know how long I can stay before everyone else realizes that I am an impostor. I am a fraud.
I've gotten this feeling nearly everywhere I had ever been in my life."
Whether or not you're able to personally identify with Elise's experience of being ostracized and picked on by her peers is largely irrelevant as Sales unites her readership by focusing on a universal theme to which we can all connect. The quest to understand who we are and where we belong is a universal one that most will spend years, if not their entire lifetime, attempting to figure out and as a result I can think of few people who will not be moved by Elise's story. The above passage in particular resonated with me. There have been many moments in my life where I've struggled with similar feelings of self doubt and fraudulence, like a puzzle piece that never quite fit into place. I would compensate by projecting a confident and competent exterior while I was secretly racked with insecurity and uncertainty on the inside. It wasn't until I began blogging about books that I ever felt as though I had discovered a place where I truly belonged. Elise finds a similar comfort at Start, where she can utilize her talent and passion for music in order to make others happy, which in turn gives her a sense of purpose.
"…I also felt like an eggshell that had gotten a tiny crack. You can't repair something like that. All you can do is hope that it sticks together, hope that the crack doesn't grow until all your insides come spilling right out."
Family takes center stage in This Song Will Save Your Life and I'm happy to report that Leila Sales' portrayal of Elise's family left absolutely nothing to be desired. I can't tell you how nice it was to find parents who were active, interested participants in their daughter's life and who, despite Elise's numerous mistakes, were able to clearly demonstrate that while they didn't always condone her behaviour, were consistently ready and willing to offer her unconditional love and support. It was a pleasant change to see an amicable divorce in which the parents were able to put aside their differences in order to put the interests of their child first. I was also happy to find that the common clichéd portrayal of the blended family habitually featured in young adult fiction was nowhere to be seen in this novel – There were no disinterested step-parents or selfish, resentful step-siblings to be found here! Which brings me to my next point: As much as I ordinarily dread the appearance of small children in the novels I read, I greatly enjoyed the inclusion of Elise's younger step-siblings, Alexandra ('Alex') and Neil. Both were clever and creative without being obnoxiously precocious, and I particularly appreciated the touching connection that Leila Sales drew between Elise and Alex's respective journeys. The two stories run parallel to one another as Elise worries that Alex's eccentricities and imagination will set her apart from her classmates and lead her down a path similar to Elise's. She then takes well-intentioned steps to ensure this doesn't happen, however ill-advised they might be. I thought this added additional depth to the story and perfectly underscored Elise's confused understanding of identity and the importance of staying true to oneself.
"It felt good, this sense of power. I had something, or I knew something, that these kids wanted. And for that reason, they were treating me with respect. They had seen I wasn't the person who they'd though I was, so now they were treating me differently, like the new person who they thought I was. Perhaps this was how it felt to be popular all the time.
But power was not friendship. And these people were not my friends."
Like many bloggers, I was initially taken aback by the depth, beauty and surprising brutality of this narrative. Taken in by the beautiful cover and a somewhat misleading synopsis, where I once expected a relatively light-hearted contemporary about a teenage DJ, I instead found a poignant and thoughtful reflection on the nature of identity, purpose, and belonging that tackled pertinent issues apropos to the youth of today, such as bullying and suicide. I couldn't be happier about my misconceptions of this novel because what we were given instead was infinitely greater! This Song Will Save Your Life is the perfect example of the versatility and importance of young adult literature and I have no doubt that this novel would be a wonderful choice for readers of all ages, none more so than for the youth of today who are facing similar issues as Elise. There was a recent edition of Top Ten Tuesday hosted by The Broke and the Bookish that asked which novels we would choose to include on a compulsory school reading list given the opportunity, and having now read This Song Will Save Your Life, I can unequivocally attest that Leila Sales' latest contemporary novel would undoubtedly be one of them. With subtly and a deft hand, Leila Sales demonstrates that there is life outside of and after high school if only we have the fortitude and foresight to see past it, and that being true to oneself is its own reward. She provides a voice for those who are too afraid to speak, and through Elise opens an important dialogue about the dark undercurrent that can plague young adults and which many would prefer to ignore entirely. With admirable candour and realism, Sales also infuses her novel with an undeniable amount of hope by reminding us of the unending possibility of the future, the knowledge of which is all too often lost or forgotten as a teenager when you're suffocating beneath an endless series of expectations, pressure and, more often than not, overwhelming fear.
"Sure, high school sucks sometimes. Some people will mess with you, whenever they want, and for no reason except that they can. But hurting yourself is giving those people all the power, and they don't deserve it. Why would they deserve to have control over your life? Because they're cool? Because they're pretty? That's completely illogical."
This Song Will Save Your Life is not merely a simple story of a girl who struggles to fit in with her peers and who discovers a passion for DJ'ing along the way. This novel is beautiful. This novel is important. This novel holds the potential to change lives. As lyrical and lovely as the song lyrics that grace the beginning of each chapter, Leila Sales' latest contemporary release makes your heart sing and your soul soar with the beauty of its prose and the power of its message. With an emphasis on family, a cast of vibrant secondary characters and a protagonist who will steal your heart and have you rooting for her from the very first page, This Song Will Save Your Life is one novel which is not be missed under any circumstances. Please, do yourself a favour and pick up a copy as soon as possible – I promise you won't regret it! As for myself, having fallen head-over-heels in love with this novel, I'm now looking forward to combing through Sales' backlist to see what else this talented and thoughtful author has in store!

Overall Rating

Around The Web
Still not sure this is the right book for you? Why not listen to what some other bloggers had to say about it?
● Jenni @ Alluring Reads wrote "A story that is all at once heartbreaking and uplifting, This Song Will Save Your Life is one that I suspect will stick with me for a long time to come. " (Read the rest of the review Here!)
● Jamie @ The Perpetual Page-Turner wrote "Its spirit pulses from the pages, right through to your veins and reverberates in your soul — a feeling reminiscent of any great concert or night out dancing where your ears are still buzzing and the music still pounds within you." (Read the rest of the review Here!)
● Adrienne @ Cuddlebuggery wrote "I wouldn't be hasty to recommend it though, because I can definitely see Elise's voice being a hit for some but a miss for others. My verdict is to preview a bit, and if you're hooked like me, you won't be disappointed." (Read the rest of the review Here!)