"Top Ten Tuesday" is a weekly meme hosted by The Broke and the Bookish!

This week's Top Ten Tuesday topic is the Top Ten Books At The Top Of My Summer To-Be-Read List.
As always, these books are listed in no particular order.
1) The Art of Wishing by Lindsay Ribar
I've always had an inexplicable fascination with genies. Blame it on my childhood love of Disney's Aladdin, but there's something about the idea that fascinates me. I often find myself thinking about what I would wish for given the chance, and I'm still not sure I know what they would be. Much like in Rod Serling's Season 2 episode of The Twilight Zone, The Man in the Bottle, it always seems as though wishing for things does more harm than good, as the wishes are inevitably misconstrued or come with horrible consequences. I love Ribar's concept of the genie being an ordinary high school student on the run from a murderer, and I can only imagine the antics Oliver and Margo will get up to in this novel. I can't wait to read this!
2) Wedding Night by Sophie Kinsella
After I really enjoyed Kinsella's 2012 release, I've Got Your Number, I decided to take a chance and purchased her 2013 novel, Wedding Night, when I found the hardcover on sale at Target one afternoon. While I haven't always had the best luck with Kinsella's standalone work, having read positive reviews from bloggers I trust like Bree at All The Books I Can Read (See Review Here), I'm confident that this book is right for me and that it'll be the perfect addition to my summer reading list.
3) Slow Summer Kisses by Shannon Stacey
There are few things I enjoy more during the summer than reading a simple contemporary romance while I sip a glass of wine on the deck of our summer cottage. Although I have yet to read Stacey's Kowalski Family series, I have heard nothing but positive things about it and thought a standalone novel would be the best way to introduce myself to Stacey's writing style. A story where opposites attract and find love in the most unlikely of places, Slow Summer Kisses sounds like it was written just for me.
4) Infinityglass by Myra McEntire
Myra McEntire's Hourglass trilogy is one of my favourite young adult series of all time. A quirky, modern little mixture of contemporary, science fiction and the paranormal with a time travel twist combines to create a delicious cocktail that I want to keep drinking right down to the last drop. I admire McEntire's use of a different first person perspective for each novel, and having loved both Emerson and Kaleb's stories, have very high hopes for Lily's as well. Best of all, the 2013 release of Infinityglass gives me a great excuse to re-read the rest of the series before the arrival of the latest instalment!
5) Why Dukes Say I Do by Manda Collins
Having devouring Manda Collin's Ugly Ducklings series earlier this year and fallen utterly in love, I knew that I had to get my hands on the freshman novel in her newest series, Wicked Widows as soon as possible. While Why Dukes Say I Do won't be released until July 30th, I've already pre-ordered my copy on Amazon.com and will be counting the days until I have it in my possession. Perhaps I'll have to revisit Cecily and Lucas in How to Dance with a Duke to tide me over until then.
6) Golden by Jessi Kirby
Jessi Kirby solidified her spot on my auto-buy list last year when I read In Honor. After reading Moonglass earlier this year and absolutely loving it as well, there was no doubt that I had to get my hands on her 2013 novel, Golden, as soon as possible. Having pre-ordered it months beforehand, the only real question now is: Why haven't I read this novel already!?
7) Second Chance Summer by Morgan Matson
Morgan Matson's Amy and Roger's Epic Detour is one of my favourite young adult contemporary novels of all time. As soon as I finished it last year I purchased Matson's other novel, Second Chance Summer, and have put off reading it ever since. Why? The simple answer is that I'm scared. I've been warned by many that Second Chance Summer is heartbreaking and has reduced even the most hardened reader to tears. I'm determined that this will be the summer that I read Matson's sophomore novel, even if it kills me. I'm already bracing for impact.
8) Just Listen by Sarah Dessen
I have a confession to make: I have never read a novel written by Sarah Dessen. Yes, you heard me right. I am utterly ignorant of the work penned by the woman who many consider to be the queen of the young adult contemporary genre. So, when I saw that Costo was selling a few of her books in paperback for a relatively reasonable price, I jumped at the chance to remedy this. I ended up purchasing Just Listen, Lock and Key, The Truth About Forever and What Happened To Goodbye. While I'll obviously get to all of them in turn, Just Listen was the one that immediately caught my interest and most appealed to me. I've been told that Dessen's novels are the perfect addition to one's summer reading list, and I intend to test this theory.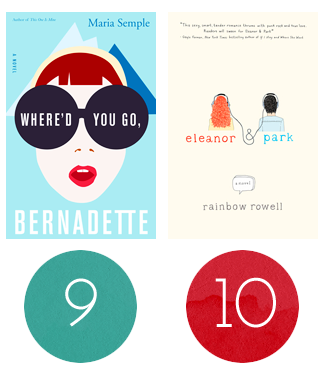 9) Where'd You Go, Bernadette by Maria Semple
This novel has generated quite a lot of buzz since its publication, and I must admit I was intrigued as soon as I heard about it for the first time. Not only was my interest piqued by the beautiful, graphic cover and the fact that Maria Semple once wrote for what I would argue is one of the funniest comedies of all time, Arrested Development, but I also loved the idea of it being composed primarily of a series of rather unusual forms of correspondence, including everything as pedestrian as emails and receipts to magazine articles and doctor's bills, etc. I've always been an ardent fan of epistolary novels and Where'd You Go, Bernadette sounded like it was right up my alley. It's now sitting proudly on my TBR bookshelf, and I'm sure I won't be able to resist the temptation much longer to crack it open.
10) Eleanor & Park by Rainbow Rowell
It's Rainbow Rowell. Enough said.
All joking aside, Attachments was one of the best and most enjoyable novels I've read thus far this year. Was there ever any doubt that Rowell's latest publication, Eleanor & Park, would be a staple on my summer TBR list?