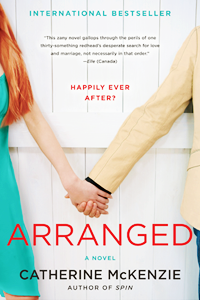 Title Arranged
Author Catherine McKenzie
Published May 15th, 2012 by William Morrow Paperbacks
Pages 416 Pages
Intended Target Audience Adult
Genre & Keywords Contemporary, Realistic Fiction, Romance, Arranged Marriage
Part of a Series? No
Source & Format Received as a Gift, Paperback
Find It On Goodreads ● Amazon.com ● Chapters

Anne Blythe has a great life: A good job, close friends, and a potential book deal for her first novel. When it comes to finding someone to share her life with, however, she just can't seem to get it right. When her latest relationship implodes and her best friend announces she's engaged, Anne impulsively calls what she thinks is a dating service – only to discover that it's actually an exclusive, and pricey, arranged marriage service. Anne initially rejects the idea, but the more she learns about the service, the more she thinks: why not? After all, arranged marriages are the norm for millions of women around the world. Maybe it cold work for her.
A few months later, Anne is travelling to a Mexican resort where, over the course of a weekend, she meets and marries Jack. And initially, everything seems to be working out…

"Could it work? Could they really have a 95 percent success rate? Is love just a front, a distraction? Is expecting the love of my life to show up what's been keeping me from acquiring what I really want?
I brush these thoughts aside. An arranged marriage is not going to happen. Because it costs ten grand. Because it's a crazy idea. Because I'm not going to marry a complete stranger. Because marriage is about love.
Isn't it?"
A successful columnist with a promising book deal on the horizon and a group of supportive friends and family by her side, thirty-three-year-old Anne Blythe seems to have it all. That is, all apart from what she desires most. The problem? Anne can't seem to find that special someone to share her life with, despite her best efforts to the contrary. When the latest in what has proven to be a string of disastrous, appearance-based relationships ends, Anne is devastated and at a loss as to what to do next. If history has taught her anything, it's that she can't trust her own judgment when it comes to men. That's when she discovers a mysterious business card on the way to drown her sorrows at the local bar, and picks it up on a whim. Titled simply 'Blythe & Company: Arrangements Made', Anne assumes it's a dating service and is fascinated by the eerie timing of her discovery. Intrigued by the fact that the company also shares her surname, Anne tucks the card away for safe keeping, although she decides not to give in to the temptation to use it, instead vowing to strike out on her own and attempt to learn to define herself outside of a romantic relationship. Two months later, however, after a series of accidental meet-ups with ex-boyfriends that force her to confront the ghosts of relationships past and the news of her best friend's sudden engagement, Anne is suddenly re-thinking this decision. One phone call and an illuminating meeting later, Anne is shocked to learn that Blythe & Company is not a dating service, but rather an exclusive (and expensive) arranged marriage service with a hefty $10,000 price tag. Complete with an all-inclusive vacation and mandatory therapy sessions to ensure the success of the union, Blythe & Company promises a scientific method that emphasizes compatibility and friendship as opposed to 'true love' and Anne can't resist the allure of finding the mate she has always dreamed about. Soon, however, Anne will learn that not everything is quite as advertised and the course of true love never did run smooth.
"I have to say, you're taking this awfully well."
Of course, she didn't see me sobbing on the floor. "Am I fooling you too?"
"Almost."
"It's amazing what extreme anger gives you the strength to do."
She smiles. "If someone figured out a way to bottle woman-been-wronged, they'd make a fortune."
"What I really need is a product that can cure a broken heart."
"I think it's called alcohol."
Life is funny, isn't it? While reading Catherine McKenzie's Spin was not a life-changing experience for me when I reviewed it back in September 2013, I genuinely enjoyed it and was eager to delve into McKenzie's back catalogue to see what else she had in store. Unfortunately, pre-existing commitments meant that I was forced to put this off indefinitely. That is, until I purchased Arranged as a Christmas gift for a friend. Before wrapping it and sending it on its merry way to Texas, I couldn't help but sneak a peak at the opening pages. Suddenly, I was a woman obsessed. After reluctantly saying goodbye to Arranged, I couldn't stop thinking about it, nor could I stop talking about it, apparently. My mother, picking up on my less-than-subtle hints, was kind enough to tuck a copy of this novel under the Christmas tree for me and I'm extremely thankful she did. Arranged is a sweet, unconventional love story that forces us to confront our preconceived notions about love and marriage and question what we would be willing to do for what we wanted most. McKenzie offers surprising insight into one of society's oldest social constructs and interweaves her story with the perfect balance of whimsy, humour and insight. In short? You'll love this novel. I know I did!
"God, why do I care so much? Why do I need to be with someone, to be married? I have a career and great friends. Why isn't that enough? But is it so unreasonable to want more from life? To want what so many other people have? I want a permanent connection with someone who loves me. I want to have kids. And not alone, in the sperm-bank-supermom way. I want by-products of me and the one I love. To see his elbow or the slope of his shoulder in miniature, whoever he is. If there ever is a he."
I'll be the first to admit that I initially struggled to relate to Anne on a personal level. While I've dated casually over the years, I've never been in a serious relationship, nor have I had much interest in one. Anne, on the other hand, is a woman with a weakness for handsome men who treat her poorly and who, by her own admission, has never done well on her own or gone long without being in a relationship. I couldn't understand Anne's desperation to find 'the perfect husband' or her habit of defining herself by her relationships and at first this distanced me from her character. Then again, I'm only twenty-five – Ask me how I feel about this again in five or ten years time! Thankfully, I found myself better able to relate to Anne as the novel progressed. Her therapy sessions were illuminating and I found myself identifying with some of her issues, most notable of which was her fascination with romantic comedies and her tendency to idealize the process of falling in love and imaging these sort of scenarios are possible in real life. Having been reared on a steady diet of Meg Ryan movies growing up, I occasionally fall prey to this myself, and wonder whether I close myself off to possibilities because they don't happen exactly as I once envisioned. I'll admit to dreaming about the perfect 'meet cute' from time to time, when my hand will meet with Colin Firth's as we both reach for the same book in a small, out of the way bookstore, and I charm him with my wit and panache. What?! I said dream, didn't I? In all seriousness, however, the beauty of Arranged is that whether or not you're able to place yourself in Anne's position is largely immaterial. I was far more emotionally invested in Arranged than in Spin, and I think this can be attributed in large part to the strength of the protagonist. Anne is a lively, memorable character whose emotions are visceral. You can feel her excitement and anticipation, her fear and her insecurities. As a result, it's extremely easy to empathize with her situation. You can't help but root for her and want her to triumph and to gain all she has dreamt about.
"You rescued yourself. You were your own hero."
I slide deeper into the chair, letting my head rest on the back. "But if I'm my own hero, does that mean I end up alone?"
"No, it means you're ready to accept someone who's an actual match for you and not some heroic fantasy."
"Blythe and Company isn't going to find me a hero? Damn. What am I paying so much money for, then?"
His beard twitches. "To begin a new story."

"And how's this one going to end?"
"We'll see soon enough, Anne."
One of the things I most enjoyed about Arranged was the fresh perspective it provided on the issue of arranged marriage. All too often it's dismissed summarily as antiquated or unthinkable, and I appreciated that in her quest to consider the practice for herself, Anne delved more deeply into both sides of the issue. I found Blythe & Company's theory of friendship-based marriages intriguing and began to reflect on this and other issues in an entirely new way. Now, don't get me wrong: I don't see an arranged marriage in my near or distant future. But McKenzie made it seem like a reasonable, even possible option, and I would never have said that prior to reading this novel. The numerous references to Anne of Green Gables were also a fun and pleasant surprise. Anne's mother is what could only be called an Anne of Green Gables fanatic and has named her two children accordingly (Anne and Gilbert Blythe? Very cute, if a little twisted). Speaking as someone who re-read Lucy Maud Montgomery's now-famous classic regularly as a child and whose middle name is in honour of the titular heroine, the quotes and subtle references to the text made me smile and were a wonderful addition to the story.
"I check the big clock over the exit. It's one in the morning. One in the morning on our wedding day.
"We still getting married today?" I ask quietly.
He puts his hands around my waist, holding me tight. "Why the hell not?"
There's something compulsively readable about Catherine McKenzie's work. Her creative twist on traditional, commercial topics that have been examined to death (i.e. dating and/or marriage) is nothing short of ingenious. While I don't believe that either Spin or Arranged are books that I'll re-read each year, I genuinely enjoy McKenzie's work and find it impossible to put down her novels once I've begun reading them. I made the mistake of beginning Arranged before bedtime, believing I would read only one or two chapters before turning out the light. Cut to 3:00am, when I was still frantically turning the pages, bleary-eyed and desperate to find out what would happen next. Speaking as someone who prides herself on her ability to predict most 'plot twists' from a mile away, I also must congratulate McKenzie for her continual ability to surprise me when I least expect it. Frankly, I should have seen it coming. While the synopsis certainly hints at events going awry, I became so engrossed in the story and invested in Anne as a character that I was taken aback when the novel took a rather drastic turn in tone two thirds of the way through the story. This heightened the stakes of Anne's experiment and added a great deal of tension and depth to a novel that had otherwise followed a fairly predictable path up until that point in time.
"I know why I'm scared of love. It's because that's when it always starts to go wrong. When it starts to deviate from the fairy tale. After the happy ending comes…disappointment. I don't think I can stand another disappointment. I did this crazy thing, married a stranger, so I could avoid it, so I could get my happy ending.
So save yourself, Anne. One more time."
Tired of the same old 'Chick Lit' story with the usual cast of characters and predictable routine? Searching for the perfect novel to bring with you on holiday or to enjoy with a glass of wine after a long day of work? Well, look no further! The perfect choice for fans of Sophie Kinsella, Catherine McKenzie's Arranged is a fun, fast-paced, insightful romance with the perfect touch of comedy and drama, heart and hilarity. McKenzie breathes new life into the tired tropes we've begun to dread and has crafted a story that breaks the mould and will be impossible to put down once you've begun reading it. Catherine McKenzie's work is a lot of fun to read, while still managing to be a thoughtful, introspective addition to the genre and adding something entirely new to the discussion at hand. I encourage you to fall in love alongside Anne Blythe as she navigates unfamiliar terrain and forces us to question what we would do in the pursuit of happiness and what we desire most.

Overall Rating



Still not sure this is the right book for you? Why not listen to what some other bloggers had to say about it?
● Kristilyn @ Reading In Winter wrote "Just as in Spin, Catherine McKenzie knows how to tell a good story and make you laugh along the way — even if the situations are less than desirable." (Read the rest of the review Here!)
● Michelle @ That's What She Read wrote "Arranged is yet another very strong novel by Ms. McKenzie, in which she solidifies her reputation for quirky and adorable characters, strong female friendships, and storylines that never follow the traditional path." (Read the rest of the review Here!)
● Jamie @ The Perpetual Page-Turner wrote "It satisfied the need for a romantic page-turner filled with some laughs but also tackled the subject of marriage and love in an insightful and honest manner." (Read the rest of the review Here!)